If you have just moved to China or have a Tour in China and has to do a lot of traveling then you must know that the cheapest, yet very convenient and easy mode of traveling in China is by "Train. This is a guide for the Foreigners who are new in China helping them with some handy ways and tips for buying train tickets so that they can travel easily.
How to Buy Train Tickets in China?
There is more than one way to buy your train tickets in China. You can purchase/book you train tickets 60 days before in advance or 35 minutes before the departure of the train on your traveling day. In addition to this to get the train tickets, the passengers are required to have the valid ID.
The ID required from Foreign Passengers is:
Foreign Passengers – Passport
Passengers from "Macau, Hong Kong & Taiwan" – Travel Permit from Mainland
This is how you can buy your train tickets in China:
Online Ticket Purchase:
Online China Travelling Agencies
From China's Official Railway Website
Buy Tickets From Railway Station
Get Your Train Ticket from Mainland China's Ticket Outlets
Reserve/Book Train Tickets via the Official Hotline
Buying Online Train Tickets
Passengers can buy Tickets online with either the help of travel agencies or through China Railway official website. Both ways are convenient and handy; just make sure that you are purchasing your ticket within the time limit which is 35 minutes earlier from departure or 60 days before.
Tickets Through Online Travelling Agencies:
Purchasing train tickets online from the traveling agencies in China is one of the most popular way these days. it is because you can not only purchase the ticket sitting on your couch, but if you are unable to pick it from the agency they will deliver it to your address, but make sure you are purchasing tickets at least 3 days earlier from departure and they will take care of the rest.
Tickets From China Railway Official Website:
Buying online train tickets from China Railway official website is also very convenient but it might not be much convenient for foreign passengers. Because the railway website is in the Chinese language plus they only accept the Chinese Bank Card or payment via Alipay or Wechat. And you can only buy a one-way ticket.
But if you can understand a little Chinese and has an acceptable payment method then all you need to do is turn on the "Navigation" enter your "Route" and "Departure Date & Time" and then simply book the best train for your journey. Having a valid is ID is a must.
Buying Tickets from Railway Station/ Mainland Ticket Outlets:
If you are not sure of the above two methods then you can try this one. You can get the ticket for your train maximum 58 days before the departure. The ticket windows at China Railway Stations or the Ticket Outlets in Mainland stay open 24 hours. Just like the first two ways you need to have a valid and authentic ID to get the ticket from station or outlet.
You need to tell the departure date, time and route or place to the agent at the ticket booth and he/she will show a number of train options for that particular route. Foreign passengers may have some difficulty to because mostly the agents are unable to speak English. Therefore if you want to buy a ticket from ticket outlets or stations, make sure that you have the train number, route, departure day and time written in Chinese.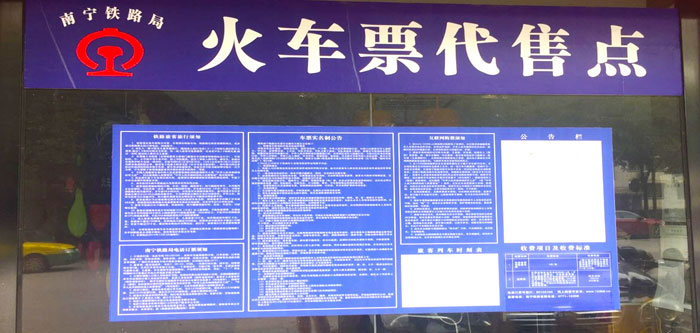 Reserve/Book Train Tickets via the Official Hotline
This is the most unpopular way to get the desired train ticket for your journey due to their restricted time limit and language problem. If you want to book the ticket via hotline then you need to book your ticket at least 30 days before the departure and write the details such as ticket number and pick it within 24 hours of booking, or your booking will be canceled.
Conclusion:
According to the new policies of China Railway Authority, the advance booking requires 30 days (via website) and 28 days (via hotline).
It is possible to reclaim your lost ticket just by showing your valid ID at your departure station.
The best and the convenient way to buy a train ticket for foreign passengers is through the online traveling agencies.