108 Buddhist Pagodas (Chinese name: 108佛塔) lies at the east of Xiakou Mountain on the western shore of the Yellow River. They are the primary attractions in Qingtongxia Reservoir near Yinchuan City. Here used to be grand temple buildings, nowadays, most of the temples were ruined, only left pagoda. This 108 pagodas form in 12 rows, the overall layout is narrow on the top and wide on the bottom, form an isosceles triangle, which is a unique style.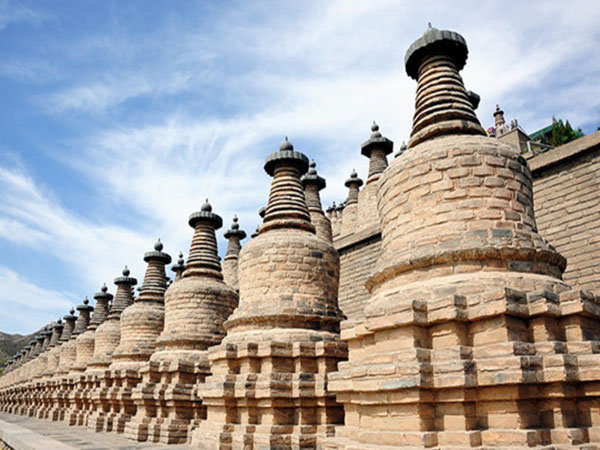 History
It was said that these special pagodas were built in the Yuan Dynasty (1271-1368). All of them were built a pearl-shaped top covered with lime, looks like the white pagoda of the Yuan Dynasty at the
Beijing Miaoying Temple. Due to the 108 dharma bodies, it had such name.


Things to Do and See
Those 12 rows pagodas, with each row containing an odd number of pagodas starting from the top, are forming a huge triangle, giving tourists an amazing view. Below these magnificent pagodas, you can see a big dam across the roaring Yellow River with a lake created by the dam. While sailing on the lake, tourists have a good chance to appreciate the beautiful landscapes of the lake as well as enjoy the gorge with the 108 pagodas on its slope.
Also, tourists can enjoy the whole picture of the 108 pagodas from a distance. 108 is really an idiomatic number in Buddhism. Buddhism says that there are 108 kinds of trouble and disasters for life, to eliminate all of them, people need to pray to Buddha for 108 times, knock a bell for 108 times, etc… Those 108 towers should contribute the "merits and virtues". Building a tower here is to eliminate the trouble of life and affliction.
Transport
Wuzhong transport line is clear and smooth, Baolan, Baocheng, and Dagu three railway lines pass through. Wuzhong city railway station is freight station, and Qingtongxia railway station railway station, Yuquan railway station, Daba railway station is the passenger railway station in Wuzhong city. The trains in three railway station listed above are not through train, they are just made stop over in here so you must be noticed waiting time. In Qingtongxia railway station, there is train to Yinchuan, Beijing, Shanghai, Xi'an, Chengdu, Pingliang, Hohhot, Xining, Jiayuguan, etc; In Yuquan railway station there is train to Yinchuan, Chongxin, Jinan, Mudanjiang, Dalian, Changchun, Harbin, Hulin, Jixi, Qitaihe, Dongfanghong, etc.
Bus: Tourists can take a passenger car from Zhongwei to Qingtongxia, and then ride to Qingtongxia town and get off at the Yellow River dam.