Zhoucheng Town is lying 30km north near Butterfly Spring, Dali. It has earned the nickname 'the Hometown to Tie-dyeing'. The delicate and colorful dyeing process appeals to many travelers at both home and abroad.
Tie-dyeing is the traditional folk art of the Bai ethic minority. It can be dated back to 1,000 years ago. At the very beginning, the Bai make tie-dyeing in their own houses, and gradually home-based workshops appeared, becoming so common that almost every family had one. The material originally used was pure white cotton cloth with blue dye, but today the choices in both color and design are richer and more varied than before – greens, reds, and browns have been introduced in addition to the traditional blue. The designs are simple, inferring an idyllic pastoral life, and are made with dye that will never fade. However, even though the designs are simple, the process is anything but, as procedures are becoming more and more complicated with increased demand. Watching how the Bai people make their tie-dyed pieces is absolutely a must-see.
The first step involves drawing the designs on a piece of cloth. Unlike other tie-dyeing designs that choose to feature abstract patterns, the Bai like to incorporate flowers, animals and plants such as bees, butterflies, bamboos and lilies. The second step is to tie the cloth with thread – not too tightly and not too loosely. Next, it involves dyeing the cloth with dye made from a Chinese medicine called Banlangen. The fragrance is supposed to be good for both skin and health. Last, the threads must be removed and the cloth hung out to dry.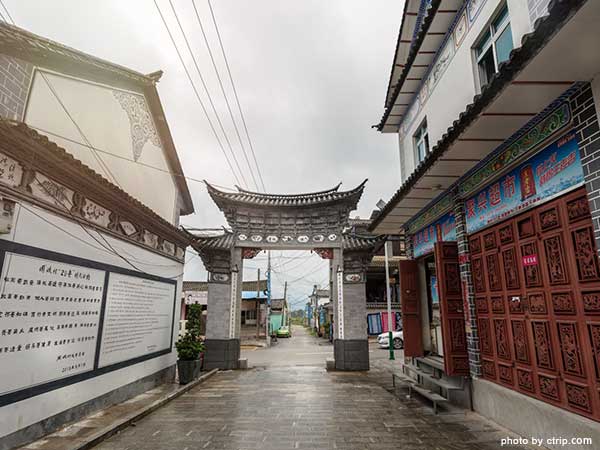 Architectural Form
Here you can see a typical "a reflecting wall while the other three serve as living spaces", "quadrangle courtyard with two extra patios in the two sides" enclosed courtyard formed Bai local-style dwelling houses building.
Bai Dwelling House pays attention to decoration of reflecting wall, door and window, gable and gate house. The reflecting wall is a necessary main building of two wing-rooms and three courtyards, it is cornice grey tile and caping wall; the main house is to connect gable of two wing-rooms and make it an enclosed courtyard. The center of the reflecting wall was whitewashed by lime, written inscription, and embedded with marble wall; the surrounding sector inlaid and drawn the outline of rectangular and circular design, and painted with pastel. Doors and windows, especially the panelled door of main room, mostly are cloud wood, toon, Chinese catalpa wood, and other rare wood, carved on the golden chicken, kylin, and other auspicious patterns.
Zhoucheng Town Belief
Zhoucheng Town Bai ethnic believes in mainly Buddhist. In Zhoucheng Town, there is Yinxiang Temple and Longquan Temple and other buddhist temples, etc. Like other Bai village, Zhoucheng Town has their own local deity worship, in Zhoucheng there are two local temples. Lingdi Temple consecrates its local deity hero Du Chaoxuan who chopped the boa in the Butterfly Spring; Jingdi Temple consecrates Zhaomulanggang who was the earliest ancestor of Zhoucheng Town. They were the legendary heroes and ancestors, also the patron saint of the local village. Here people can visit Bai local-style dwelling houses, street market, Bai tie-dye, and can appreciate Bai wedding, but also taste the Bai flavor food, buy Bai folk arts and crafts.
Ethnic Features
► National tie-dye products
In Zhoucheng Town, you can see the rich ethnic tie-dye products. Since the late Ming dynasty and early Qing dynasty, tie-dye is Bai people's traditional folk craft in Zhoucheng Town, tie-dye crafts are in collection of culture and art as a whole. Tie-dyed cloth is made by hand suture needle, repeatedly immersed by cold dyeing method. The color is green, dignified and elegant, and it is fine production, design pattern is pure and fresh, colorful, sold at home and abroad. The handicraft made of tie-dyed cloth is full of strong ethnic flavor, is also full of modern flavor.
► The ancient stage
In the north square, there is a brick structure of the ancient stage, built in Guangxu period 21th year (1895) in Qing dynasty. The ancient stage face east, stage up to 2 meters high, and it is gablet roof and raised-beam frame construction with hanging written words. Ancient stage is in front of the two big green trees, this is the place for fair trade in the afternoon daily. During the Torch Festival, Dali Zhoucheng erected huge torch here, and here became a celebration performances place.
Festival Activities
Zhoucheng Town Bai ethnic in addition to celebrate the same festivals like the Spring Festival, the Dragon Boat Festival, and Mid-Autumn Festival with the Han nationality, they also celebrate traditional Third Month Fair, Raosanlng, Torch Festival and other national holidays. Every June 25 in the lunar calendar, the annual Bai Torch Festival was held here, strong ethnic characteristics, and large scale scene create the Torch Festival a lively atmosphere.
Transportation
Zhoucheng Town is located in the 23 km north of Dali Ancient City, people can take bus from Dali Ancient City.
1. Take bus from Xiaguan North Bus Station to Zhoucheng Town directly. People can take public bus No.8 or No.9 in Jianshe Road or Jianshe Shopping Mall in Tai'an Road to Dazhantun and then people will reach North Station. From Xiaguan North Station take bus to Heqing and Eryuan. The midibus to Heqing or Eryuan will pass by Xizhou, Zhoucheng Town and Butterfly Spring.
2. Walk from the west gate of Dali Ancient City, there are many midi buses going to Xizhou and Zhoucheng Town.
Travel Guide of Zhoucheng Town
► Chinese Name: 周城
► Address: 23 km north away from Dali Ancient City, Yunnan Province
► Opening Time: the whole day
► Recommended Visiting Hours: 6 to 8 hours
► Best Time to Travel Zhoucheng Town: from March to November is the best time to visit Zhoucheng Town. During that time there is traditional Third Month Fair, Raosanling, and Torch Festival. Every June 25 in the lunar calendar, here will host annual Bai Torch Festival. At that time everywhere is full of ethnic features.
Recommended China Tour to Dali: 10 Days Yunnan tour to the Lost Horizon
(Kunming-Dali-Lijiang-Shangri-la-Kunming)