Zhou Qiang, secretary of the CPC Hunan Provincial Committee, visited Zhangjiajie from December 1 to December 2 for an investigation on the scientific development through vigorously promoting the tourism industry there. He stressed that all-out efforts should be made to grasp the opportunities for development and strengthen the in-depth integration of the natural landscape and folk culture. Attention will be paid to further enhancing the infrastructure and comprehensively improving the tourism service. Secretary Zhou urged that priorities should be given to intensifying the transformation and upgrading of the tourism industry, thereby accelerating the development of Zhangjiajie into a prestigious tourist resort around the world.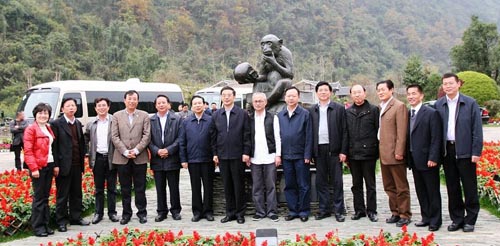 During his investigation tour in Xiangxi International Cultural Square and other projects, Zhou emphasized the necessity to further provide greater market access to private capital. Zhangjiajie shall deepen its exploration of intangible cultural heritage, striveto launch the charming folk culture of Xiangxi to the market and create more excellent tourism cultural products to meet the market demands.
While at the Science and Technology Center, Zhou affirmed the operation of the center featuring by a sound integration of publicizing the knowledge on geological science and protecting the wild animals and carrying out tourism activities. He expressed the hope that the Science and Technology Center will continuously integrate the sci-tech elements with tourism industry and create more products to satisfy the market demands.