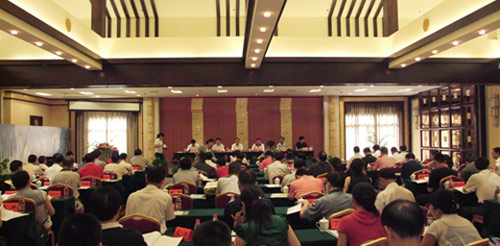 (file photo)
In recent years, the people of Zhangjiajie City have made a daring attempt to improve Party committees in communities, promote the community construction, boost urban development and upgrade urban image.
In April of 2007, the improvement of Party committees in communities was officially launched. It was themed on "Building Harmonious, Safe & Civilized Communities" and focused on serving the residents. In three successive years, working teams were dispatched to communities, aiming to form a new work pattern and promote organizations, fronts and service in communities.
At present, there are more than 600 cadres in 42 communities, over 400 of whom are college or technical secondary school graduates. Being passionate and hard-working, they have played a leading role and become the most combat-effective force in community construction. In the past three years, they have taken part in voluntaty labor and visited the poor for 27 times and called on over 310 residents in communities.
This year, Zhangjiajie will continue to improve 42 communities. In the near future, combining its urban beauty with its gorgeous scenery. civilization will surely become another name card of Zhangjiajie.
SOURCE:Hunan Offcial Web Portal