On January 5, 2012, Zhangjiajie Customs, the sixth customs affiliated to Changsha Customs, PRC, was officially opened and started operating on that day. It will greatly facilitate the enterprises located in Zhangjiajie and Wuling mountain areas in export declaration.
Wang Yibiao, manager of a local clothing company whose products are mainly exported to South America, said that the customs helps them a lot in saving efforts to declare and record here rather than in Changde Customs as usual.
Mayor of Zhangjiajie Zhao Xiaoming stated that along with the opening of the first international airport in Wuling mountain areas and Zhangjiajie Customs, the city will accelerate the extension of the Hehua Airport in a bid to welcome an annual handling capacity of 19,000 tons of freight and 5 million passengers including 750,000 ones exiting and entering China here.
Translator: Li Xuan
Source: Zhangjiajie Official Web Portal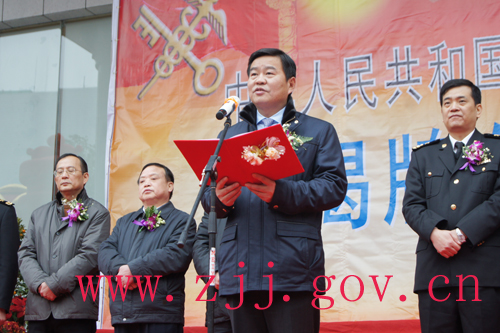 Vice Governor Hebaoxiang speech