Zhang Fei Temple is located at Feifeng Mountain, the south bank of Yangtze River. It is 382 kilometers from Chongqing City and opposite to the Yunyang County.
Zhang Fei was the great general of Shu State during the Three States period (220A.D.-280A.D.). Together with Liu Bei and Guan Yu, these three people are sworn brothers and made the great achievement. He was famous for his bravery and loyalty. It was said that Zhang Fei was murdered by two of his subordinates named Zhang Da and Fan Jiang. Then his head was thrown into the river. A fisherman dreamed about Zhang Fei who told him about the murder. So he went to drag Zhang Fei's head the next day, however, he dragged a jar of golden ingots by accident. Then he used the money built a temple. According to the records, the temple was built during the late period of Han Dynasty, and has the history more than 1,700 years.
Zhang Fei Temple was built to an exquisite complex leaning to the mountain. It was endowed with the magnificence of northern building and delicacy of the southern ones. Zhang Fei Temple has been well known as the top historical and cultural spot in Sichuan.
Inside the Zhang Fei Temple, there is a statue of Zhang Fei and hundreds of valuable cultural relics, including the stone carvings, wooden carving as well as the paintings and calligraphies. Among the seven main buildings, there two were built to memorize the great Tang Dynasty poet Du Fu, who once lived here for two years. This makes the complex a rare temple to memorize the civil and military prominence at the same time. After the construction of the Three Gorges Project, the temple was whole submerged by the rising water. Hence, an imitating new temple will be built on the south bank.
Historical Legend
It is said that Zhang Fei was assassinated by his military officer Fanjiang and Zhangda in Langzhong, they two took Zhang's head and went to Kingdom of Wu for shelter. When they passed Yunyang, they heard that Kingdom of Wu and Kingdon of Shu made peace, so they threw Zhang's head away in the river. Then a fisherman brought ashore when fishing, and buried at the foothill of Feifeng Mountain, and people established temple to commemorate Zhangfei. Zhangfei is sense of righteous, respected by the people, each year the lunar August 28 there was the crowd came here for ritual folk activities, which has a certain scale and influence.
Three Highlights
National key cultural relics protection unit Zhang Fei Temple is located in Feifeng Mountain foothills, the southern bank of the Yangtze river in old county of Yunyang County, Chongqing City, is built by the local people in honor of The Three Kingdoms Shu general Zhang Fei. From the original it was built in The Three Kingdoms, physical data as early as in Song dynasty, Yuan dynasty, Ming and Qing dynasty had repaired and expanded, and it brought together the essence of different dynasty's architecture. After the impoundment of the Three Gorges project, Zhangfei Temple was submerged in water. To preserve this important cultural landscape, China invested 40 million RMB, for integral moving the ancient building group to 32 km away from the old temple in the upper Yangtze River valley. New Zhang Fei Temple has three highlights:
First, special architecture art. Zhang Fei Temple is a set of perfect ancient building group. The temple has a history of more than 1700 years, it makes full use of terrain elevation difference change of the Three Gorges Reservoir area, according to potential mountain, located upon the rock next to river and form the "品" structure. The existing Zhang Fei Temple is left after successive renovation of dynasties; it basically brings together the essence of all previous dynasties buildings. Here visitors can see different dynasties architectural style and art. Jieyi Building, Deyue Pavilion, main hall and so on more than 10 unique ancient buildings here constitutes a perfect three-dimensional landscape painting.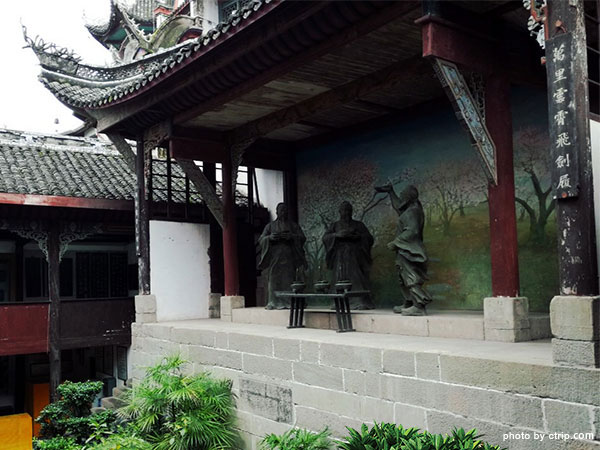 Second, magnificent calligraphy art. So within the existing Zhang Fei Temple there are a lot of calligraphy treasures. As far as the HHHan and Tang dynasties, close to the Ming and Qing dynasties, countless celebrities and painters left calligraphy here. The museum has collection of inscriptions and couplets and plaques, calligraphy and painting, more than 800 in different genres and different styles. In Calligraphy and Painting corridor, stele room, Zhufeng Pavilion, and exhibit pavilion, there is a wide variety of inscribed copy and collected all kinds of painting and calligraphy treasures.
Third, profound history and culture. Zhang Fei Temple was built by local people in memory of the Three Kingdoms valiant general Zhang Fei, inside the temple there was reproduced the heroic deeds of Zhang Fei by sculpture. Tourists came here, not only may know Zhang Fei uprightness generous character by narrator, but also can review of The Three Kingdoms culture and long history. In addition, the new Zhang Fei Temple will also build a more than 2000 square meters of museum, special display of underground cultural relics unearthed in Yunyang County.
Architecture Feature
Zhang Fei Temple takes full advantage of topography, located upon the rock next to river. Outside the temple there is stone bridge, waterfall with Chinese wisteria and thatched pavilion aside the creek, which are beautiful and peaceful. Inside temple, Jieyi Buidling, calligraphy and painting corridor, main hall, Zhufeng Pavilion, Cuckoo Pavilion and other ancient buildings with rigorous layout is unique, both has the northern and southern architectural features.
Climate
Yunyang is in southeast central Asian tropical humid climate zone, north of the tropic of cancer, and it belongs to a humid tropical area of Sichuan basin. Its spring is early, summer is hote, autumn is cool and winter is warm. Early summer has rich rainfall amount, summer is hot and has summer drought, autumn has continuous rain, and winter has less sunlight. The annual average temperature 18.4 ℃.January average temperature 7.2 ℃.In July average temperature 29.1 ℃.The annual average sunshine hours are for 1484.8 hours and an average annual rainfall amount is 1100.1 mm. Frost-free period 304 days.
Travel Tips
【Best time to travel Zhang Fei Temple】
Annual average temperature of 18 ℃ or so, winter temperatures average in 6-8 ℃, the average summer temperatures in 27 ℃, between 38 ℃, the highest limit temperature of 43.8 ℃.
The best time for traveling to Chongqing is in spring and winter two seasons, summer heat, and the autumn rain, are not suitable for travel.
【How to get to Zhang Fei Temple】
It is bout 23 kilometers away from Chongqing downtown, from the airport to the city the bus drive less than 1 hour.
Taking train to Chongqing North Station (Longtousi railway station), and then walk to the opposite of Chongqing long-distance bus station and take Yunyang direct bus, after 4 hours, arrive Yunyang Lotus Station.
In Chaotianmen traffic square bus station take bus or take ship in Chaotianmen dock 5 hours that arrived in Yunyang County, and then in Yunyang Lotus Station take bus to Yunyang Yangtze River Bridge. After then you can walk or take a motorcycle to there.