On the western shore of the Xiangjiang River in Changsha, the Yuelu Mountain Scenic Area is composed of five major scenic sub-zones – Lushan Mountain, Tianma Mountian, Peach Blossom Ridge, Shijia Ridge and Orange Island – in addition to two independent tourist attractions: the site where the Xinmin Society was founded, and the earthen top of the city Wall. Lushan Mountain is the core scenic zone, including some famous tourist attractions, such as Yuelu Academy, Lushan Temple, Yunlu Palace and Aiwan Pavilion.
The name Yuelu derived from a famous line from the book" Story of Nanyue" written by Liu Song from the Southern and Northern Dynasties. It reads "eight hundred square meters around Nanyue, the head is Huiyan and the foot is Yuelu". The mountain was since ever called Mountain Yuelu. Yuelu Mountain has brilliant personnel landscape. For example, the poem written by Du Mu, "Stop the car and watch the maple leaves until late, the leaves covered by frost are more red than the flowers in February."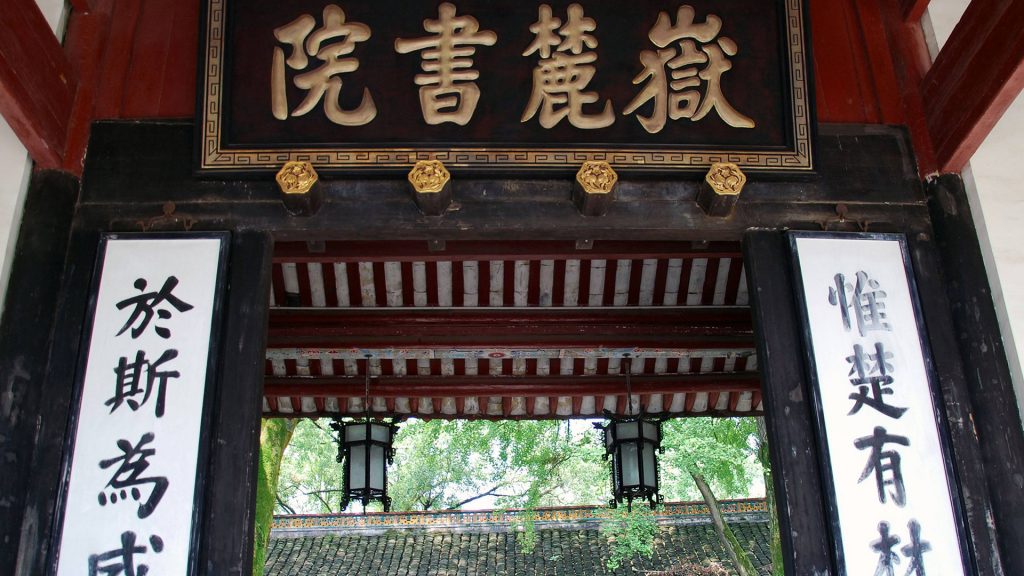 Yuelu Academy
One of the four famous academies in ancient China, the Yuelu Academy lies at the foot of Yuelu Mountain on the campus of Hunan University. The academy integrates three major functions: giving lectures, collecting books and holding memorial ceremonies. As an important national library and academic center, the Yuelu Academy embraces some historical sites, such as Wenchang Pavilion, Library of Imperial Books and Xiangshui Sutra Proofreading Hall.
The academy has witnessed more than a thousand years of history and is the only one of the ancient Chinese academies of Classical Learning to have evolved into a modern institution of higher learning. The historical transformation from Yuelu Academy to Hunan University can be seen as the epitome of the development of China's higher education, a change which mirrors the vicissitudes of education system in mainland China. As a part of Hunan University, today the academy is a center of publication and research of the ancient Chinese language, and is one of the most important academic and cultural centers in China.
Lushan Temple
The earliest Buddhist temple in Changsha, the Lushan Temple stands half way of Yulu Mountain. It is known as the "oldest historical site of the Han and Wei dynasties, and the first site for holding Buddhist rites". In front of the Guanyin Pavilion in the temple stand two podocarpuses, knows as the "Podocarpus Pass". Spring water flows out from the rock cracks encircled by ancient trees. the spring never goes dry in winter and summer, and it is named "White Crane Spring".
Aiwan Pavilion
Originally known as "Red Leave Pavilion", Aiwan Pavilion is one a small slope of Qingfeng Gorge. With double eaves and eight pillars, this square pavilion is surrounded by maple trees. In spring, Aiwan Pavilion is tucked away in green trees; in summer, it is cool with breezes; and in autumn, it is encircled by red maple leaves. On the pavilion, there is a horizontal inscribed board with an inscription by Mao Zedong, reading "Aiwan Pavilion".