Yulong Bridge was built in Yongle Period Ming Dynasty. It is a stone bridge with a length of 36 meters, a width of 4.2 meters and a height of 9 meters. Expressing a magnificent feeling, Yulong Bridge is in a simple style but featured minority characters.

Yulong Bridge is located in the Yulong River Scenic Area. Without any man-made attractions, this area is the largest natural landscape garden. Yulong River is one of the international natural heritages popular with people from all over the world.
Legend of Yulong Bridge
It is said that a student who needed to take exam in the ancient capital of China, When he came to
Yangshuo, he was blocked by a river which now is known as Yulong River. He prayed a bridge to go across this river for going ahead to the examination without any delay, and promised to build a bridge if he could join in the exam timely.. God was touched by his honesty, and them, a dragon appeared in the river to help this student. Finally, he got the No. 1 in the national examination and built up this bridge last. And according to this legend, this bridge got its name Yulong River ("Yulong" means meeting the dragon in Chinese).



Brief Introduction
Yulong River is the longest branch of Li River in Yangshuo, a tributary of 43.5 km, the basin area of 158.47 square kilometers, flowing through Jinbao, Putao, Baisha, Yangshuo and Gaotian 5 townships, more than 20 villages, and it was called "little Li River". Especially the 15.36
km distance from the Yulong Bridge to Gongnong Bridge, there are 28 weir dams, hundred spots, the entire Yulong River scenic area has no so-called modern buildings, without any artificial trace, there is no any city blatant, everything is so original, natural, of primitive simplicity and purity, which is actually a Guilin largest pure natural landscape garden.
Landscape Features
Yulong Bridge is also named Huilong Bridge; it is located in Baisha town Yangshuo county, on the Yulong River of Yulong village. It is magnificence, of primitive simplicity and beautiful, and it has ethnic characteristics.

Yulong River is a beautiful river, especially the section below Yulong Bridge to confluent of Heshan estuary in Jinbao River. About 12
km in this section, overlapping mountains and peaks, villages strewn at random, here you can appreciate Yulong Bridge, Rhinoceros Full Moon, Chuanshan Ancient Village, Guiyi City Site, etc. On both sides of Yulong Bridge railings, vines enlaced the railing and green Chinese wisteria leisurely swing in little bridge, like jasper bead curtain which makes the ancient stone bridge more peaceful. Under the bridge, the group of the ducks is playing in shallow water, this scene is very poetic.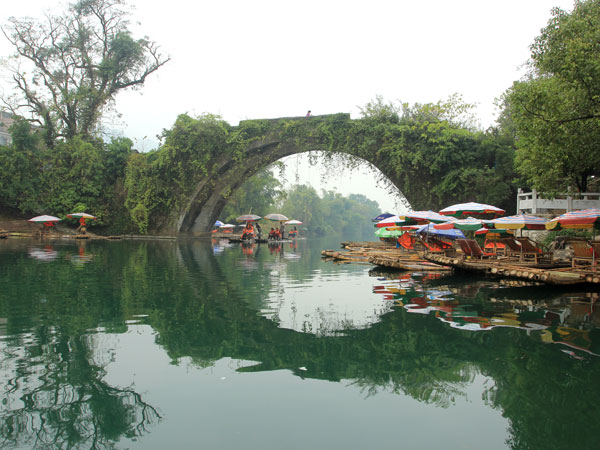 Travel Guide of Yulong Bridge
【Recommended Visiting Time】 The whole rafting distance is 12 km and it takes about 3-4 hours rafting during wet season. If you are tight and do not want to miss the Yulong River scenery, you can have a leisure rafting for half an hour to 1 hour.


【How to get to Yulong Bridge】 1. Taking Jinbao midibus (the bus to Baisha Town direction) from Yanghsuo Bus Station and get off at Yulong village. 2. Riding bicycle from Yangshuo to Yulong River against current, it takes about 2 hours. 3. Renting a car to Yulong Bridge which takes about 15 minutes. 4. People can also start their rafting tour from Jinlong Bridge, so people can take bus (bus to Jinbao) in Yangshuo Bus Station, get off in Jinlong Bridge.