An ancient Chinese poet once depicted the scene of Yangshuo as "scattered houses at the foot of Bilian Peak". He would never expect that the residential spot of a few households has developed into a town today. The most amazing section of Yangshuo is its West Street, about 1000 meters long, popularly known as "Foreigner's Street".
Introduction
West Street is the oldest street in Yangshuo with a history of more than 1,400 years. It now becomes a place that mixes the eastern and western culture harmoniously. West Street in Yangshuo has developed into the most prosperous area in Yangshuo. The signboards of all the stores and restaurants on this street have foreign names written on them, and foreigners are seen here and there.
At night, the restaurants in Foreigners' Street are crowded with diners. Decorated with tree bark, palm leaves and colorful lights, these restaurants all boast their own masterpieces. Quite a lot of tourists who want to stay in Yangshuo for some time stay here and get a job working in a restaurant as a cook.
Because Yangshuo West Street is tha symbol of this county, someone said, if has not been to West Street, he/she is regarded as having not been to Yangshuo. It is also a well-know brand. The reputation of the street is not superior to the Wall Street in New Yor, the Downing Street in London, the avenue des champs-elysees in Paris, and the Chang'an Street in Beijing. With its unique charm, West Street attracts tens of thousands tourists from home and abroad.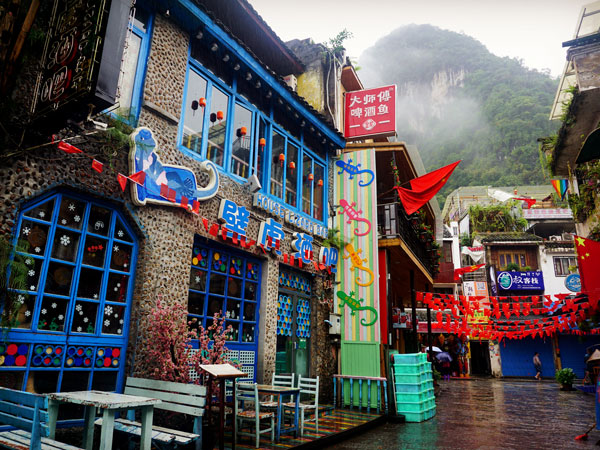 The east end of West Street is one of the important ports of the Li River, Li River Wharf. Zhou Enlai, Chen Yun, Deng Xiaoping and other Chinese leaders had walked through this street. In the early 1980s, there was "backpack foreigners" foreign self-help tourists came to Yangshuo in succession. They stayed for 3 to 5 days for short, and some even stayed here for a year, but usually most of them stayed here for 3 to 5 weeks.
Characteristic
West Street building is distinctive, match well of Chinese and western elements. Part of the building in the West Street retained the style of primitive simplicity and elegant of north Guangxi buildings during the Ming and Qing dynasties, like Chinese style tile, slope roof, white wall, balcony, stone street; the cafe bars on both sides of the street is European architectural style, and the buildings are mostly three to four layers, the top has a bell tower and the castle, the arcade-house of column is round, door and window is also a semicircle arch with different colors, red, green, blue, all in harmony. Building looks like art statue in the West Street, very beautiful.
【A Combination of Chinese and Western Elements】
The West Street is still type of southern town building, but it shows the international feeling of human landscape. Here such as bars, restaurants, cafe, arts and crafts calligraphy and painting shop are mostly decorated a style to match well of Chinese and western, and there are foreign language signs, waiters of crafts calligraphy and painting shop, restaurant, bar attendants, ordinary citizens and even the old women who selling fruit in the street can speak good English.
【Cultural Influence】
Yangshuo West Street is the oldest street of Yangshuo County. In the early 1970s, Yangshuo was opening to the outside world. Western visitors found West Street, those who were tired due to the bustling city and the fast pace of work found the "harbor" to have a rest here. At the same time, they are showing interest in simple and primitive dwelling, traditional culture and folk customs, and they write their unique feelings of Yangshuo West Street in the travel guide book.
Every year at the Yangshuo West Street there is hundreds of thousands of tourists from overseas. The world's most authoritative self-help travel guide Lonely Planet every year introduces Yangshuo West Street with plenty of space, and called for tourists all over the world: "go to Yangshuo West Street!"

How to Get o Yangshuo West Street
You may take bus from Yangshuo County about one and a half hour can reach Guilin city. People can take bus in the Guilin Train Station at its right side to Yangshuo.
It is suggested to spend 2 or 3 hours to visit around the street.