Yangbajin (Chinese Name: 羊八井温泉) is a town approximately 87km (54 miles) north-west of Lhasa, halfway to Damxung. The town lies in an upland lush green valley surrounded by the tents of nomads with grazing yak and sheep populating the hillside.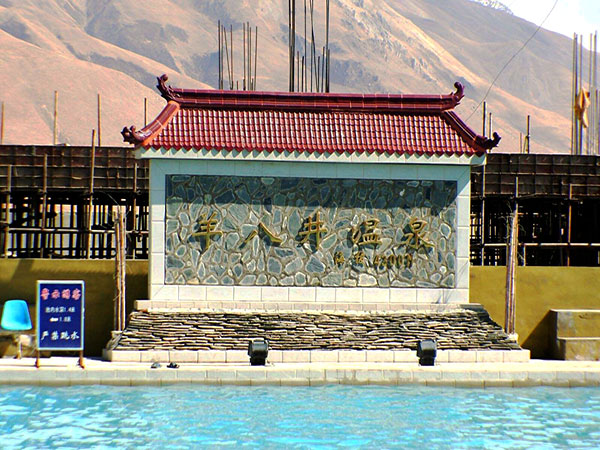 The area is famous for the Yangpachen hot springs, which have been harnessed to produce much of the electricity for the capital Lhasa. It was said that long time ago, before the sky and the earth was separated, the whole world was in total darkness. People living at the foot of Mt. Nyainqentanglha were suffering. One day, a golden phoenix flied to the area, determined to create brightness by sacrificing itself. It threw one of its bright eyes onto the ground. A fairy caught the eye, and then a bright lamp arose in the air. Snow capped peaks of Mt. Nyainqentanglha appeared; grassland like huge carpet emerged; happiness came into Tibetan people. However, a greedy man near Yangpachen coveted the lamp. He took a witch man's idea to sharpen his hatred into an arrow to shoot the lamp. The lamp was broken then, the pieces of the lamp dropped onto the ground, turning into hot springs and burned the man to his end. People said that the hot springs were the fairy's tears.
There is a thermoelectric power plant on the edge of the Yangpachen hot springs field covering 20–30 square kilometers. The thermoelectric power plant was established in 1976, and the first development of geothermal power in the whole of China.

Three High of Yangpachen
High altitude, high temperature and high snow mountains, this is the most characteristic of the "three highs" of taking a bath in hot spring in Tibet. For traveling adventurer, travel to Tibet in winter is quite exciting, it requires you not only to conquer the altitude and cold snow area, but also higher temperature hot spring water, waiting for you to challenge.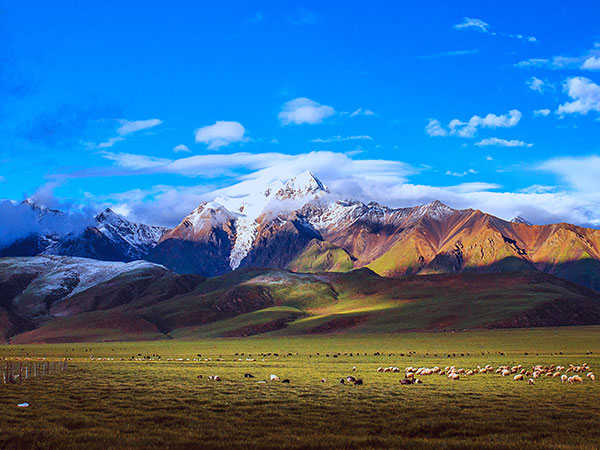 Yangpachen characteristic: hot
Even people, who haven't been to Tibet, have heard of "Yangpachen", because this name is hot enough. Taking a bath in hot spring on the Qinghai Tibet plateau, will make every visitors start to join "Yangpachen" this station in the journey to Tibet.
Crustal movement contributed to the roof of the world, also has created one of the most popular geothermal resources. Yangpachen is located in the northwest of Lhasa, in the basin under the Nyenchen Tanglha in Tibet, covering an area of 15 square kilometers. Flanked by towering snow-capped mountains and glaciers, middle basin is a fiery-hot hot spring. Taking bath in hot spring of ice and snow of the "roof of the world", this is a unique experience. Although it is a little cold in plateau, the Tibetan guys with bare arms exude sweat to soak in the pool. If you are fatigue because of plane, if you have a little bit tired of the long journey and have altitude stress, you can also quickly jump into the pool, to be drenched in sweat, soon, all the fatigue will dissipate and disappear.

The sky is falling snowflakes, if your upper body is above the water, the small snowflakes fall in the body, and you may feel cool. And then you can plunge into the water then you will be warm. Before the snowflakes fall into the water, it is almost melted by steaming.


Legend
About Yangpachen geothermal hot springs, there is a myth and legend, legend has it is a long time ago, there was a golden phoenix hate the darkness of the world, determined to dedicate a eyes to light up the world, golden phoenix gave a girl named Lahm its eyes, let her eyes held high. From then on, there is a light and happiness. People called the golden phoenix eyes magic lamp.

Later, a serf owner knew and wanted to glom onto magic lamp, but the girl did not comply, cruel serf owner broke the lamp by shooting poisoned arrows, and shooting the girl died, the world was plunged into darkness. Where the lamp was shattered, suddenly the sky were to fall, the emergence of a hot water lake had drowned the serf owner in the lake. It is said that the hot water lake is Lahm's tears.


Experience Yangpachen Hot Spring
Yangpachen hot spring is divided into the outdoor swimming pool, indoor swimming pool, and indoor small hot spring room, such as hot springs spa price varied from 98 to 160 yuan/person. Need to bring a swimsuit. There is also selling bathing suit beside hot spring pool and swimming trunks, but it is quite expensive.

The location of the bath is an outdoor swimming pool. Due to the water temperature is too high, need to pass two outdoor pools for cooling temperature to bath for tourists. Around it visitors can see snow-capped mountains from a distance, and taking bath in such an environment is a kind of enjoyment. Especially in the winter, in the hot springs to see flying snow is kind a romantic feeling. At the time of bitter winter, when all things withered, Yangpachen Hot Spring gives a person the sense of vitality. Taking a bath in hot spring in the snowy day is the most pleasant thing. If enjoy hot spring in large pool is not enough, there are four small indoor pools with function of moisturizing, eliminate fatigue, Tibetan medicine, and rose petals, and so on. Drinking ice cold beer or barley wine, soaking in such fiery-hot hot spring, it is really comfortable.

But soaking in hot spring is physically exhausting work, at an altitude of 4300 meters Yangpachen is even more so. With connected large indoor pool on the second floor, there is lounge, you can lie in the sun, and you can also enjoy the bath foot massage service, at the same time look through Tibet travel magazine. In the resort there is teahouse and chess &cards room for entertaining tourists.
Tips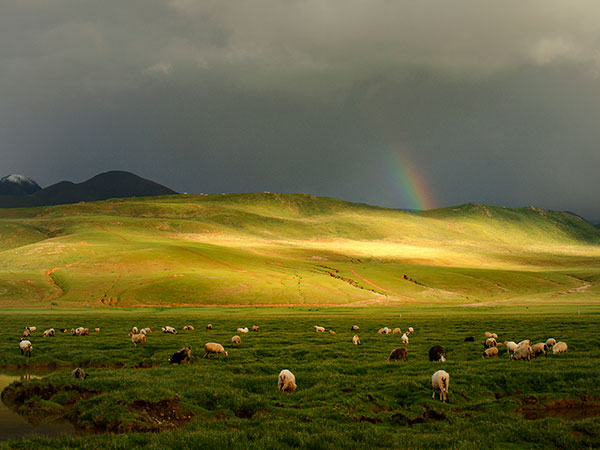 1. If it is the first time enjoy hot spring in the highland, people who has altitude sickness can not be in hot spring for too long, come out around in a few minutes, it may be more beneficial to the body. 2. The plateau oxygen consumption is much more, when you are in hot spring should pay attention to drastic action, in order to avoid exhaustion after ashore. In addition, if on the way to the Namtso dropping by Yangpachen, you have better on the way back to take bath in hot spring, otherwise, will miss Namtso dusk scene viewing; and also due to the hot springs physical consumption, may aggravate the Namtso plateau sickness.
【The most beautiful time to visit Yangpachen】 The most beautiful time of Yangpachen is in every day morning, because the air is cold, Yangpachen geothermal field area is always filled with white mist, geothermal field of steam rising up from the lake, looks like a fairyland. With any luck, it people meet with hot well erupting, he can see boiling hot spring is springing into the sky, which is very beautiful spectacular.
【How to get to Yangpachen】 Since the Qinghai-Tibet railway opened to traffic, the trip to Lhasa becomes easier and more economic. However, if you do not have enough time, taking plane will save you a lot of time. Yangpachen is between Lhasa and Namtso, 90 kilometers away from Lhasa, and in the eastern suburb long-distance bus station in Lhasa there are many coaches to Yangpachen. And public bus No.39 can reach Yangpachen.

In Yangpachen transit stations or beside the Qinghai-Tibet highway, it is easy to find a free ride and minibuses. But the hot spring from the Qinghai-Tibet road is about 8 km, and there is no taxi, only on foot or hitchhiking.

Another approach is to charter a car to Lake N
amtso, dropping in on the way back, but it is better to consult with the driver in advance.
【Accommodation】 Yangpachen now have established and developed a hot spring resort, if you want to stay a few days here, hot spring resort provides accommodation, catering, entertainment and other services.

Beside the swimming pool on the edge is hotel, the hotel has two buildings for lodging, there are 7, to 8 beds, if they are occupied, also can go to the power station guesthouse next to the hostel, which is a two-story building. People also can stay in Yangpachen town station. There are several hostels near transit stations, but there is still some distance from geothermal central area, which is not convenient. If you come from Lhasa, it is possible to back and forth in one day.
Best time to travel Yangpachen
The best time is from May to October. During this time, sunlight is strong, temperature is higher compared to winter, and it is comfortable. And during this period, there are many festivals, visitors can appreciate Tibetan folks and customs.