Located in the west if
Hangzhou, and 5 km away from the West Lake,
Xixi National Wetland
Park is a farmland wetland in the urban area which is rare in China even in the world. Xixi Wetland is a network of rivers, Together with the Xihu (Chinese pronunciation of West Lake) and Xiling, Xixi wetland is one of the Tree "Xis" of Hangzhou. As an oasis in the urban area, it is honored as the first national wetland park in China, Chinese wetland museum and national base of environment protection and popular science. Xixi National Wetland Park is densely crisscrossed with six main watercourses, among which scatter various ponds, lakes and swamps. Xixi Wetland has a history of more than 1,800 years and an abundant cultural heritage – it's the original site of Chinese South Opera; it has a traditional Dragon Boat Contest; it contains the vivid life of a water village, featuring silkworm feeding and silk production. Xixi National Wetland Park is located in Hangzhou West, covers an area of 10.08 square kilometers, divided into the eastern wetland protected cultivation areas, the central wetland eco-tourism and leisure areas and the western wetland ecological landscape sealed conservation areas. Set Xixi Wetland ecology, urban wetlands, wetlands in one culture be called China's first wetland park, is an important Hangzhou tourist attractions.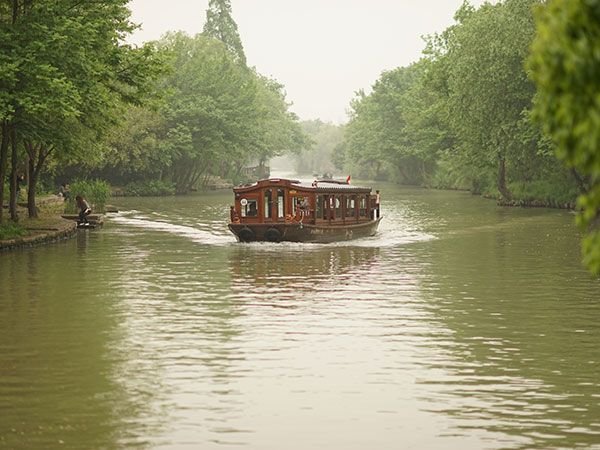 Character of Xixi Wetland Park
Water – the soul of Xixi. The unique wetland scene is formed by pools, rivers and lakes. Sic rivers are crossing over and countless pools are dotted here and there which can be described as "a Chinese h a melody played by rivers"
Ecology – the theme of Xixi. Xixi wetland set three ecologic protection areas. A ecologic sightseeing garden is open for the public. Xixi has another mane called "the heaven of birds". Many pavilions in this park are provided for visitors to appreciate the splendid scene of thousands of birds flying.
Civilization – the spirit of Xixi. Xixi is a fairyland since it existed in the ancient time. This is a Shangri-la to clean one's heart. Many scholars left their works in Xixi. It is said that the stage near the hundred-year-old Zhang tree in Shentankou had welcomed the first show of Yue opera.
Folk customs – the essence of Xixi. The Dragon Boat Match held annually is a historical festival with unique celebration. The stories about silk and embroideries represent the busy scene of the native residences. From these folk customs, one can totally experience the real watertown flavors.