Wuyuan Rainbow Bridge, a historical site built in Southern Song Dynasty, is an architecture in 800-year-old. It is the oldest and the longest lounge bridge in ancient Huizhou, reputed as one of the most beautiful lounge bridges in China.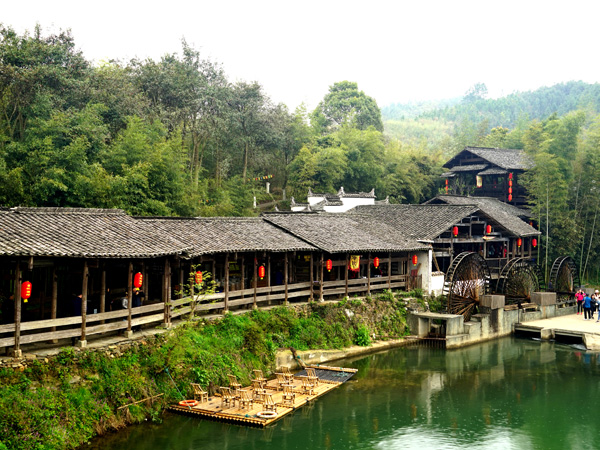 Architecture Significance of Wuyuan Rainbow Bridge
The great combination between the bridge and hills, lakes, ancient villages, and old roads shows the intelligence of human being. Built on the widest place of the river, it was built based on a theory to restrict the flood destroy. Easy to restoration and hard to be destroyed, this bridge shows a practical and simple design idea which can be passed by generations.
With another bridge called Dengyun Bridge which is lower and smaller than Rainbow Bridge, people can read the essence of the ancient Huizhou bridge architecture. In the lifetime, every one has a dream to step on the rainbow stage which means the triumph in the career.
And the lake surrounded by these two bridges named Smaller West Lake. The name of this lake can be traced back to two great Chinese calligraphers Wen Peng and He Zhen, the masters of engraving skill. One day, they sailed boat on this lake and were attracted by this crystal scenery, so Wen Peng carved "小西湖" (Smaller West Lake) on a stone on the bank, thus the name.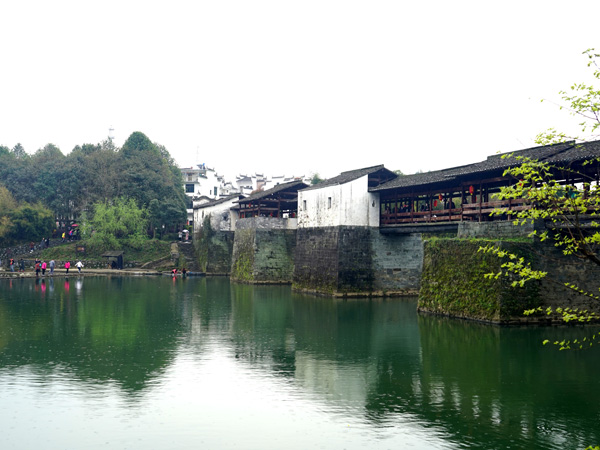 Buffalo – the patron saint of Rainbow Bridge
The ancient architects in Wuyuan had a custom. When they built the piers of it, they inlayed a ironing-made buffalo for protecting the village away from flooding as well as ensuring the safety of the piers. So at present, we can still find a well-preserved iron buffalo in the third pier of Rainbow Bridge. From the locals' words, the buffalo can bless people who have touched it.

Legend of Rainbow Bridge
It is said that there was once a Monk and an able person in Qinghua Village. They planned to build a permanent well-preserved bridge for their hometown. The monk went out the village for 3 years to raise money. And the albe person was in the design and building process. After about 4 years hardworking, the bridge was almost complete. Suddenly in one day, a rainbow occurred in the west side and was reflected on the lake. Villagers thought it was a lucky sign and named the bridge as "Rainbow Bridge".