Likeng Ancient Village (Chinese name: 李坑古镇), named because it is a village dwelled by Li families, is about 12 km away from Wuyuan County. It is famous for the Huizhou Style architecture which brings a peaceful and leisure atmosphere to people. Surrounded by mountains and rivers, the Ming and Qing Dynasties architectures are built along the river. The white walls and the deep blue roofs decorated with stone roads and green trees. The arch bridges cross over the banks and are reflected into the river as a circle. All of these form a picturesque scenery.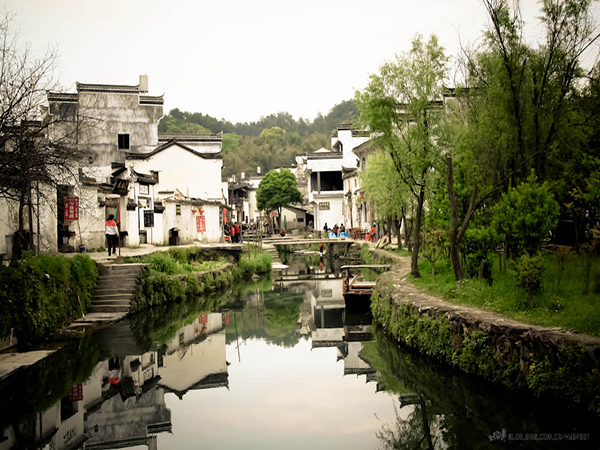 Culture of Likeng
From Song Dynasty to Qing Dynasty, Likeng was a dwelling place for governmental officials and richmen. And also the literates in this village also made Likeng a famous civilization place. In the Southern Song Dynasty, there was a general called Li Zhicheng.


Things to see in Likeng
【Arch Bridges】

There are two hundred-year old trees at the entrance of the village. The clean river flows through the village. The arch bridges quietly stand on the river. These hundred-year old bridges may be the mainly transportation hubs to connect two banks.
【Hui-style Architectures】

The well-preserved ancient architectures such as "Daifi Mansion", "The Former Residence of Li Qigao", "Tonglu Mansion", "Shenming Pavilion" are all the typical Hui-style architectures. The brand hall, elaborate wooden caring, well-decorated yard, all of these are in the standard Hui-style.
【Ancient Camphor Tree】 There are six camphor trees spread in this village which are regarded as the guardian angels of this village. Among these trees, there was once a worship platform built for people to make wish. Locals believe that worship the tree here can prevent their families away from unlucky things. Some ones would like to hang a paper on the branch to let the God bless them.
【Ancient Tress】 There are two ancient trees which are still blossom at present. One is osmanthus tree with a width of 0.91 meters and a height of 11 meters. Each autumn, this tree will be in blossom and can be smell for ten miles. The other one is crape myrtle tree with more than 500 years old. Although it seems like an old tree with dry branches, it can still be in blossom and last at least 90 days.