Located a few miles north of Guangzhou City, White Cloud Mountain(Baiyun Mountain Scenic Spot) is listed top of the things to do outside the city since the ancient times. Covering a total area of 28 square kilometers, White Cloud Mountain is famous for its veil-like clouds rising during the late spring and autumn. The White Cloud Mountain consists of more than 30 peaks, among which the Moxing peak is the tallest with the height of 382 meters. Ascending the peak, you'll have a wonderful bird view of the city and meandering Pearl River. The scenery is magnificent. Leaving for the mountain in the early morning is a good choice. Beside the silence and peace, you also can enjoy the fresh morning air.
The White Cloud Mountain (Baiyun Mountain Scenic Spot) can be divided into six parts with the marked spots of each small area Mingzhu Building, Moxing Peak, Mingchun Valley, Santai Peak, Luhu Lake and Fei'e Peak. Inside the whole area, there is cable car from the Luhu Lake at the foot at mountain to the top. Different restaurants, teahouses and BBQ facility are available on the mountain. The newly constructed Shanbei Park and courtyard hostel can meet your demand well. For the local, White Cloud Mountain (Baiyun Mountain Scenic Spot) is also the ideal place for climbing in the Double-ninth Day.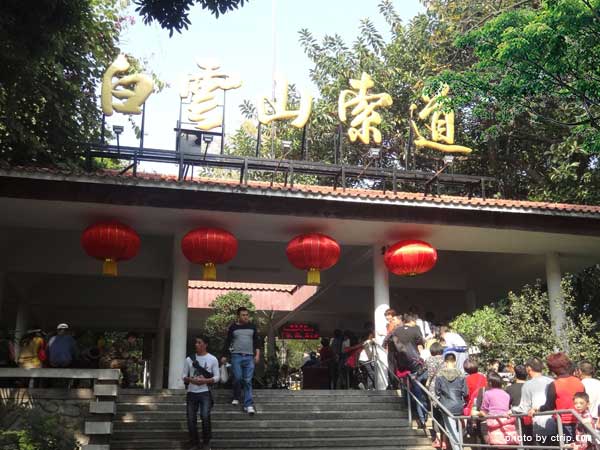 If you do not want to climb the mountain by foot, you can also choose to take the cable car to reach the top of the mountain. The Baiyun Cableway is the first bicable ropeway in the country, and there are 80 cars with 6 passengers seats in each car. The lower station is located east of Yuntai Garden and the upper station is at the Peak Park, with a difference of 198 meters (about 650 feet) in altitude and are located 1,672 meters (5,486 feet) away from each other. The cable cars of Baiyun Cableway pass by scenic views like a barbecue zone, Pu Valley, the Cloudy Valley, Nengren Temple and so on, and Guangzhou City can be seen clearly from the summit.
How to get to White Cloud Mountain
There are many ways to get to Baiyun Mountain (White Cloud Mountain). You can take a special bus route from Yuhua Road, or take the No. 11 bus to Shuquan Road, Shahe to reach the summit by foot. It is also possible to take the No.24 bus, then take the cable car to the summit. (about 1,600 m (5,200 ft) in all).