Trestle Bridge, commonly known as Qianhai Bridge, South China Sea Bridge or Large Pier, is located in Seaside Resort, 11 Jingshan Lu, Qingdao, Shandong Province, China, by the north side of Qingdao Bay. It faces across Little Qingdao Isle and connects with Zhongshan Road in a straight line, being an important symbol of Qingdao City. Walking the 440-meter-long bridge is a great way to enjoy breezes coming off the sea.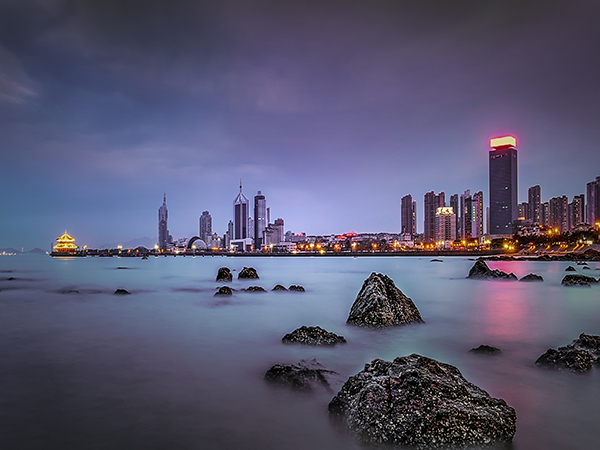 As a symbol and landmarks of Qingdao City, Trestle Bridge looks like a rainbow lying in the water. At one end is Huilan Pagoda, a classic beauty that hosts historic and cultural exhibits throughout the year. Strolling along the beach of Trestle Bridge, you can see the crescent-like outline of Qingdao. What's more, when the seal is calm and tranquil, hundreds of thousands gulls soar freely. Image what a stunning view it is.
History
As old as the city of Qingdao, the Trestle Bridge has sat astride the Yellow Sea since 1892 in Qing dynasty. First built for the reception of Li Hongzhang, a prominent statesman during the Qing Dynasty, Trestle Bridge has since become a symbol of the city. It was built under the commander of Zhang Gaoyuan, who was an officer of this place at that time. Then it was completed in 1893. There was a total length of 200 meters of the bridge, 10 meters wide. The stone of its base was gray and it was equipped with iron fences on both sides of the bridge. It is the oldest artificial dedicated pier for military in Qingdao. The bridge became wharf in a war.
It was extended in May 1901. The northern section became a pavement of cement. Iron fences were changed to iron chains. Also, it was extended to 350 meters to the south. The extension section was built by steel and wood and built light railway to facilitate transportation. After 1905, commercial cargo transportation moved to Qingdao Port, the bridge became a quarantine site of ships. From September 1931 to April 1933, the Qingdao municipal authorities invested 258,000 yuan to expand and repair this bridge. This time, it used reinforced concrete pile to rebuild it. In addition, the bridge was extended to 440 meters long and 8 meters wide. At the same time, the deck height of it increased 0.5 meters and built a semi-circular breakwater at the southern tip of it. There newly built a double-cornices octagonal pavilion with ethnic style, named Huilan Pavilion. Since then, the bridge has become an important landmark buildings and famous scenic tourist attractions in Qingdao City.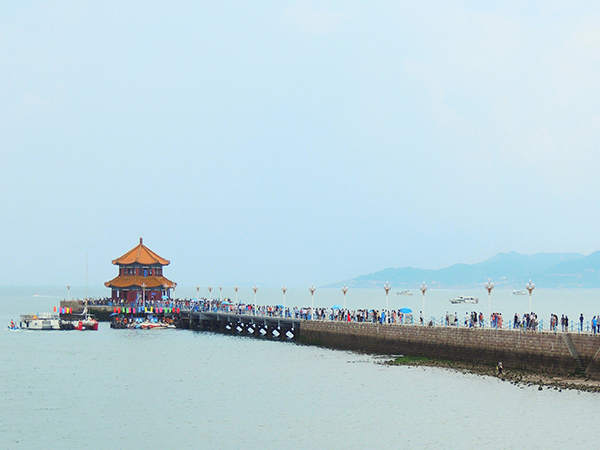 What to See
• Huilan Pavilion
Huilan pavilion is located in the waterfront of Qingdao City across the water with Little Qingdao Isle. It is recognized as an important symbol of Qingdao.
• Zhongshan Road
Zhongshan Road connects with Trestle Bridge on a north-south line. It is an old commercial street in Qingdao city, having history of 100 years. Currently, it is also one of the most prosperous places in old downtown of Qingdao.
• Little Qingdao Isle
If you ask what the Qindao highlight is, it can firmly to say the Little Qingdao Isle. It is a good area for a brief stroll, giving good views of the Huilangge Pavilion, the rusting submarine and destroyer of the Naval Museum, and, if the weather is right, the nearby Yellow Island (Huangdao) nestling in mists. Its elevation is only 17.2 meters and covers an area of only 0.012 square kilometers.
Travel Guide
• Address: Seaside Resort, 11 Jingshan Lu, Qingdao, Shandong Province
• Transportation: visitors can take Buses No. 2, 5, 6, 8, 25, 26, 218, 220, 223, 225, 301, 304, 305, 307, 311, 312, 316, 320, 321, 501, 217, 325, Tunnel 2, Tunnel 3 or Tunnel 6 to get there.