After months of preparation, 36 pieces of treasures elaborately selected by Hunan Provincial Museum have successfully launched at the website of Virtual Collection of Masterpieces (VCM), a project of the Asia-Europe Museum Network (ASEMUS). On June 13, 2011, VCM released this news at its homepage, welcoming the participation of Hunan Provincial Museum.
Virtual Collection of Masterpieces (VCM), co-funded by Asia-Europe Foundation and Asia-Europe Museums Network and in partnership with International Council of Museums (ICOM), Lab for Culture, etc., is a project that uses the Internet and masterpieces in the collections of contributing museums to promote mutual understanding and appreciation between the peoples of Asia and Europe. Since it started, more than 100 world-renowned museums from 29 countries in Asia and Europe have successively come aboard; and the website hence grows up to be the largest platform for museum information, especially the "masterpieces" all around the world.
Since February, 2011, relevant staff in Hunan Provincial Museum had devoted themselves to this project. After months of preparatory work such as background research, images selecting, text compiling, translating, proofreading, submitting and numerous contacts with VCM's person-in-charge, 36 pieces of "representatives" were finally selected from the abundant collection of Hunan Provincial museum and launched at VCM. With interesting stories and detailed introduction, these objects will, as the "international top masterpieces", on behalf of the 180,000 pieces of objects in the collection of Hunan Provincial Museum, show the brilliant culture and history of Hunan region to the whole world.
English and Chinese webpage of one of the masterpieces: Plain Gauze Gown
Treasures launched at VCM website include the cultural relics excavated from the Mawangdui Tombs of Han Dynasty, the bronze wares of Shang and Zhou Dynasties, pottery and porcelain works, calligraphy works and paintings, and modern relics, which represent the long history of Hunan region from Palaeolithic age to the contemporary era.
The 36 pieces of selected "masterpieces"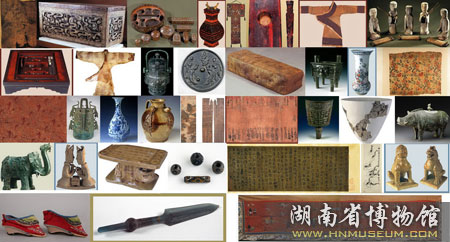 Source: Hunan Provincial Museum