Nanchang Tenwang Pavilion, with Yellow Crane Tower in Wuhan City of Hubei Province and Yueyang Tower in Yueyan city of Hunan Province, is one of the top "Three Grand Buildings of South Yangtze" in China. The Teng Wang Attic wrote by Wang Bo, an outstanding poet in early Tang Dynasty, made it well-known and more famous at that time. At the year 1926, it was destroyed in the war and kept in silence for decades. The Pavilion we visit today was rebuilt in 1985, according to the 8 sketches, which analyzed the imperial drawings of Song Dynasty, drawn by architect master Sicheng Liang in 1942.
The history of this pavilion can be dated back early Tang Dynasty – at the year A.D. 653, this project, ordered by King's brother "Prince Ten" Yuanying Lee, was put into operation as a hedonic palace. Due to its privileged location – right on the east bank of grand Gan River, it was also the best place for local officials to entertain guests for centuries. Besides, it was also a place to store and reserve books and records, can be called the ancient library.
With a height of 57.5 meters, Tenwang Pavilion's main building area is 13,000 square meters. Beneath the main building, there is a 12 meters high Stand with two layers, which embraced by two cucullate artificial lakes. Take an outside view, people will see the main construction having three floors with winding corridors, but it just a disguise as the pavilion, actually have 7 layers – 3 clear layers and 3 blindstories plus one mechanical floor in the garret. The scenic spot consists of the main buildings of the pavilion and two small gardens respectively in the north and south. There is an elevator inside the building, but currently it is only available to the elder people over the age of 70. For an ordinary tourist, you need to take the stairs to walk up and down.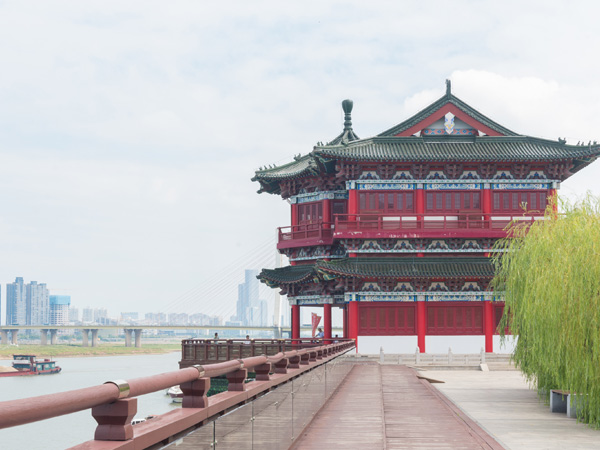 The key color of the Pavilion is Red, varied shades of red – bright red, vermeil, deep purple-red and reddish brow, etc. were used in rafters, roof boardings and pillars, doors and windows, etc. But all the tiles paved on the roof and eaves, displaying elegant deep green, well-balanced the so active reds. The whole construction shows a magnificent and dignified manner.
Step into the first floor the main hall, a large white marble carved stone come into view – it describes a legendary story of poet Wang Bo. The west part of this hall keeps a coppery mini Pavilion, in the proportion of 1:25. In the middle of grand hall on second floor, there is a large mural in 2.55 high and 20 meters long.
Continue up to the fifth floor, it is the floor to have a bird view of the city. And essence of Tengwang Pavilion is concentrate in the fifth floor. Here are the poems of Tengwang Ge Xu carved on a copper plate in the middle of hall, which was written by Su Shi. Besides stands the statue of Wang Bo with a drinking cup in his hand. And there is a panoramic model of Tengwang Pavilion Scenic Spot.
Whereby boarding to a upper layer, you will see an antique stage, where about an hour there will be a ancient costume show put on. If you are interested in, you may sit down and enjoy. After coming down from the pavilion, you may visit to the two antique gardens in the north and the south. If you want to save money, you can choose to not enter the area. You can get a full view of the pavilion from outside, but you will miss the best camera angle to shoot the pavilion.
In addition, there are streets nearby where you can buy some souvenirs, and Jiangxi Province Museum not far away is also worth visiting.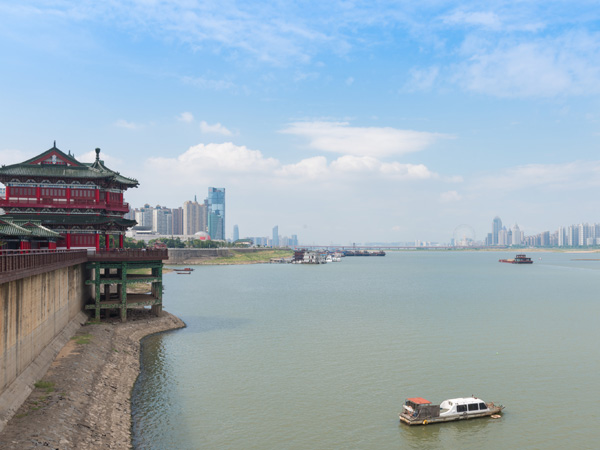 Travel Guide
【Chinese name】: 滕王阁
【Best time to visit】: March to Mar and September to early November is the best time to visit. Nanchang is very hot in July and October and cold from December to February in the following year.
【How to get to Tengwang Pavilion in Nanchang】: You may take Bus Route 2, 7, 26, 302 or 38 and get off at Tengwang Pavilion Station (滕王阁站) or take Bus Route 5, 12, 18, 20, 25, 27, 38, 228, 305, 307 to Zhongshan Bridge Station (中山桥站). Or you can take Subway Line 1 to Tengwang Pavilion Station(滕王阁站), and then walk to the scenic spot.