Situated in the southern side of Hong Kong Island, Stanley Market is a typical example of a traditional old open-air market in Hong Kong and has since become a major tourist attraction.
It is a place to find silk garments, sportswear, art, Chinese costume jewellery, other souvenirs and a host of fantastic bargain. A trip to Stanley would not be complete without comprises a six-story shopping center. Right next to it is Murray House-former British army officers' quarters, now houses the Hong Kong Maritime Museum and various dinning outlets.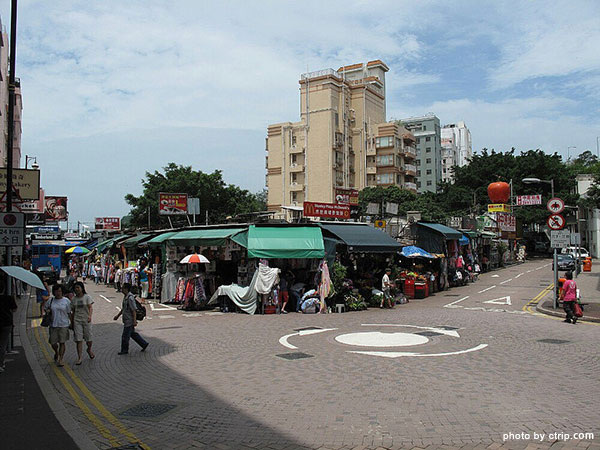 A hard morning of shopping is also nicely finished off by a good lunch at one of the many restaurants, which are the reason that Hong Kong locals also frequent visit the area. There are many restaurants and bars near Stanley. Many of them are Western-style restaurants with elegant decoration. The menu offers western and Chinese food. Bars here are mostly semi-open type.
September to February next year is the best time to visit.

What to Buy in Stanley Market
There are all kinds of shops though they are extremely touristy and are mostly souvenir. Its enormous selection of brand-name clothing items (large sizes are available) and accessories, jewellery, home furnishings, souvenirs, ornaments and Oriental knick-knacks are sold at reasonable prices in a picturesque warren of lanes. Loads of cheap watches, perfect for young kids, fancy torches and other electronics shops are also great things to buy.
NOTE: be aware that though the market is busy and interesting place to buy things it is of course mainly for tourists. Therefore take due care that what you are buying is correct and not a cheapie made for tourists.

What to See nearby
【Stanley Main Beach】
Stanley Main Beach nearby has pleasant scenery. Golden sand, blue sky and sea, it is a good place to enjoy the sun and the beach. The beauty is quite lively especially in public holidays. Most people love to play the sand and all kinds of water sports. The official swimming season in Hong Kong runs from April through to the end of October and during that time all the proper facilities will be there. But after that the Stanley Main Beach, like other official swimming beaches, will not have those facilities.
【Tin Hau Temple】
Tin Hau Temple is sited in Stanley Street. According to historic research, this temple has a history of six hundred years, being one of the oldest Tin Hau Temples in Hong Kong. The temple is dedicated to enshrine and worship Goddess of the sea. It was originally built for the sake of praying calm weather in the sea. After going through several repairs, it still retains the original appearance and become one of the tourist attractions in the city.
How to Get to Stanley Market
MTR Causeway Bay Station, Exit B. Walk to Tang Lung Street and then take minibus 40.