The Small Three Gorges (Lesser Three Gorges) is one of the exciting and famous stops in the Yangtze Three Gorges. It is often called the "highlight" of the cruise, even the whole China trip. It always refers to the three separate valleys of the Daning River, namely "Dragon-Gate Gorge", "Misty Gorge" and "Dicui (Emerald) Gorge".
Small Three Gorges, with an area of 160 hectares of forest, lies on the lower reaches of Daning, extending from the entrance of the Dragon-Gate Gorge in the South to Tujiaba in the North for 50 km. Here sheer cliffs and steep mountains rise on either side, creating one of natural fine arts gallery as natural scenic wonders unfold on both banks of the river. Clear water flows between precarious precipices and peaks covered with green trees and bushes.
Here you can board a small junk to enjoy the spectacular views and experience a water-borne sensation you never did before. Its "subtle mountains, clear waters, pretty rocks, dangerous rapids, sharp turns, fantastic caves, and stalactites in various shapes" characterize the natural landscape in the Small Three Gorges. Monkeys, mandarin ducks, water birds and fish can be seen in this area. In addition to the continuous natural scenery there are a number of historical places of interest along the way, such as suspending coffin, boat coffin, remains of ancient plank walkway. The area has been made one of the key nature reserves in China and is becoming known as a tourist attraction continuing to offer its charms.
If you like to explore the Small Three Gorges, to embrace the nature. Take those ships which stop at here. You will find the photographs, articles, poems and draw paintings enthusiastically about here.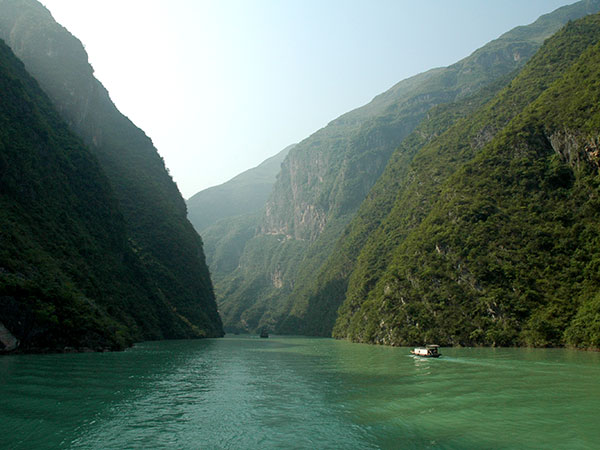 What to See
The Yangtze River small three gorges for its beautiful scenery attracted many visitors' eyes; Yangtze River Small Three Gorges start from Wushan Mountain in the south, extends to Dachang Ancient City on the north. It is commonly known as Mt. Wushan Small Three Gorges or Daning River Small Three Gorges, and is the essence part of the Daning River Scenic Spot. Compared with the magnificent grand and steep Yangtze River Three gorges, Small Three Gorges are beautiful and unique, sophisticated and elegant, so people praise "it is not the Three Gorges but better than Three Gorges". And there were hanging coffins in the cliff.
Small Three Gorges consist of Longmen Gorge, Bawu Gorge and Dicui Gorge. Longmen Gorge is about 3 km long, on both sides of the gorge are dense forests and river rapids. It is a gateway of Small Three Gorges, visitors here are mostly watch the scenery on foot.
【Grand Longmen Gorge】
Longmen Gorge is the first gorge of Small Three Gorges, about 3 km long, the mountain of both sides of narrow stand opposite and the mountain cliff is like cutting wall.
Longmen gorge famous sceneries are Shishoumen (Lion Gatekeeper), the ancient plank road site, Lingzhi Peak (Lucid Ganoderma Peak), Yinwo Beach (Silver Nest Beach), and Mojiao Beach, etc, the beauty of the scene all makes visitors enjoy so much that forget to return. The cruise ship pass by gorge, visitor can appreciate cross-strait unique peaks and rocks, flowing waterfall, hanging coffins, Yinwo Beach, Panda Cave and the remains of ancient plank road, the mountain is green and luxuriant. And there will appear the monkeys from time to time.
The flowing waterfall and spring of Longmen Gorge is quite beautiful and clean, on the Hedong rock, there is a clear spring gurgled into the river, called "Longmen Spring". There are holes on the Hexi precipice, orderly extend for more than 300 kilometers until black river, and these holes are the remains of ancient plank road. And there is another colorful pebble beach in Longmen Gorge, is a natural and exquisite miniascape.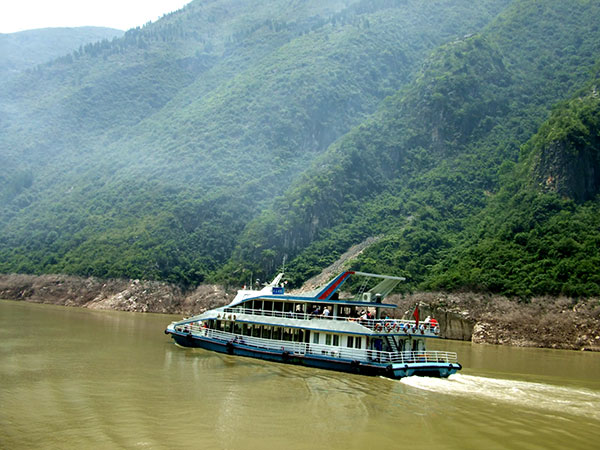 【Fantastic Bawu Gorge】
After the Longmen Gorge is the rapid breathtaking Yinwo Beach and over the rapids is Bawu Gorge (also called Tieguan Gorge). Bawu Gorge is from Tortoise Beach to Shuanglong, about 10 kilometers long, it seems that there is no way out of stone road, but you might find surprise after turning. There is high deep valley, hazy, and full of stalactite with different shapes. Eastern cliff a glittering golden long rock shapes like a celestial dragon, and dragon's head has entered into the hole, so it was called "Dragon Enter Mountain". Across the hillside there is a water-eroded cave, the entrance of the cave is a yellow round stone, just like fierce tiger out of the hole, so it was called "Tiger out of Mountain". West cliff there is a string of stalactites hanged upside down, like two horses, its head has entered mountain, but the tails of horses and hind legs are still outside the mountain, so it was called "Horses Coming Back to Mountain".
Crevice in 4 to 5 meters high from the surface of eastern cliff in Bawu Gorge, there is one black hanging coffin, commonly known as the "iron coffin" so it also named Tieguan Gorge (Iron Coffin Gorge). It was verified that this "Iron Coffin" is the Ba people hanging coffin during the warring states period, because of looking like color of iron so it was called iron coffin. The hanging coffins of the best-preserved are in Jingzhou dam 25 kilometers northeast of Wuxi County, where there are 24 black coffins.
【Quiet Cuidi Gorge】
Dicui Gorge is the longest, deepest, quietest and most beautiful gorge among Small three Gorges, about 20 kilometers long from Shuanglong to Tujia Dam. The main attractions are Water Curtain Cave, Inscriptions of Buddha, Sky Spring and Flying Rain, Luojia Village, Sheep Beach, Madu River, Dengtian Peak, plank road, rope bridge, hanging coffins, Feiyun Cave, etc.



Transport Information
Taking high-speed hydrofoil in Chaotianmen Dock for 8 hours to Wushan, and then transferring to a bus to Small Three Gorges Longmen Pier.
Small Three Gorges tour, generally starts from taking boat in the Daning River at the edge of Mushan County and goes upstream, enter Longmen Gorge and pass through Bawu Gorge to Dicui Gorge, and then go back.

Best Time to Travel Small Three Gorges
March to August every year is the best time to travel Small Three Gorges.
Due to the Three Gorges Dam is completed, now there is no wet season and dry season, cruise ship can directly drive to Wushan. But in order to see better scenery, it is suggested that travel in spring and summer. July and August is hotter, short-sleeved dress is enough. Wushan often rains, must carry an umbrella or raincoat.