What to buy:
Historical relics, calligraphy, paintings, antiques, jewels, and folk art
Shuyuanmen Ancient Culture Street, which starts from Nanmennei in the west and ends at the entrance of Baishulin Street in the east, is a famous ancient culture street in
Xian.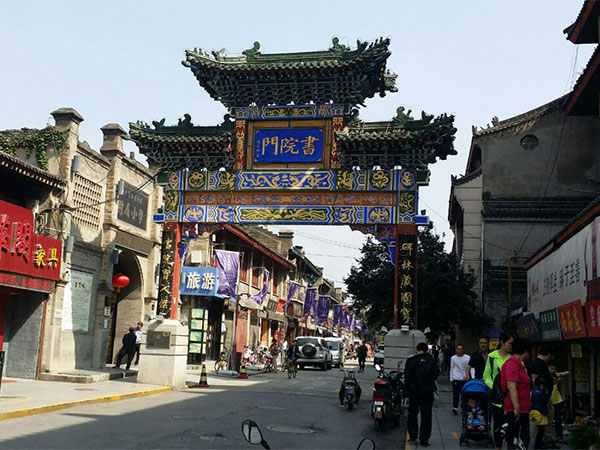 Shuyuamen (Academy Gate) got its name because of the Guanzhong Academy at Nanmennei. The Guangzhong Academy was the highest academy in Shaanxi during the Ming and Qing Dynasties, and one of the four famous academies in China. It ranks first of the four major academies in Northwest China. No it is occupied by the Shaanxi Xian Normal School. The street is flanked by hops and stores, which sell the four trasures of the study (writing brush, ink stick, ink slab and paper). Shu Yuan Men is particularly famous for its collection of calligraphy. In fact, the market is popularly known as the "Calligraphy Street". A host of shops here carry the legacy of the ancient Chinese art. This art street is flanked by over 100 shops in the Ming and Qing styles, selling rubbings from stone inscriptions, paintings and calligraphic works by celebrities, and books of ancient seals. The high quality of this work wins many tourists at home and abroad. Shu Yuan Men is also an authentic destination for hand crafted products and reflect the richness of traditional Chinese crafts. The market has a wonderful collection of oriental paintings which make a colorful display of the traditional painting styles. This street also can be an attraction itself. The ancient Ming and Qing constructions contain high values in architectural field. The quaintness of the surroundings definitely adds to the charm of shopping here.