Shichahai is located in the northwest part of Beijing, and covers a large area of 146.7 hectares (about 363 areas). It is a famous scenic area that includes three lakes: Qianhai (Front Sea); Houhai (Back Sea); Xihai (Western Sea), surrounding places of historic interest and scenic beauty, and remnants of old-style Beijing residences, Hutong and Courtyard. The earliest structures of Shichahai area streets formed in the Yuan Dynasty, thus there are many ancient buildings in this region. They have typical features of traditional architecture of Beijing. So far, some of folk activities with strong vitality still abound in the Shichahai area, such as fishing, swimming, boating, rowing, playing chess, dancing and singing. Shichahai got its own name for there are ten temples surrounded, including the Guanghua Temple, Fire Chun Kwan Temple, Huguo Temple, Baoan Temple, Zhenwu Temple, the White Horse Temple, the Yousheng Temple, Wanning Temple, Shekhu Temple, Wanyan Temple.
What to See in Shichahai
The greatest point of interest in Shichahai today is its residences, Hutong and Courtyard. In and around Beijing City, Shichahai is one of the best places to view well-preserved Hutongs and courtyards. Visiting Hutongs by pedicab has become a popular activity for visitors from China and abroad. As Shichahai is close to Drum Tower, and the north gate of Beihai Park, which ia one of the best of China's classical gardens with artificial hills, pavilions, halls, temples and covered corridors, visitors can take buses reaching either of them and then visit Shichahai.
Shichahai is always a good place for locals' recreational life, and in the last 200 years, many governmental officers, celebrities, monks and nuns chose to build mansions, temples and nunneries in Shichahai. Thus, Shichahai's attraction lies not only in its natural beauty, but also in the historical value of its architecture. The most famous ones among these historical buildings are Gong Wang Fu (Prince Gong's Mansion), Chun Wang Fu (Price Chun's Mansion), which is the largest Siheyuan in the world and the most well preserved mansion in Beijing, the Former Residence of Song Qing Ling, the Former Residence of Mei Lan Fang (the well-known Peking Opera master) and Guang Hua Temple.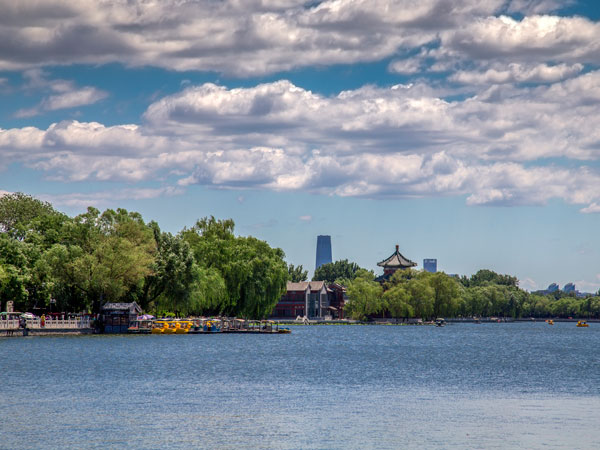 【Yinding Bridge】
Yinding Bridge is located in Shichahai, Xicheng District, Beijing, on the waterway between the Qianhai Sea and the Houhai Sea of Shichahai. It is a north-south hole stone arch bridge and it is called Yin Dian because of the shape of it. It is one of the scenic views of Shichahai. This bridge is 12 meters long, 7 meters wide and 8 meters high, with 5 meters' span. There are 5 hollow handrails which are carved with cloud, as well as 8 balusters. This bridge was originally built in the Ming Dynasty and has a history of more than 500 years. Then it had been rebuilt in 1984 and in 2011. Shichahai is one of the most well-preserved traditional style regions in Beijing. And Yinding Bridge, as one of eight best views in Shichahai, enjoys a high reputation. In addition, Yinding Bridge is the important way which must be passed to Prince Gong Mansion, the former residence of Soong Ching Ling, Fire Temple and Lotus Markets, so there are a lot of tourists come and go on the bridge. Standing on the Yinding Bridge, it provides the best view of Shichahai Lake.
Interesting Things to Do in Shichahai
In the Shichahai area, you can take a tricycle tour to visit old Beijing Hutong and historical sites; you can also take a oar boat to explore the fascinatingn view of Qianhai (Front Sea); Houhai (Back Sea) and Xihai (Western Sea); or you can ride a tandem bicycle to savor the culture here.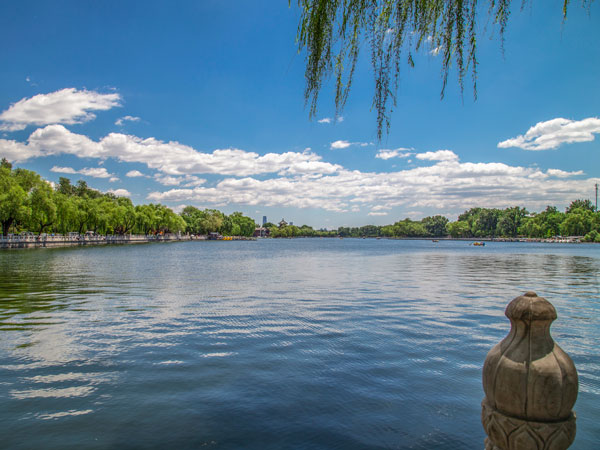 Shichahai Area
Going to a nightclub in Shichahai Bar Street is also a great choice. This bar street has become one of most popular places in the night the capital. Today's Shichahai is compatibly classical and modern, traditional and avant-garde, with natural landscape and cultural historical sites. In spare time, on can taste wine while boating, viewing sparkling lake; or wander on both sides of the lake, listen to swaying willow trees; or search for food, taste the imperial family dinner; or stay at a local house to taste the old Beijing.
There are also many specialties restaurants gathered in the surrounding area. The Barbecue Season near Yinding Bridge, which is a old restaurant in Beijing City, is famous for roast lamb; Wangdelou Restaurant in Yandaixiejie is an old halal restaurant. There are a variety of other snack stores near Shichahai. In a word, Beijing Shichahai is a interesting sited that combines a set of natural scenery, cultural history, food and traditional folk custom. Visitors would have a wonderful experience traveling to this area.
How to Get to Shichahai Area
►Take Subway Line 6, then get off at Beihai North Station and get out of the station from Exit A
►Take buses No.5, 60, 107 and 124 and get off at Drum Tower Station
►Take buses 13, 107, 111, 118, 609 and 623, get off at Beihai Beimen (north gate of Beihai Park), walk forward for a while and you will get there