Brief Introduction
The Shanghai Tower (Chinese: 上海中心大厦; pinyin: Shàng hǎi Zhōng xīn Dà shà; literally: "Shanghai Centre Tower") is a 632-metre (2,073 ft), 128-story megatall skyscraper in Lujiazui, Pudong, Shanghai. It is the tallest of the world's first triple-adjacent super-tall buildings in Pudong, surpassing the Jin Mao Tower and the Shanghai World Financial Centre who stand near by it. And It is also the tallest building in China so far and the world's next to the Burj Khalifa Tower in Dubai and followed by the world third highest building Royal Clock Tower Hotel in Saudi Arabia. It also has the world's highest observation deck within a building or structure (Level 121, 561.25 m) and the world's fastest elevators at a top speed of 20.5 metres per second (74 km/h; 46 mph) with its underground parking lot capable to hold 2000 vehicles.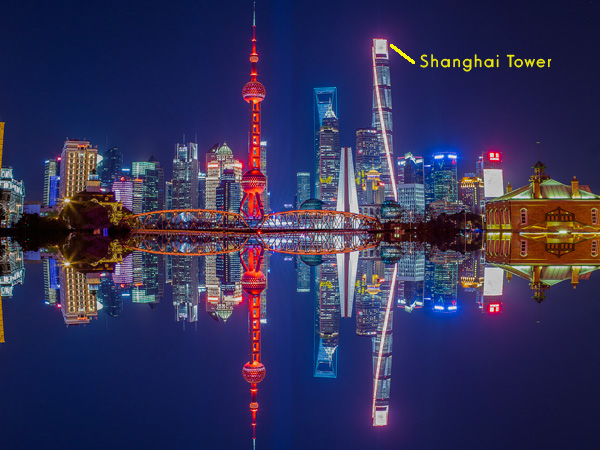 It was started to build in 2008 and finished in March 12th 2016. Shanghai Tower is a well spotted architecture in the Shanghai skyline viewing from the Bund.
Design Ideas and Why
American architectural SOM, KPF, Foster + Partners in Britain, Shanghai modern architectural design group and many famous architecture offices had participated in the design biding of Shanghai Tower. In the end, the American architectural firm Gensler had won the competition with their dragon shape design concept. The SOM and the Chinese architect Jun Xia were the leading of the design team and the construction drawing was presented by the top class Chinese university Tongji University.
Structure
Shanghai Tower has two glass layers , one inside and one outside, the whole structure of this building is like one huge tube putting outside another. The inner tube is round shape and the outside tube is triangle shape. The space between the two glass layers is between 3ft and 33 ft (90 to 10 m), providing space for the air hall, and acting as a heat insulation layer similar to a hot water bottle to reduce the temperature control consumption of the whole building. Reducing the energy consumption of skyscrapers is not only conducive to protecting the environment, but also making the large-scale construction projects more economically affordable and practical.
Sections and Function Zones
Its tiered construction, designed for high energy efficiency, provides nine separate sections divided between office, retail and leisure use. There are 9 sections in the Shanghai Tower and each section has its own sky lobby and hall.

Section 1 from L1 to L5 is comprehensive conference rooms and retailer commercial counter.
Section 2 to section 6 occupying L8 to L81 are office sections with sky lobbies equipped in each section. Each two-level sky lobby serves as a community centre for that zone of the building, with such amenities as food and beverage and conference rooms.
Section 7 and 8 from L84 to L115 are hotel sections.
Section 9 occupying L118 to L121 is observation deck, functioning for Leisure & Dining & Bars
Basement Section: B1 to B2 is for commercial retailers & Underground entrance; B3 to B5 is for parking & engineering facilities.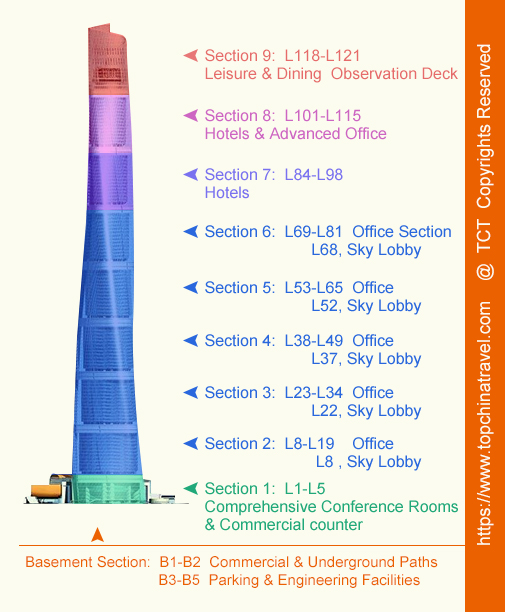 The tower is able to accommodate as many as 16,000 people on a daily basis.
Innovations in Design
Shanghai Tower distorts about 1 degree at each floor as the building increases its height. This unique design specifically can reduce the wind force against high architectures. When the wind surrounds the building, the vortex shedding effect will cause the skyscrapers to shake violently. After a wind test on a proportional reduction model, it turned out that this design can reduce wind force by 24%, which is crucial for high architectures in a coastal city like Shanghai, where its buildings are often tested by typhoon.
The outside glass layer is well protected: the first protection is using ultra clear glass as its glass material, because compare to the standard toughened glass, the self-explosive rate of ultra clear glass is nearly zero.
Second protection – glue material is added in the glass making, therefore even if the glass is broken under a severe hammer test, all the pieces can be firmly attached to the glue and will not fall to the ground.
At the same time, the space between the two glass layers becomes a temperature buffer, in doing so, it avoids the heat exchange directly between inside and outside. Moreover, this two-layer design had also significantly reduced the energy consumption in temperature control of this building. It just takes about 50% of that if this is a single layer glass building.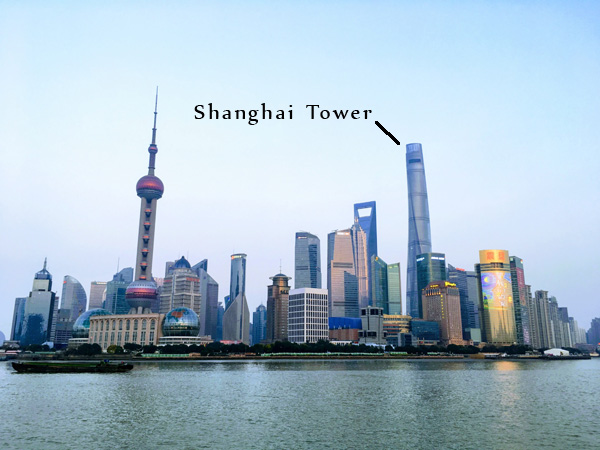 Vertical Transportation System
Shanghai Tower has 106 elevators installed in the architecture and among which 7 are double-deck elevators and 3 are high-speed shuttle elevators——the world fastest elevator by far surpassing that in the Burj Khalifa. These three ultra-high speed shuttle elevators serving the observation deck at the top of the tower are capable of travelling at 1,080 metres (3,540ft) per minute (64.8 kilometres (40.3mi) per hour), the highest speed ever attained by a passenger elevator installed in a functioning building. The building also broke the record for the world's furthest-travelling single elevator, at 578.5 metres (1,898ft). Travelling at 18 meters per second, these high-speed elevators can reach the observation deck on 119th floor in 55 seconds and reach down to the ground floor at 10 meters per second in 70 seconds.
The vertical transportation system for Shanghai Tower was designed by an American consultant, Edgett Williams Consulting Group with Principal Steve Edgett as primary consultant. They worked closely with Gensler's design and technical teams and created a highly efficient core system for this building. Japanese giant Mitsubishi Electric Corp. won the contract of constructing the Shanghai Tower's elevator system.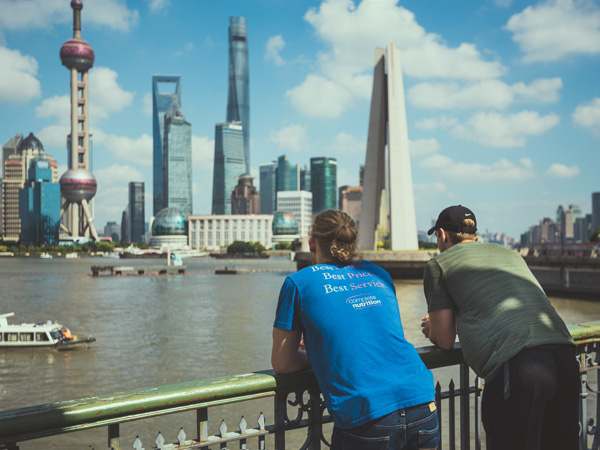 Transportation and How to get
Underground second floor of Shanghai Tower is connected with public transportation system and also connected with its neighbours underground the Shanghai Jinmao Tower and the SWFC. Metro line 2 and metro line 14(still in construction, estimated time in operation 2020) pass here. If you arrive at Shanghai Pudong international airport, you can take metro line 2 at the airport and get off at the Lujiazui Station to reach these shanghai skyscrapers.
Metro line 2 is also connecting the famous Shanghai travel sites, Nanjing pedestrian and Renmin /People Square, it is very useful line for tourists.