Shanghai Circus World, earned a reputation of the "No.1 Circus City in China", is sited in 2266 Gonghe Xin Lu, Zhabei District. So it has transportation and is easily to be reached. It has a unique architectural style with a golden dome roof, being another landmark of Shanghai metropolis. The main building is used for circus shows, with auxiliary buildings for rehearsal, amusement and other facilities.
The golden dome roof is made from aluminium—titanium alloy metal, 32 meters high. There are1670 seats, with a building area of 5691 square meters. There are two layers, one is under the ground, and the other is on the ground. The underground floor is used for dressing rooms, bathrooms and equipment rooms. And the floor on the ground is used for the performance hall, with a composite landing stage. This building was completely refurbished in 2005 to prepare for ERA: Intersection in Time, the multi-million dollar acrobat/circus show that runs daily. Fetchingly modern, Shanghai Circus World boasts a revolving stage, computer controlled lighting, mirrored cage and digital water curtain.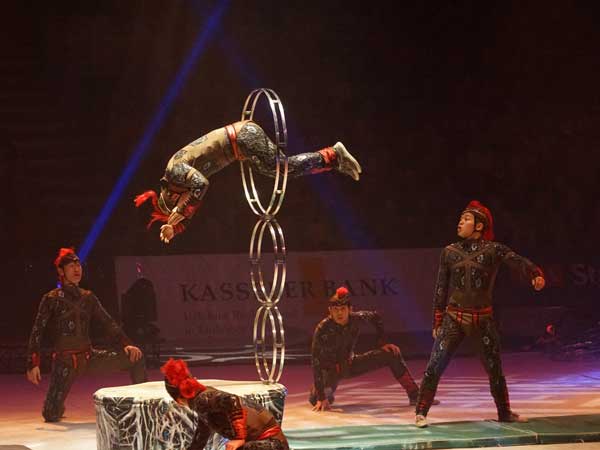 Highlights Shows in Shanghai Circus World
【ERA- Intersection of Time】
ERA- Intersection of Time, the acrobatics show at Shanghai Circus World is phenomenal and cheesy. It is a multimillion-dollar stunning acrobatic extravaganza, the first of its kind in China. it is a multimedia odyssey whose inspiration is a direct result of the combination of traditional Chinese acrobatic arts and modern technology. On the one hand, you get tacky effects and white leotard-clad couples "flying" around while "you and I can dream and fly" booms from the stereo. On the other, you get performers doing the impossible – most spectacularly, one acrobat jumps down from a 15-metre high platform onto the end of a seesaw.
When visitors are watching the acrobatic shoe, they not only will the audience be amazed by the acrobats' control and precision, but also be enchanted by the world that is created through the use of multimedia, lighting technology and sound effects, original live music, elaborate costumes and a lot more.
【Hoop-Diving Act】
Hoop-Diving Act is certainly one of Shanghai's best acrobatics shows. When acrobats jump and somersault through hoops placed at various heights – is performed at breathtaking speed and with the most acrobats that you've seen.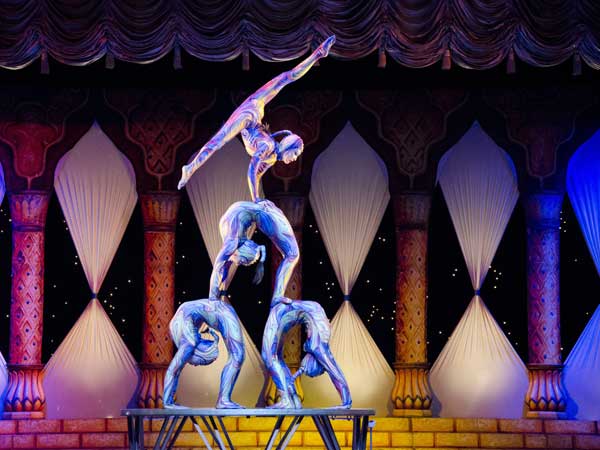 How to Get to Shanghai Circus World
How to get there: Take Subway Line 1 and get off at Shanghai Circus World Station; or take Bus
95, 46, 253, 912, 916, 114, 893, 210 to get there.