Resonant Sand Gorge (Chinese name: 响沙湾) means "the desert with horns" in the Mongolian language. Located n the east side of Kubuqi Desert, this site is in a crescent shape with gold color. Resonant Sand Gorge is featured by its amazing desert landscape and the whispering sand dunes. In the conditions of the dry climate, people will hear sounds like a bugle and drumbeat in the sand if they surf along the slopes of the dunes.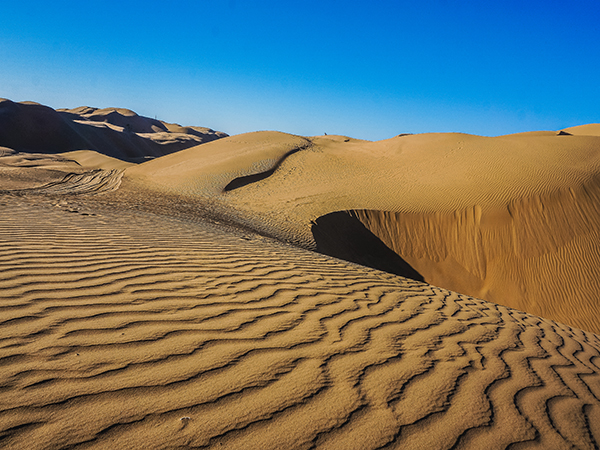 It received its name from the echoing "Shhhh" that the sand makes as you step on the surface. It is filled with junes of dunes trapped within steep rock walls. It's said that the noise of sliding sand, after which the place is named, was thought by Marco Polo to be demons seeking to lure travellers to their death.
What to See
It is featured by its amazing desert landscape and the whispering sand dunes. Besides, there are also the sand lake and the oasis, etc. The sand dunes stretch as far as the eye can see and form a magnificent landscape.
What to Do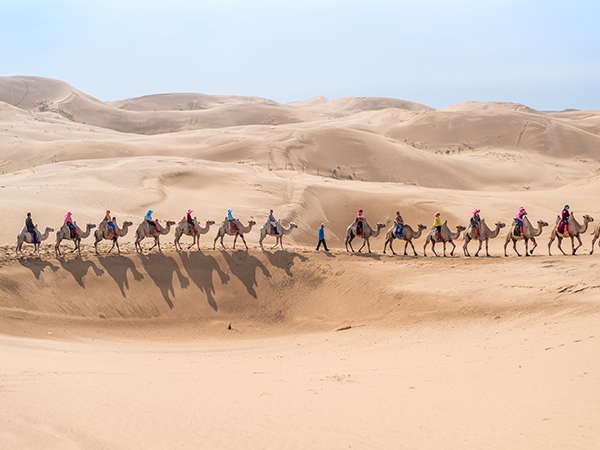 Resonant Sand Gorge melts the desert culture with the profound Mongolian culture. The magnificent desert scene reflects the unique nomadic group lifestyle. This site possesses some "National No. 1″s such as the No.1 Desert Canal in China, the largest groups of camels living here, the first standard Mongolian art group staying here. Visitors also can have various activities to experience.
► Experiencing the desert canal
► Have a bird's view to the Kabuqi Desert
► Skating on the desert
► Riding the camel
► Playing the desert paraglide
Besides these exciting activities, visitor also can experience the traditional Ordos culture when stay here for a night. The wolrd-famous Ordos wedding performance, the large-scale party, the carnival and bonfire party, etc. can be experienced here.
How to Get
There's a stop for the Hohhot-Dongsheng inter-zone route; tourists along the northern route can take the regular bus from Hohhot and Baotou East Station; tourists along the southern route can take regular bus at Dongsheng.