Qingdao Olympic Sailing Center is a sailing marina located on the former site of the Beihai Shipyard by Qingdao's Fushan Bay at Shandong Province in China. It was the venue which hosted the 2008 29th Olympic sailing competition and 13th Paralympic Sailing competitions. The 45-hectare Qingdao Olympic Sailing Center is located at the former Beihai Shipyards by Qingdao's Fushan Bay, adjoining May 4th Square and Donghai West Road.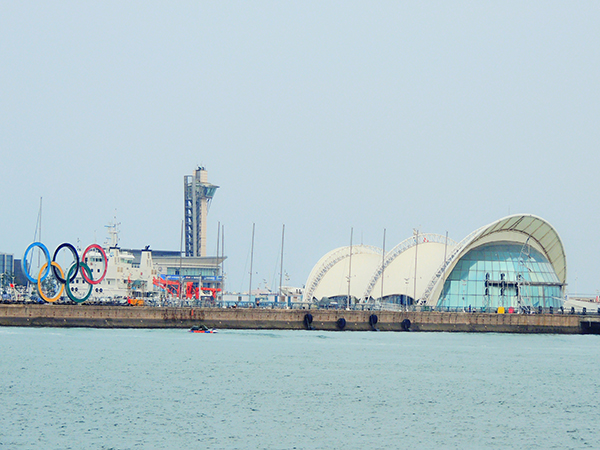 With an investment of 3.28 billion yuan, the environment-friendly venue comprises both land and water projects with all works on the venue. The entire project consisted of more onshore than offshore work. There are a lot of supporting infrastructures, including Athletes Village, Logistics Supply Center, Media Center, National Sailng Center, Five-star hotel, Internatioinal Yacht Club, Seaside Marina, as well as shopping and amusement center, etc.
Access from the Qingdao Paralympic Village to the dock, work areas, etc. is provided by numerous golf carts making endless daytime rounds. Both ends of the work area had 2 cranes apiece, which could lift large keelboats like the Sonar from cradles and lower these into the water. At night, a laser light show from the main breakwater lighthouse would play from early evening to midnight. Across the bay, the famous May 4th monument and Qingdao's landmark seaside building are easily visible.
Qingdao had also taken into full consideration the post-Olympic use of the venue, when designing it. After the Olympic Sailing Competition, the venue has become a national sailing sports school as well as a water sports training center. The whole Olympic Sailing Center is open to the public, becoming a place of recreation and a tourist resort.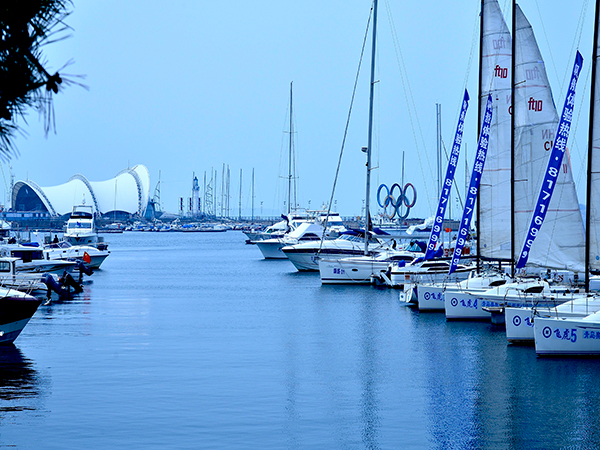 About Chinese Sailing
Sport sailing in Chinese began in 1978. Although it was relatively late comparing to the western countries, however, China made remarkable progresses later on. Nowadays, nearly 20 provinces, districts or cities in China have been involved in the sport. As a matter of fact, Chinese athlete has gained five rounds of world championships in Women's windsurf class and a silver medal in Olympics in 1992.
Travel Guide

【Chinese name】: 青岛奥帆中心
【How to get there】: Take Bus 31, 33, 104, 110, 125, 208, 224, 225, 232, 304, 311, 316, 321, 363, 501, 210 etc. to get there.