Putuo Mountain, lies in Zhoushan Prefecture in Zhejiang Province, is regarded to be one of the four holy Buddhist mountains in China. The other three Buddhist mountains are Mount Wutai in Shanxi Province, Mount Emei in Sichuan Province and Mount Jiuhua in Anhui Province. It is dedicated to Guanyin, a goddess of mercy. A plenty of spiritual seekers come to visit this island, especially a lot of Chinese oldies, for spiritual retreat.
Putuo Mountain is one island among 1390 islands of Zhoushan archipelago of covering an area of 12.5 square kilometers. The Fudingshan Mountain is the highest peak of this mountain with 300 meters high above the sea level.
Here, you can see a few temples, nunneries as well as monasteries. The beautiful landscapes along with the charm concerned with Buddhism make this mountain a sacred mountain.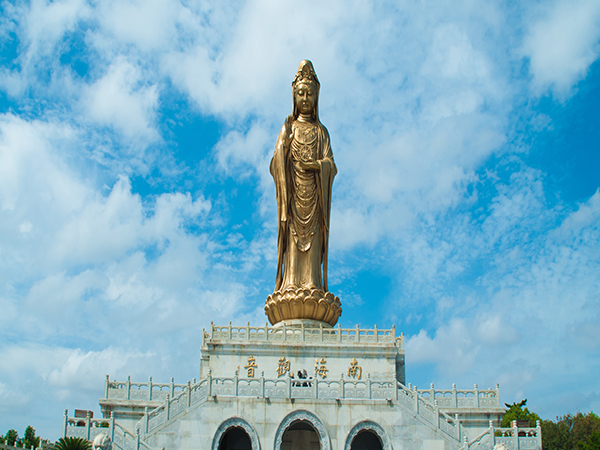 Things to Do and See
The ancient architecture complex as well as historical spots remained in this mountain were built in several dynasties, including Song Dynasty, Yuan Dynasty, Ming Dynasty and Qing Dynasty. This mountain once had 82 temples and 128 huts, which could serve 4,000 monks as well as nuns at its heyday. While you walk on the paths, you are likely to come across monks in kasaya.
Among the large and small temples and monasteries on this mountain, Puji Temple, Huiji Temple and Fayu Temple may be the most well known ones. An Institute of Buddhism, one of the country's largest Buddhism institute, also can be found here. Buddhism in this sacred mountain has a history of over 1,000 years.
Since this mountain is secluded and offers an evocative view of the ocean, it has long been regarded as the "pure land" in China. The average temperature of the whole year here is about 20 °C, making it a perfect place to learn about traditional Chinese culture as well as Buddhism. Also, you can see the bizarre rocks as well as queer cliffs everywhere. Along the line where the mountain connects with the sea, a lot of spectacular caves are very fascinating. The following attractions on Putuo Mountain Island are popular places to visit.
【Puji Temple】
Puji Temple is one of the most popular temples with the most burning incense on Putuo Mountain, as well as the largest and oldest temple. Buddha Shun all major events held here. Because it is sited in the hub of Putuo Mountain road transport. Covering an area of 14,000 square meters, Puji Temple is an amazing place with 9 magnificent halls, 12 pavilions, an 18 meter Multi-treasure Pagoda, and fronted by the large Haijin Pool with its 3 very different bridges. By the middle (Emperor's) bridge is the Yu Bei Ting. A visit to this place of worship should take at least 1-2 hours.
Next to Puji Temple is Duobao Pagoda, which is the oldest building in this place built in Yuan Dynasty. The pagoda now is one of three treasures on Putuo Mountain, and it is protected by a wall. You can only watch it in a distance from Haijin Pool. Xitian Scenic Area is an ideal place to watch sunset, while Bai Bu Sha Beach in the east is a perfect site to enjoy swimming in summer. In addition, as the open time of the temple (6:00am-9:00pm) lasts quite late, it is recommended to put it in the last stop of your day trip, so that you can spare the time to visit other sites on the island.
【Fayu Temple】
Fayu Temple is the second largest temple in Putuo Mountain. It was built on a hill. It comprises 294 halls and rooms, with a building area of 9,300 m2. The main buildings along the trend of the hill from lower to higher are Heavenly King Hall, Jade Buddhist Hall, Nine-Dragon Guanyin Hall, Emperor Tablet Hall, Great Grand Hall, and Fangzhang Hall.
Step into the temple, the most worth visiting things in this place would be the Nine-dragon Wall, Jade Buddhist Hall and Nine-Dragon Guanyin Hall. Inside Jade Buddhist Hall used to enshrine and worship a jade statue of Skamania from Burma, but it was destroyed during the Cultural Revolution of China. The jade Buddha statue we can see now was later invited from Beijing Lama Temple, smaller than the original one, but also very delicate.
Nine-Dragon Guanyin Hall is the main shrine sited right behind the Jade Buddhist Hall. It is also the finest Buddhist hall in this country. The most eye-catching things in this hall are glazed roof tiles removed from Nanjing Ming Dynasty Palace, and Nine-dragon caisson ceiling. Both of these are antiquities with great cultural and historic value.
The temple is open from 6:00am to 5:30pm every day, and the early worship in the morning is at 4:30am, which takes about 2 hours. To get to the temple, you may walk down the steps along Xiangyun Road from Huiji Temple, or you can walk or take bus from Puji Temple(about 3 kilometers).
【Huiji Temple】
Huiji Temple is the third largest temple in this place sited on the top of Fuding Mountain. Fuding Mountain is the highest mountain in Putuo Mountain Island. In front of the temple, there is a perfect viewing platform to watch sunset and sunrise.
The temple has 4 halls, 7 rooms, 5 lofts, quite a number of warehouses and many other buildings. The main buildings includes Heavenly King Hall, the Great Buddha's Hall, Hall of Great Mercy, depositary of Buddhist texts, Hall of Jade Emperor, etc.. If you are energetic, you may walk to the temple from down hill, and you may be able to see some devout prayers performing the three kowtows and nine prostrations along the way. Or you can choose to take cable way to reach the temple. In this way, it is suggested to go up by cable car and go down by walking. It is quite easier to walk down the hill along Yunxiang Road, which will lead you to Fayu Temple directly.
【Nanhai Guanyin Statue】
Nanhai Guanyin Statue is a 33 meters golden statue standing on a 2 storey plinth surrounded by a plaza with a large number of sculptures both in the plaza in front of the plinth and within the plinth. 3 walls around the plinth have 33 large carved reliefs, one or which covers the complete width of the north wall (to rear of the plinth). A stay of about an hour is suggested to tour around this area.
【Purple Bamboo Forest】
Sited in the southeast of Putuo Mountain, Purple Bamboo Forest was said to be the residence place of Guanyin (Goddess of Mercy). The famous Purple Bamboo Temple, Unwilling-to-go Guanyin Monastery and Chaoyin Cave are sited in this place. Here is the Bodhimanda of Guanyin.
The Unwilling-to-go Guanyin Monastery in the Bamboo Forest right beside the sea is another site which attracts many worshippers and is another place well worth visiting.
【Xitian Scenic Area】
Xitian Scenic Area is famous for rockscape. You may walk from the passenger dock for about 20 minutes to reach it. There is no large temple, but all kinds of stones and rocks, which is the feature of the scenic area.
【Foding Mountain Scenic Area】
Foding Mountain is the highest peak in Putuo Mountain Island. Huiji Temple is sited on the top of it. You may walk along Xiangyun Road from Fayu Temple to reach the top, which will take about 45 minutes. But if you are not energetic, you may take cable car up to the mountain. Taking cable way to up the mountain and then walking down it is a recommended way to tour in this place. Here is a perfect place to watch sunrise and sunset.

How to Plan Putuo Mountain Island Trip
Putuo Mountain Island is located in the eastern part of Zhoushan Islands. It is inaccessible by road. The only way to get on the island is by boat or ferry from Shenjiamen Dock at Zhoushan Town. The island is shaped like a long straight bar with a length of about 7 kilometers. The distance between different attractions on the island ranges between 2 kilometers and 10 kilometers. You may visit to the nearby attractions to your hotel by walking, or you can take bus at the bus station near to the dock on the island to visit some distant sites. In addition, cableway tour is available in Fuding Mountain (The cost for one-way is 40 Yuan, for round-trip is 70 Yuan). About 5 km east of Putuo Mountain is Luojia Island (it is part of part of Putuo Mountain scenic area and it is only accessible from Putuoshan Island by boat). You may visit this small island as an extension tour if time allows. Since there are so many different attractions distributed on the island and the island is so large, then how to plan Putuo Mountain Island Trip? Here I would like to offer some tips for you.
Generally, the main attractions on the island can be divided into three regions, and interests in each region can be put together to visit. And each interests takes about half a day. Visitors can plan their journeys according to the location of your hotel stay and arrival time on the island.
The first regionin the west of the island is centered by Puji Temple, with Xitian Scenic Area, Guobao Temple, Guanyin Cave, etc.. Puji Temp, as the largest temple on the island, is the main place to worship Guanyin. This area is near to the passenger dock, so you may get around by walk or bus. Tourist Bus Route No.1 runs in this area.
The second regioncovers famous sites like South Sea Guanyin Statue, Purple Bamboo Forest, Unwilling-to-go Guanyin Monastery, Nantian Gate, etc. Among them, South Sea Guanyin Statue is the landmark of Putuo Mountain Island and Unwilling-to-go Guanyin Monastery has a legendary story, so you can not miss them.
The third regionis centered by Fuding Mountain, and there are Fayu Temple and Huiji Temple nearby. The other two treasures Nine-dragon Caisson and Yangzhi Guanyin Stele are sited respectively in Fayu Temple and Yangzhi Monastery nearby. If time allows, you may take boat to visit Jialuo Mountain Island, which will take half day.
Except for the religious sites, there are fine beaches in the eastern side of the island, such as, Qianbusha Beach and Baibusha Beach, where are fine places to go and have fun in the sea. Qianbusha Beach is near to Fayu Temple and Baibusha Beach is closed to Purple Bamboo Forest.
Therefore, you will have to spend generally about 2-3 days to visit Putuo Mountain Island, and eating and staying overnight on the island is needed. The commodity price on the island is higher than that off the island, especially the sea food. There are some vegetarian meals in the top three temples on the island, and the price is reasonable. You may have a try. There are many places for your overnight, from starred hotels, inns or home stay. You'd better book in advance, especially for weekends or holidays. As the accommodation during weekends and holidays are hot.
There are mainly two bus routes connecting different attractions on the island: Bus Route No.1 and No.2.
Bus No.1: Puji Temple East(普济寺东) – Baibu Pavilion(百步阁) – Purple Bamboo Forest(普济寺东) – Nantian Gate(南天门) – Boat Dock(轮船码头) – Haifang New Village(海防新村) – Seafood Garden(海鲜园) – Baotuo Hotel(宝陀饭店) – Puji Temple West(普济寺西, the entrance of Xitian Scenic Area)
Bus No.2: Boat Dock(轮船码头) – Nantian Gate(南天门) – Purple Bamboo Forest(普济寺东) – Baibu Pavilion(百步阁) – Puji Temple East(普济寺东) – Chaoyang Cave(朝阳洞) – Dacheng Nunnery(大乘庵) – Fayu Temple(法雨寺)- Fei Sha Dai (飞沙岙) – Xianghui Nunnery(祥慧庵) – Fan Yin Cave(梵音洞) – Baoyue Nunnery(宝月庵) – Gu Fo Cave(古佛洞)- Cableway Stationi (索道站)
In addition to the two main bus routes, there are some point-to-point tourist bus running between the main sites.

Travel Guide
【Chinese name】: 普陀山
【Best time to visit】: From July to September is the best time to visit Putuo Mountain, when the view is the most beautiful and you can enjoy swimming in sea. If you enjoy eating seafood, October would be harvest season of seafood.
【How to get to Putuo Mountain using public transportation】: the only way to board Putuo Island is by boat or ferry. You may read the following articles to get to know how to travel from other cities to reach Putuo Mountain Island.