Pingle Ancient Town has been rewarded as one of ten charming towns in Chengdu in 2005. Pingle proposed a development thought of "Tourism to revitalize the town", and it draw people's attention because of its brand name of "the first stop of the Silk Road in the south of China" "the top ancient town of Ancient Tea Route". Pingle ancient town integrate travel resource with culture connotation, it develops a characteristic tourism, and builds a specialty industry to make Pingle ancient town a cultural tourist town.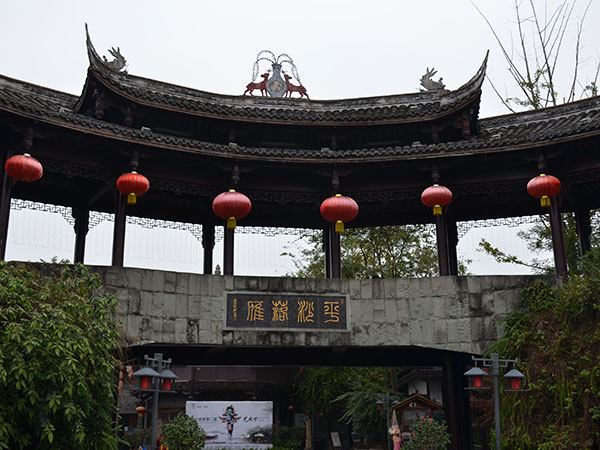 History
Pingle Ancient Town, named "Pingluo" in the past time. During Kaiming dynasty of king Shu, Pingluo, a small green basin was famous because of water conservancy and farming. Pingle has becoming a town since 150 B.C. and it is 2000 years now.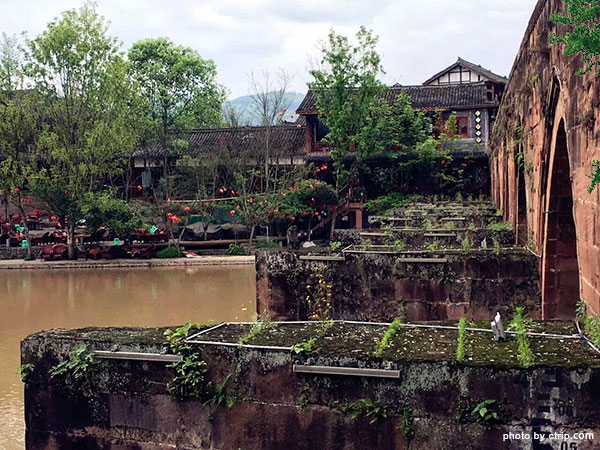 Events
Along the river of Pingle ancient town, you will have much enjoyment about bamboo rafting. At the evening, you can appreciate the beautiful night scene along the river and taste delicious barbecue, or you can float lanterns on the river or set off sky lanterns. If you have enough time you can view several attractions. Hiking in Golden rooster channel, it is a good choice for you to take a picnic; climbing Jinhua Mountain, you can visit Buddha to show your respect; driving straight forward to Lugou Bamboo, you can enjoy the beautiful scenery; passing the bamboo, you will reach Li Compound.
Festival
Pingle Lanterns Festival► Time: Every Tomb-Sweeping Day
► Place: Pingle ancient town
► Introduction: The Tomb-Sweeping lanterns festival in Qionglai Pingle Town is characteristic. Every April 5th (Tomb-Sweeping Day) in Pingle, you can see balloons are everywhere in the town and every house is decorated with lanterns. The market is very bustling with a heavy atmosphere of festival. The shows of Lanterns team, Waist Drum team are very interesting. At night, 2000 lanterns are floating into river; the river glitters with lanterns.
Pingle Ancient Town Temple Fair in Spring Festival
► Time: Every Spring Festival
► Place: Every attraction in Pingle ancient town
► Introduction: From New Year's Eve to the fifteenth day of the first month of lunar year in Chinese calendar, people in Pingle town had formed a custom of worship heavens and ancestors in Huajiu village and some sacrificial ceremony like worship the Jinhua Mountain and float the lanterns, set off sky lanterns to impetrating bless. At that time, you can see some special folk custom shows like lion lanterns in the streets.
Basic Information
Site: Pingle ancient town is situated in the 93 miles away from Chengdu in Chengdu's southwest, and 18 miles away from Qionglai in southwest.
Best Time to Visit: Qionglai city is subtropical humid monsoon climate zone. It is not very cold in winter and not very hot in summer, the climate is mild; therefore, it is suitable to go to Pingle ancient town in every season.