As every one known that Qingdao is a harbor city. The beach in Qingdao can be a must-go place during your Qingdao City. And the No.1 Bathing Beach, which is famous for the soft sand, clean water and clam waves, welcomes you all the time.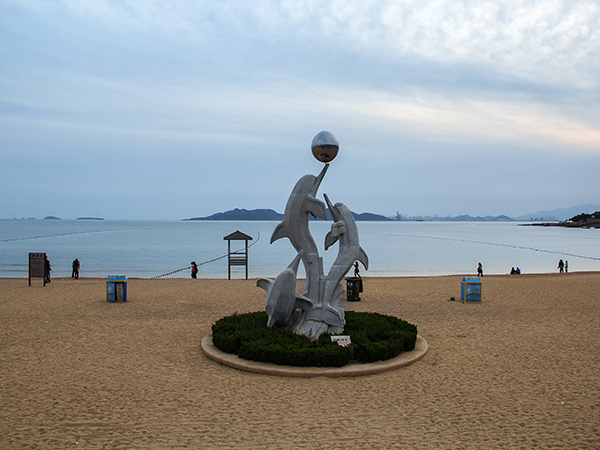 The beach was first built in 1901 by the Germans after they invaded Qingdao. At that time, it was a famous entertainment place in East Asia but it was only open to foreigners. In 1984 and 2003, the local government repaired and expanded the place on a large scale. The beach took on a new look: it was enlarged and more public service facilities were constructed.
Surrounded on three sides by mountains, the beach is like the pearl of Huiquan Bay. The gentle slope and mild waves make the place a comfortable play area. Visitors can sunbathe here and swim near the coast, relaxing by playing volleyball or running on the sand and even dining on the beach. The region's comfortable weather makes it a good choice to avoid the summer heat. Even in winter this place is crowded with keen swimmers.
The facilities at No. 1 Bathing beach received large scale renovations in preparation for hosting the sailing events of the 2008 Beijing Olympic Games. After the restoration, the beach area was increased from 11,800 square meters to 24,000 square meters. Facility improvements included new dressing rooms and public buildings for restaurants, offices and washrooms. No. 1 Bathing Beach is now equipped to handle 200,000 tourists each day.
Travel Guide
【Chinese name】:第一海水浴场
【Best time to visit there】: from July to late September
【How to get there】: it can be reached by Bus 6, 15, 26, 31, 202, 214, 219, 223, 228, 231, 302, 304, 311, 312, 316, 321, 368, 370, 411, 468, 501, 604, 605, etc. Or taking a taxi is the most convenient way.