Nanjing Road, 5.5 km in full length, enjoys the reputation as China No.1 commercial center. It was the earliest commercial street in Shanghai since the city opened to the outside world.
The street stretches across the central city of Shanghai and next to Huangpu River in the east, the cross point of Jing'an Temple and West Yan'an Road. The road is divided into east and west parts by Xizang Road. On both sides of the street, there are more than 360 malls, department stores, specialized shops, restaurants and cultural and recreational facilities, which receive more than 1.5 million customers everyday. In the day – time, the street is crowned with visitors and when the night falls, the colorful neon lights make the street more attractive.
Features of Nanjing Road
【Shopping】
Nanjing Road which is starts at the Bund and runs westward with People Square in the middle, gets fame for its bustling and modernization. Taking short shopping trip in this paradise, you may feel to walk on the Fifth Avenue in New York and Avenue des Champs-Elysées in Paris.
【Night View】
Nanjing Road is the most famous shopping street in Shanghai, also one of the most famous tourist attractions in this metropolis. On weekends, people come here for shopping or tasting food. The bustling tourist crowds in the street. Especially in the evening, after a variety of neon lights up with different colors, they make the buildings even more magnificent. In addition, for it is close to People's Square and the Bund, it attracts a large number of domestic and foreign tourists.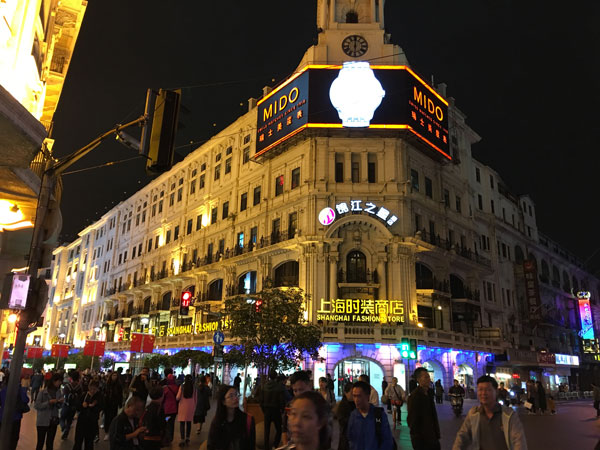 Nanjing Road at night
【Cuisine】
Nanjing Road Pedestrian Street gathers different cuisine all over China, even all over the world. There is a variety of time-honored food here, including biscuits at Taikang Road, Cantonese-style dim sum in Xinya Restaurant, smoked fish and meat moon cake, etc. It is no exaggeration to say that Nanjing Road is a paradise for food lover. If visiting the Nanjing Road Pedestrian Street to enjoy food, you may wish to go to Yunnan Road food street nearby or Wujiang Road near Nanjing West Road.
Famous architectures Nanjing Road
【People's Square】
People's Square is located at the heart of the city. It is the political and cultural center of this city. Today's park is a comfortable place to spend an afternoon with many pigeons and lots of fresh air. Entry into People's Park on the north half of the square is free, but all attractions listed below are on the edges of the park, not inside.
【Jing'an Temple】
Jing'an Temple is an old temple that is said to have been built in the year 247 AD, making it 1765 years old this year (2012).
【Shanghai Art Gallery】
Shanghai Art Gallery is bordering the People's Square on the north-west corner; this is a large international gallery with a frequently changing program.
【Shanghai Museum】
Shanghai Museum is the premiere museum of Chinese art and artifacts in China. With bronze ware, ceramics, and painting and calligraphy as its distinctive collections, the museum boasts 120,000 pieces of rare and precious cultural relics in 21 categories. As a special tour and guide service to regular visitors, the museum offers an audio tour of the museum's finest exhibits making use of the digital random access technology available in eight languages.
How to Get there
Metro Line 2 runs under Nanjing Road for much of the way, intersecting with Line 1 and Line 8 at People's Square. Or taking a taxi may be the most convenient way to get there.