Mount Kailash is called Gangs Rinpoche in Tibetan language meaning "precious jewel of snows". The name originates from the year-round snow on its peak and its historical religious connections.
Mt. Kailash is the highest peak in the massive Gangdise Mountain Range with an altitude over 6,600m (21,654 ft). The peak is very pointed and looks like a pyramid piercing the sky. Seen from the south the vertical ice trough and horizontal rock formation combine as the Buddhist symbol Swastika ' 卐 ', which represents the eternal power of Buddha. More often that not, clouds will gather above the peak, so clear days are thought to be a blessing because local residents can get an unimpeded view.
Every year, thousands make a pilgrimage to Mt. Kailash, following a tradition going back thousands of years. Pilgrims of several religions believe that circumambulating Mt. Kailash on foot is a holy ritual that will bring good fortune. The path around Mt. Kailash is 52 km long. Some pilgrims believe that the entire walk around Mt. Kailash should be made in a single day. This is not easy. A person in good shape walking fast would take perhaps 15 hours to complete the 52 km trek. Some of the devout do accomplish this feat, little daunted by the uneven terrain, altitude sickness and harsh conditions faced in the process.
Mt. Kailash is recognized as holy mountain by the world, at the same time it is regarded as the center of the world by Hinduism, Tibetan Buddhism, ancient zhang zhung dharma and the ancient Jainism.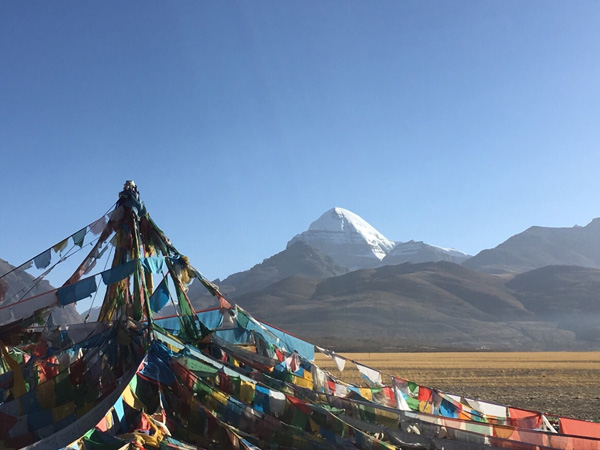 Indians also think this is the center of the world. The highest position in the three largest Lord god Shiva of Hinduism have lived here. And upstream of the Indus, Ganges of India has originated here, so, in Mt. Kailash you can see a large number of Hindu pilgrims.
For centuries, Mt. Kailash has always been the place that pilgrims and explorers longing to go, but no one has been able to reach the mountain, or no one dares to touch the center of the world.
Pilgrimage Route
In June and November each year, Indian pilgrims are heading to the Mt. Kailash and Lake Manasarovar in the southwest Tibet for their pilgrimage the Hindu Lord Shiva. Once, China only opened pilgrimage route in Tibet and Lipulekh Pass in Uttarakhand India to Indian pilgrims. Through friendly consultations between the two governments of China and India, on June 22, 2015, China will extend pilgrimage route to the boundary of Tibet autonomous region and Sikkim Nathula Pass in India. After China open Nathula, India pilgrims can take cars via Tibet highway to the foot of Mt. Kailash, and then use the shorter time to climb the mountain, which will shorten pilgrimage to about 8 to 10 days and save half the time.
The rest place on route to Mt. Kailash is the submontane village–Darchen, many people also call it the Dargya Gompa Monastery. The bus between Lhasa-Shiquan River (Seng-ge Kambab) and Shiquan River—Pulan will pass by the entrance of village. There are five routes to here, besides Nepal and India's two pilgrimage routes, and another three are:
• Going down South
1. Xinjiang-Tibet Highway: Kashgar- Karghalik- Mazar- Jieshan Daban- Doma- Rutog County- Shiquan River- Moincêr– Darchen, 1671 km from Kashgar
The first route is going south from Kashgar along the Xinjiang-Tibet highway. It takes 3 days to reach Shiquan River from Karghalik, and then transfer to the holy mountain. Karghalik is the actual starting point of Xinjiang-Tibet highway, and there is no public transport on the road, visitors can hitchhike in the Mountaineering Hotel and zero kilometers sign or on the side of the road waiting for Tibet military vehicles, the fare of 400 Yuan or so. The Shiquan River is 480 km away from Mt. Kailash, if everything goes smoothly, visitors can reach there in one day.
People from north of Mt. Kailash mainly take the bus or truck between the Shiquan River and Pulan, 330 km distance, three or four hours can reach. If the vehicles do not get into Darchen, visitors can get off at the fork in the road of 219 National Highway, and then spend more than half an hour on foot to Darchen for accommodation.
• Westing
Another way of go westward from Lhasa, you will pass Yamdrok Lake on the way from Lhasa to Lhatse, if you walk the old road, in the summit of the mountain you can have a bird's eye view of Yamdrok Lake. And because it is consuming going the old road, so need to stay overnight at a Lhatse or Shigatse, the best meal before reaching Ngari is in here. Go forward Lhatse there is few accommodation, 53 km to Kaga town, where is a good place to take pictures. After 65 km to the Sangsang, there also can stay overnight and after Sangsang for 122 kilometers of 22nd highway maintenance squad, there is signpost pointing to Ngari of north and south way.
2. Ngari Nothern Route: Lhasa – Lhatse- Tsochen- Gerze – Geji- Shiquan River – Darchen, 2021 km from Lhasa, 1670 km from Lhatse. This road is S301 gravel road, and it is going to renovate for the asphalt pavement.
It takes 6 days after passing 22nd highway maintenance squad, and the road is very bumpy, but the scenery is good, visitors can see hot springs and geysers, and then arrives at Tsochen county of 242 kilometers visitors can stay at Plateau Hotel. Going north of Tsochen for 117 kilometers is Dongcuo County, and there is two fork roads that truck come here to transport salt to Lhasa or Shigatse. After 90 kilometers west of the fork road is Gerze where there are some Sichuan hotels. And after Gerze is Geji, where is a good place to have meal or stay overnight. From Geji to Ngari Shiquan River Town is 112 km, bumped along the way for 5 to 6 days, you will feel this road is flat. It takes a day from Shiquan River Town to holy mountain.
3. Ngari South Route: Lhasa- Saga – Zhongba – Bage- Darchen, 1338 km from Lhasa, 847 km from Lhatse.
Compared to north route, south route is closer to Mt. Kailash, from here to Mt. Kailash takes about 4 days, but there is no free ride, people can only charter bus. And the south route is very dangerous, if meets the brown bears, people may lose his life, recommend tourists go by a roundabout route as possible.
South route is the most direct way to holy mountain. Go along the upstream of Yarlung Zangbo River valley and go up, people can enjoy the magnificent snow peak of Mt. Kailash and Himalaya, occasionally to see the Tibetan antelope. The first half of this route is the 318 national road, the second half is 219 national road leads to the Xinjiang Karghalik. At the beginning of the 21st century it has been built into smooth asphalt mostly, and it takes around 20 hours to Darchen from from Lhasa.
Travel Tips
Visiting to Mt. Kailash must apply border pass, in Lhatse and Baga there is checkpoint checking border pass, from Ngari south route to Darchen and from Darchen to Pulan will pass by checkpoint, maybe sometimes there will be mobile checkpoint.

Transportation: from the south can take bus from Lhasa to Shiquan River, or to get a free ride; from the south – can take bus from Shiquan River to Lhasa, or Shiquan River to Pulan, distance of 330 km, four or five hours. Note: if the vehicles do not go into Darchen, can get off at the fork road of 219 national road, and then spend more than half an hour on foot to Darchen for accommodation.
Accommodation: Mt. Kailash hotel, if you bring your own tents, you can consult with the hotel to set up your tent in the hotel courtyard (outside is not allowed to set up tents). Two hotels have no dining room. Surrounded with Chinese style restaurant, but the price is on the high side. In the back of Dajin Hotel there is a Shandong dumpling shop, taste good and price is suitable. And in the opposite of the dumpling restaurant is Ngari plateau teahouse. Drink sweet tea before making pilgrimage around mountain is also a good way to supplement energy.
Pilgrimage around mountain (takes two to three days): pilgrimage around mountains must bring your own food, recommend to bring sausage and chocolate, the price of solid food in Darchen is higher, you have better to buy before arriving Shiquan River or Lhatse, drinking water use water purifier "refining"; On the mountain there is temple that can stay overnight, also provide hot water, instant noodles, and quilt.
Pilgrimage around mountains time: no time limit. But every year on April 15th is the Buddha Sakyamuni birthday and the date of god-realization, nirvana. That day in the mountain entrance will be hosting a change Mani flag (religious flag) ceremony. Tibetan Buddhism thinks pilgrimage around mountains in this day will receive more merits and virtues than other days; therefore, this day will be particularly busy.
Other: on the way of pilgrimage or in Darchen, people have better use your own lunch box. At the same time, pay attention to environment so it is better to prepare carry-on bags. Along the way there are blue trash bins set up by scenic area management office.
The weather on the mountain is unpredictable, the temperature difference is quite big, and before climbing up the mountain should be informed the weather condition. It is not recommended to wait for the weather to improve, because the plateau weather is changeable.
Travel Guide
【Chinese Name】: 冈仁波齐峰
【Recommended Visiting Time】: 1-3 days
【Best Time to travel Mt. Kailash】: the best time for climbing Mt. Kailash should be May to the last ten-day of June, during this time, the weather is good and the good weather might be lasting for 6 to 8 days. The rainy season starts from the early July, and July and August had most precipitation.
Down south along the Xinjiang-Tibet highway, people have better to go during May to October every year, because heavy snow has sealed the mountain passes during spring and winter. Due to the climate and the accommodation conditions along the way is very poor, visitors have better to take adequate protective clothing and medicine.