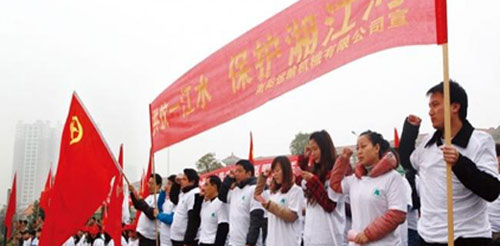 The Hengyang Municipal Committee of the Communist Youth League kicked off activities to protect the Xiangjiang River on March 5. More than 500 volunteer representatives of youth workers, farmers, students, entrepreneurs, technicians and armed police officers in the city made solemn commitments to protecting the mother river at the launching ceremony. Leaders and volunteers present at the ceremony drank water of the Xiangjiang River to call for all teenagers across the city to join in the campaign.

Professor Lv Zhengping, chief education officer delivered a lecture on the theme of "Carrying forward water culture and protecting the mother river" at the ceremony.
The ceremony ended with the race along the Xiangjiang River themed with "Green travel with youth and vigor". The pacemaker of the race will pass the environmental protection baton to the provincial capital city Changsha to meet batons from other cities and prefectures throughout the province. All of these batons will be preserved as commemorations.
In response to the pledge to protect the mother river, Hengshan County, Hengyang County, Yanfeng County and Shigu County in Hengyang City also carried out such activities as the commitment ceremony, tree planting and conservation and water quality survey on the morning of that day.