On July 20, Zhangjiajie Mayor Zhao Xiaoming met with a Thailand tourism delegation headed by Aakapeng, Counselor of the Thailand National Tourism Administration. The two sides held friendly talks on strengthening tourism cooperation and communication, and signed the cooperative framework agreement. Vice Mayor Liang Bi also attended the meeting.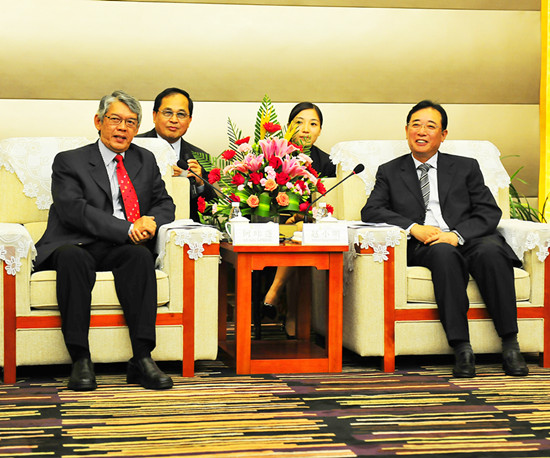 Mr. Zhao Xiaoming gave a brief introduction of Zhangjiajie's social and economic situation, in particular tourism industry, to Aakapeng. He said, "As a famous tourist destination in China, Zhangjiajie boasts unrivalled quartz sandstone peaks and gorges worldwide, which is called Zhangjiajie Landform. Similarly, as an important tourism country in Asia, Thailand has charming tropical folk custom and unique Buddhism culture, which is a major source of tourists for Zhangjiajie. There is much room for two sides to carry out tourism cooperation."
During the meeting, Aakapeng said that although this is his first time to Zhangjiajie, he has been deeply attracted by the picturesque landscape in Zhangjiajie. He sincerely invited Mayor Zhao Xiaoming to lead a delegation to participate in the tourism exposition held in Thailand next June, which will make more Thailanders know about Zhangjiajie's natural beauty and folk custom.
According to the framework agreement, the two sides will establish the coordination mechanism on tourism cooperation so as to promote the communication in all areas of tourism industry and realize the publicity information sharing between them.