Longsheng Ailing Hot Spring reputed to be "a heaven of peace and happiness" and "paradise on earth". It is the centerpiece of the national park.
Welling out from rock cracks halfway up the mountain, the hot spring water is colorless, tasteless, pure and clear, 54-58 degrees centigrade, and contains of many trace elements, such as lithium, strontium, iron, manganese, zinc and copper. The water is good for drinking and bathing. Its curative powers are effective for nerves, skin diseases, rheumatism, and arthritis.
Since Longsheng Hot Spring is situated in a deep and tranquil valley and surrounded by mountains of dense vegetation, it is warm in winter and cool in summer.
Longsheng Hot Spring Resort is established with the approval of the Guangxi Zhuang Autonomous Region and become the provincial tourism resort. It is located in the downtown of Guilin 137 km around the mountains place. Forest cover in the broadness amounts to 5 square kilometers, and it is the ancient Cambrian geology. From Baiyaling cliff ridge to the swan boundary fault zone is dozens of kilometers long which forms the main channel of hot springs. Hot spring gushed out from the depths of the 1200 meters underground strata, the water temperature between 45 ℃ – 58 . The spring water contains lithium, strontium, iron, zinc, copper and so on more than ten kinds of beneficial trace elements in human body.

History
Known as "the first spring in south China" Longshen Hot Spring Center located in Jiangdi Township Longsheng County, 108 kilometers away from Guilin, 28 kilometers from the county. In 1996 it was named National Forest Park. Air is fresh in the scenic area, the content of negative oxygen ions in the air per cubic centimeter of more than 9000 units, is a natural oxygen bar.
Forming Reason
Longsheng Hot Spring is forming due to groundwater absorbed the earth's crust and the heat energy in the process of in long-term movement, generally related to volcanic and late magmatic activity on earth, so some people say that hot springs are volcanic and magmatic presents for human "gift".
What to See in Longshen Hot Spring Center
Famous Longsheng Hot Spring is located in Longsheng Hot Spring National Forest Park 33 km northeast Longsheng county, like a beautiful wonderful flower bud, it is the core and soul of the hot spring national forest park.
It mainly includes the Longsheng Hot Spring scenic spot, Longsheng Hot Spring Forest Park, Rock Gate Gorge Drifting, Skyhawk Bridge View Resort, Red Army Rock and many Ethnic Folk Village, etc. Its main tourist monomer has Sanmen Red Yao Village, Ximen Red Yao Village, Baimian Red Yao Village, rock door miao, red rock (white stone), bridge view monkey, short ridge hot springs, hot springs, forest park, the rock gate gorge drifting, etc.
【Sanmen Red Yao Village】
2 km from Ximen Yao Village, Sanmen Yao Village is the concentrated red Yao ethnic village, there existing 21 peasant households, 106 people. Due to the village only have three surnames of Yu, Wei and Pan, so called "Sanmen village". The village from all aspects of social production and social life mostly remains historical and cultural traditions of the red Yao group, and it was awarded the "ecological museum". Residents here live in Yao nationality traditional half the stilted building, dress in red Yao traditional national costume. There are a lot of patterns on the clothing, but each piece of clothes having Yao King Seal and tiger claw in the back. Here you can hear the red Yao ancient and mysterious legend, also taste the red Yao pearl oil-tea and attend red Yao folk song singing, watch the red Yao songs and dances and other programs. Here the environment is of primitive simplicity, clean, beautiful, simple and warm and residents are hospitable.
【Ximen Red Yao Village】
Ximen Yao Village is 1.5 km from Baimain Yao Village, the terraces in front of the village is like twisted dragon. Inside the village there is staggered blue flagstone path, and behind the village there is flowing stream. The moving legend of "Three Brothers" and "The Turtle Stone" bring a lot of mysterious color to the village. Yao ancient ethnic song and dance and thick pearl oil tea is what Yao people treat and entertain guests.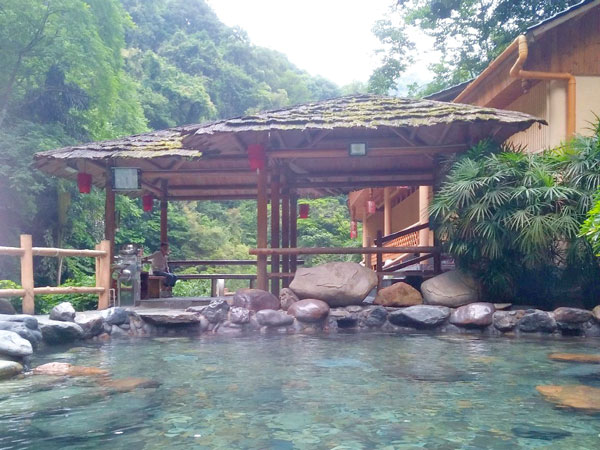 【Baimian Red Yao Village】
It is located in six kilometers away from Longsheng hot spring road, that is, going ahead about 200 meters from the Longshe Rock.35 households red Yao residents live in that village. Maple in Baimian Red Yao Village is towering and in the village gate there is stone tablet in Qing dynasty. "Red Yao Pillar" stand erect in the village is totemism of Yao people. Every villager can sing folk songs, and they are friendly and hospitable. If you come to village, you will see Yao girl dressed in Yao costume singing folk songs to greet you, give you their native unique dance and traditional ethnic sports activities.
Travel Guide of Longshen Hot Spring Center
【Recommended Visiting Time】 the whole day
【How to get to Longsheng Hot Spring Center】 taking Longsheng special line from Guilin bus station. The whole distance is 78 km, and the driving time is 1 hour and 30 minutes. Then in Longsheng bus station, taking Longshen Hot Spring bus. The whole distance is 32 km, and the driving time is 40 minutes. The departure time is from 7:00 to 18:00, every 20 minutes a bus.