Lantau Island is the largest outlaying island of the Hong Kong Special Administrative Region, with an area of 141.6 square kilometers, nearly twice of the size of Hong Kong Island doubled. The main peak of the island, Lantau Peak, has an altitude of 935 meters, being the second highest peak in Hong Kong. Lantau Island is hilly with fewer plains. There are only small flat lands near streams. The most populated island is Tai O Village sited in the south-west of the island. Since the 1970s, many Hong Kong local people have been used to spend a short trip to Lantau Island on weekends or public holidays, to rest for busy urban daily work. The island has long and tortuous coastline, beautiful harbors and beaches, attractive mountains and water color. You can enjoy natural landscapes and historical monuments here at the same time.
What to See in Lantau Island
As well as being Hong Kong's largest island it is also it's most varied with everything from grand vistas from high peaks, through a world class amusement park, to quiet beaches and historic villages. Visits stay for an afternoon or for a week and will find that there are more unique Lantau experiences to keep you busy.
The main tourist attractions in the island include Po Lin Monastery, Tai O Village, Tsing Ma Bridge, Ngong Ping 360, Tian Tan Giant Buddha etc.
【Po Lin Monastery】
Po Lin Monastery of the first of top four Buddhist temples in Hong Kong. The monastery was founded in 1906 by three monks from Jiangsu province. The main temple buildings include majestic Hall of Heavenly Kings and palatial Mahavira Hall, which houses three bronze statues representing the Buddha of the past, present and future. It is 25 minutes away by cable car from Tung Chung town centre. This monastery offer accommodation service for visitors, so that they can get to Lantau Peak to see sunrise or have a short Kiyonaga.
【Tian Tan Giant Buddha】
Tian Tan Giant Buddha at Ngong Ping is one of the most distinctive landmarks on Lantau Island. At over 250 tonnes and 34 metres in height, the Giant Buddha is the largest seated outdoor bronze Buddha statue in the world. It is sited opposite Po Lin Monastery. The statue of Giant Buddha is designed and made by the China Aerospace Science and Technology Bureau, which makes it a combination of religious art and cutting-edge technology. Dubbed Tian Tan Giant Buddha, the statue sites on a three-storey altar modeled after the base structure found in the Hall of Prayer for Good Harvests at the Temple of Heaven in Beijing. In the altar there is an exhibition gallery. And there is a large bell carved with statues and scriptures. This bell beats once every seven minutes controlled by computer.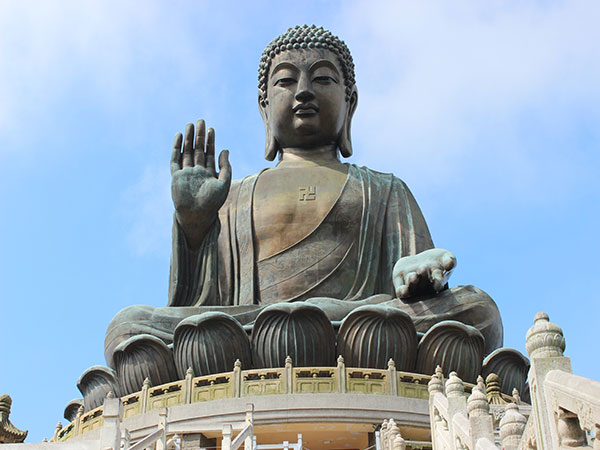 【Tai O】
Tai O is regarded as "Venice of Hong Kong". Tai O is away from the hustle and bustle of the city, less influenced by urbanization; therefore, it still retains fishing village's view of old-time Hong Kong. In Tai O you can see a lot of elevated house huts over waterways, which are fishermen's homes. The interspersed orderly rows of old shacks buildings shows a unique fishing village style in this island. Tai O traditional salted fish, shrimp paste and fish maw known far and wide. Set foot in Tai O, visitors will feel strong seafood flavor. Except for seeing beautiful scenery in Tai o, you can also visit some local specialty market to taste unique homemade seafood delicacies, or visit some Tai O Cultural Workshops. That will give you more chances to know more about this place.
【Tsing Ma Bridge】
Tsing Ma Bridge stretches across the Tsing Yi Islet and Ma Wan Islet. The ridge has a total length of 2,200 meters, the main bridge span is up to 1377 meters. There are two crane towers, each of which is 206 meters high itself and 62 meters above the sea level. It is the longest railway & highway suspension bridge in the world. The Tourist Centre of Lantau Link on the northwestern tip of Tsing Yi Island is the best place to watch the Tsing Ma Bridge.
Popular Ways to Explore Lantau Island
More than half of it has been designated as Country Park area. Its tranquil and green environment makes it a popular spot for nature's lovers and hikers.
【Hiking】

Hiking would be a great thing to do in the island. Hikers may wish to try the 70-km Lantau Trail, which does loops around the island. The full route would take several days but is divided into a dozen stages, some of which take less than an hour. Stage 3 of the Lantau Trail from Pak Kung Au to Ngong Ping (4.5km) is scenic, strenuous and quite popular among tourists and locals alike. This section of the trail passes through Wisdom Path and the Tian Tian Buddha Statue along the way just before reaching Ngong Ping. There are buses from outside the Tung Chung MTR Station that will take you to Pak Kung Au.
【Camping】

Kau Ling Chung on Lantau Island is known as the most beautiful campground in Hon Kong. Here you can unload the heavy armor from weekdays and away from the city's hustle, immerse in the beautiful landscape and enjoy the purely natural and fresh. In the evening, you can dance and sing by the bonfire. What a enjoyable experience!
【Playing Golf】

At the Discovery Bay Golf Club, a 27-hole golf course opens primarily to members, but also guests during weekdays.


Travel Guide of Lantau Island
【Recommended length of visit】 More than 3 hours
【Best Season to visit Lantau Island】October – March of next year is the time period to visit. The weather is good with mild temperature.
【How to get there】

From Central Pier 7 can take the ferry or high-speed boat to Mui Wo (also known as Silvermine Bay), then take the bus to various attractions, ferry service is available from Monday to Saturday at 5: 55-23: 30, Sunday and Holiday at 7: 00-23: 00.
Take the Tung Chung Line to Tung Chung station, B exit, about 2 minutes' walk from the cable car station. There are two mountains, one is by cable car, one is walking. I believe 99% of people would choose the cable car, because walking is too much a test of physical strength (which we see in the cable car up the mountain on foot two foreigners Oh, super worship).