Karez Well is reputed as one of the three major construction projects in ancient China, together with the Great Wall and the Grand Canal. The history of this unique underground irrigation system can be traced back over more than 2,000 years: The combined lengths of the underground Karez channels in Xinjiang amounts to 5,000 meters. Karez Well provided an innovative and elegant resolution to several problems, capturing melting snow and ice from mountains, and channeling it underground to where it was employed for irrigation, overcoming the interruptions to flow caused by sandstorms, wind and huge losses from evaporation that plague a ground-level, open canal system.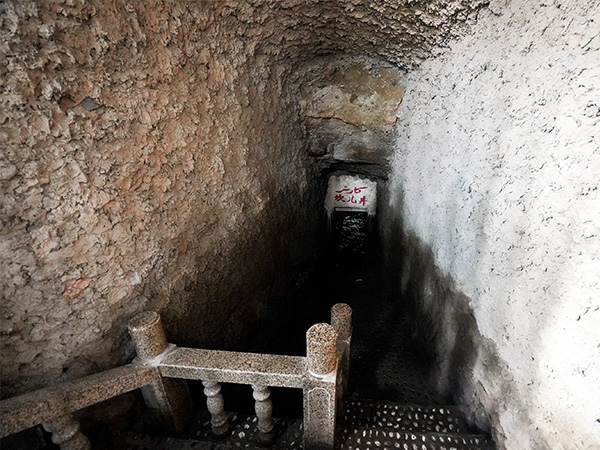 The length of the Karez Well varies with the geographical environment. A Karez Well generally consists of four parts: the open channel, the underground channel, the vertical well and the small reservoir. The underground channel constitutes the main body of the system, which is in fact the underground watercourse. The vertical well functions as the outlet for the shipping out of mud and gravels. The water outlet of the underground channel is called "dragon mouth", which is in connection with the open channels above ground. The water of the Karez Well empties into the small reservoir before it is drawn into the channels.
Karez, means well point, is the special irrigation system in the desert, and it is common in Xinjiang Turpan region. People using the slope of the mountain, cleverly created karez, lead underground current to irrigate farmland. Karez don't lose large amount of water because of hot and strong wind, thus quantity of flow is stable which guarantees the gravity irrigation. The existing Karez Well Turpan, mostly built in succession since the Qing dynasty. Today, they still pour out a large fertile oasis land.
Environment
The reason of building karez well in Turpan basin is inseparable from the local natural geographical conditions. Turpan is one of the extreme arid region in China, only have 16 mm annual precipitation, and evaporation is 3000 mm, can be called "dry pole" of China. But karez well is not underground culvert water, which is not influenced by season, sandstorm, and evaporation capacity is small, which can be perennial gravity irrigation.