Kanbula National Forest Park is located in the north-west of Jianzha County in Huangnan State, Qinghai. It is closely linked with the national key project Lijiaxia Hydropower Station.It is about 131 kilometers from Qinghai's provincial capital Xining.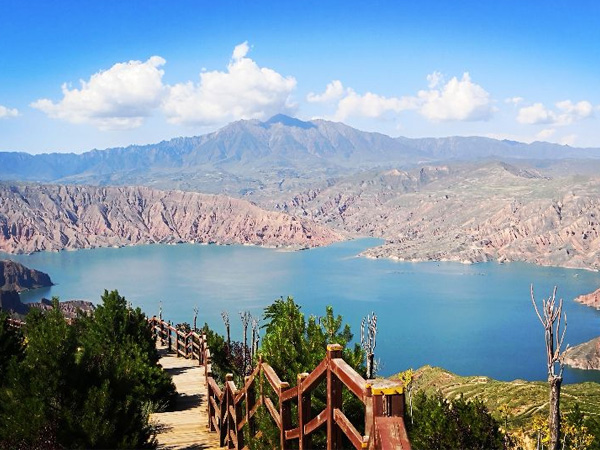 Plant Landscape
The Kanbula area is famous for its unique Danxia landform. Here, the mountain is tall and straight, forceful and magnificent, full of the masculinity, giving out a strong natural scenery charm; which is believed to be the national most. This area is also the birthplace of the Houhong period of Tibetan Buddhism with rich cultural connotation.
This scenic area has abundant rainfall, cool and moist climate. Its forest coverage rate is about 28%; its plant resources are extremely rich. It has trees like Qinghai spruce, Chinese pine, white birch, Ulmus glaucescens, Prunus sibirica, etc…shrub plants like azalea, salix oritepha, Spiraea alpina, honeysuckle, etc…rare birds and beasts like blue sheep, argali, lark, blackbird, cuckoo and so on. Among them, the amount of flowers and plants which have high ornamental value is more than 80 kinds.


National Custom
The Kanbula area also has simple and unsophisticated folk customs. Since ancient times, Tibetan people who had rich ethnic customs had lived here. In the existing scenic area, there are seven Tibetan villages. The Tibetan people farm and propagate here from generations, forming their unique habits of life and production.
Religious Landscape
Kanbula region Buddhism has a long history and is known as the Tibetan Buddhism revitalization place after period Phyi dar. Aqiong Nanzong Temple, Nuns temple, Nanzongzha temple successively built here. Within the scenic area of the Nanzong temple which has a long history of more than 1000 years, is the birthplace of Tibetan Buddhism after period Phyi dar. Existing Nanzongzha temple, Benbenzi temple and Nanzong Nus temple is the only scarified place combined with Esoteric Buddhism, Exotoric Buddhism, monks and nuns. In the monastery, Regong buddhist painting is superb and sparkling. The famous provincial Xiaqiong temple, Heri temple, and Deqian temple near the scenic area, may be tourists can consider here as the main part of viewing the scenic spot of religious tourism.


Tips
1. The citizens of this region are mainly Tibetans, so please respect the national belief here.
2. This scenic area is mountainous area, pay attention to climate.
3. This scenic area is filled with forest, keep your eyes on fire.
4. Lijia Gorge near here is Military Forbidden Zone, do not take picture under the dam in case of unnecessary troubles.
5. The ultraviolet ray is strong in plateau, pay attention to put sun block.
6. Traveling to plateau, pay attentions to altitude stress.
7. Due to development, the road, traffic, accommodation condition is poor. If meet with rainy day, most of vehicle can not go up the mountain.