The word "hutong" originates from the word "hottog" which means "well" in Mongolian. Villagers dig out a well and inhabited there. Hutong means a lane or alley, in fact the passage formed by lines of Siheyuan (a compound with houses around a courtyard) where old Beijing residents live. Be careful for being lost in it!
It was recorded that in the Yuan Dynasty a 36-meter-wide road was called a standard street, a 18-meter-wide one was a small street and a 9-meter-wide lane was named a hutong. In fact, Beijing's hutongs are in different width ranging from 40 centimeters to 10 meters. The longest has more than 20 turns. Either in east-west or north-south, Beijing's hutongs varied as slant, half or "blind hutongs" cul-de-sacs. The gray-tiled houses and deep alleys crossing with each other in identical appearance like a maze, you will find it much fun to walk through but be care not to lost yourself.
The name of a hutong implicates its origin, location or history. It is in the gray-tiled deep lanes that families play, travel, buy goods, gossip and connect. In Beijingers' eyes, hutongs means a period of history, a cordial lifestyle and even an "encyclopedia of Beijing".
From the names of hutongs one can discover how Beijingers, in the course of centuries, advanced from vulgarity to refinement. In numerous hutongs are scattered the residences of famous personages, and these places are repositories. Laoshe, a well-known playwright is just one of them. Laoshe was born in a small lane, in the west part of the city. The memory of his childhood was so dear and impressive that after he'd been away from Beijing for more than 20 years, he still clearly remembered his birthplace, and he made it the backdrop of his novel "the Four Generations Under One Roof". Many famous operas and dramas are based on the themes of the "hutong life". A visit to hutongs plus a drama by the Beijing People's Art Theatre, such as "Teahouse" or "SmallHutong" in the evening, will help you appreciate the fundamental part of Beijing's life. When urban construction threatens the existence of these hutongs, some Beijingers become worried.
We trust that a "must see" hutong tour will greatly help you know more about Beijing history and culture.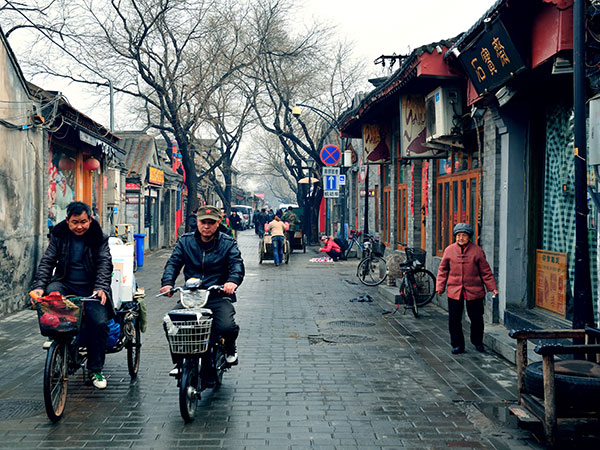 Tricycle tour along Hutong
Origin of the Name of Beijing Hutong
After the formation of each Hutong, people naturally gave it a name. Once the name was accepted by the majority of native people, the name would really and actually represent the orientation of the Hutong throughout the city. And the name of Hutong has become an indispensable mark for contacting and communicating with each other, especially in today's tourism and other activities. This is the practicability of the name of Hutong. We can see the formation and development of Hutong based on its name. The name left traces of history and reflects the social customs. Beijing Hutong are mostly named after official institutions, temples ,altars, warehouses, workshops, bridge, river, fair trade, commodity objects, characters surname, etc. And many namees are still in use today.
【Named after image logos】
Many Hutong are named based on an obvious images or signs, which also shows the frank and funny of Beijingers. For example, if a Hutong looked quite wide, it would be call Wide Hutong (Kuan Jie), which means wide. If a Hutong is narrow. It would be called Jia Dao, which means narrow Hutong. Rectangular Hutong was called Hezi (which means Box). Slender Hutong was called Zhuzi (Bamboo). And there are also a lot of other examples.
【Named after Places】
In early years, the most prominent and the most obvious symbols are gates, temples, arches, fences, wells, rivers, bridges, factories. So Hutongs in this places have been so named Xizhimen, Waidajie Street, Qian Yuanen Temple Hutong, Dongsi Hutong, Xidan (archwa ) Hutong, Dashilan Hutong, as well as Shuijing Hutong, Sanli River Hutong, etc.
【Named after Trees and plants】
For some small Hutongs nearby did not have particularly prominent signs, but the Hutong were planted many trees, the Hutong would be named after the trees, such as " Willow Hutong", " Zaoshu (jujube) Hutong" , " Toon Hutong ", etc.

【Named after orientation】
Many Hutongs in Beijing were named to give good orientation for people. So such words as Dong (east), Xi (West), Nan (South) and Bei (North) were added in front of many Hutong's name, such as: Xihongmen Hutong, Nan(West) Yueya Hutong, North banbishan Hutong and so on.
【Named after Beijing dialect】
For the names Hutongs were given by Beijingers who lived near the Hutong, so there are a lot of Beijing dialect in it's name, such as: Beiyin'er Hutong, Qudeng'er Hutong, Yingzi Hutong, Gaga Htuong and so on.
【Named after auspicious words】
Some Hutong's names also revealed good wishes. People are always willing to use some of the auspicious words to name Hutong for good luck, like with any "Xi", "Fu", "Shou" and other words. Name like Fusheng Hutong, Changshou Hutong (Life Long Hutong), Pingan Huton,etc. are all named after auspicious words.
【Named after temples】
Some of Hutong are named after temple, such as, Longfu Temple Street, the Big Buddha Temple Street, Po Temple Street, Huguoshi Temple Street, Zhengjue Temple Hutong, , etc.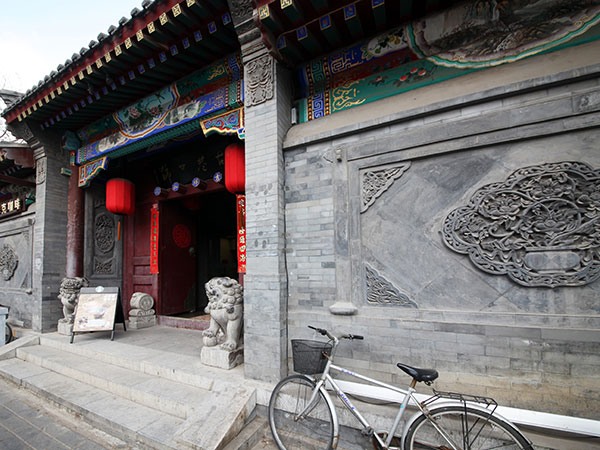 Famous Hutongs in Beijing
【Nanluoguxiang – one of the most famous Hutong districts in Beijing】

Location: Dongcheng District, Beijing
Surrounding attractions: Forbidden City, Houhai Lake, Shichahai Lake, Gongwangfu Garden
Nanluoguxiang is a very ancient streets of Beijing Dongcheng District. The street in Nanluoguxiang is not wide and remains the planning of streets of Yuan Dynasty (1206-1368). Hutong refer to the old style alleyways where large numbers of one-story courtyard houses are located in Beijing. Many of these areas are now protected in order to preserve their unique architecture. Nanluoguxiang is one of these places, which has proved to be a mix of history, fashion and shops. No wonder it's a big hit with tourists especially the younger generation. Nanluoguxiang is also an ideal place to eat with plenty of different establishments offering western food such as pizza and coffee. Chinese meals are also available. Several shops in the area will catch your attention with many unique gifts such as plates and coasters featuring artistic designs. Nanluoguxiang is an alley of amazement and happiness. If you came to Beijing, make sure don't miss it.
【Yandaixie Street – one of the most age-old streets in Beijing】

Location: Xicheng District, Beijing
Surrounding attractions: Drum Tower, Shichahai, Houhai
Yandaixie Street, built in the Yuan Dynasty, located in the front of the Drum Tower in Beijing Di'anmenwai Avenue, north of the Qianhai Lake in Shichahai area, was the 2nd street to be named " as "China's historical and cultural street" by the Ministry of Culture, the State Administration of Cultural Heritage on November 10, 2010 following Beijing Imperial College Street. It has a total length of about 232 meters and a width of 5-6 meters. This slender and diagonal street just looks like a smoking bar. It is Beijing's oldest commercial street which has numerous hotels, inns and other foreign trade stores. The architectural style here is simple along with characteristics of the northern part of the Beijing city. It is a famous cultural street in the north city of Beijing, where left many cultural celebrities' footprint.
【Mao'er Hutong – the home to many relics, celebrities and stories 】

Location: In the northwest of Dongcheng District, Beijing
Surrounding attractions: Nanluoguxiang, former residence of Mao Dun
Mao'er Hutong is a very famous alley among Beijing surviving 25 protected areas in the alley. has a total length of 585 meters, a width of 7 meters. It doesn't have the loneliness of the usual old street and lane; its both ends connect with the bustling streets and cars shuttle inside the alley from time to time. In the dense avenue, the stylish cars and the old tricycle interlace between the red gate and gray walls, which dimly reveals a remarkable status of Mao'er Hutong. Although the centuries-old Mao'er Hutong has experienced destruction by time, the alley is still preserved in its original style. Inside the courtyard, there is always an old tree, or jujube tree, or cypress, or locust tree. In the hot summer, the old people will sit in the shade and shake their hand fans to chat with each other, the children will play at the gate, how happy and leisure such situation is.
【Guozijian Street – the famous "scholarly" hutong in Beijing】

Location: In the northwest of Dongcheng District, Beijing
Surrounding attractions: Yonghe Palace, Imperial College (Guozijian), Confucius Temple
Guozijian Street, or the Imperial College Hutong, famous for the Confucius Temple and Imperial College, is an east-west Hutong and has 700 years of history which remains the old style Beijing alleys. It is one of the first "Chinese historical and cultural street". It is the city's only municipal conservation street which is named after its street name. This ancient street concentrates a large number of historical and cultural heritage of the national heritage conservation units like Imperial College, Confucius Temple, etc. It is also the only street with decorated archway reserved in Beijing city, which concentrates the essence of traditional Chinese culture. With its elegant, quiet, solemn, mysterious environment and the rich historical, cultural connotations, it has become a unique cultural area in Beijing.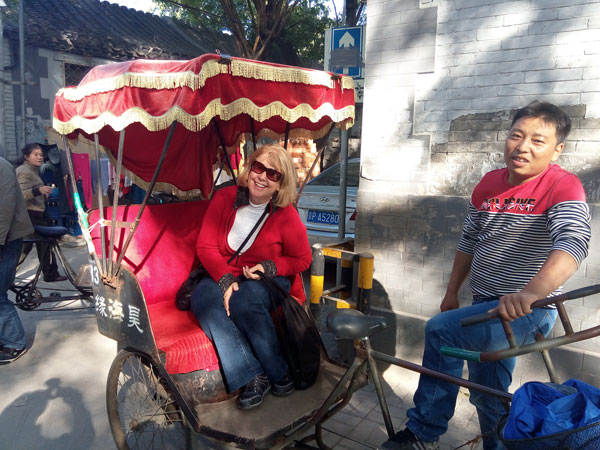 【Some other famous hutong in Beijing】
Liulichang: located in Beijing Xicheng District, 1 km from the Tian'anmen Square, is the most Cultural Hutong in Beijing; also is one of the largest antique markets in China and an ideal place to visit for the traditional "four treasures of the study"( that is calligraphy brushes, ink, paper and ink stones).
Jinyu Hutong: also called Goldfish Alley, located next to Wangfujing Commercial Street, the most modern Hutong in Beijing with many big brand hotels and large shopping centers.
Dongjiaomingxiang: located in Beijing Dongcheng District, near to the Tian'anmen Square, is the longest hutong in Beijing which has a total length of about 3 km.
Xijiaominxiang: located in the south of Beijing Xicheng District, is Beijing's original financial street where the domestic and overseas banks chose to open.
Ju'er Hutong: located in the northwest of Beijing Dongcheng District, west to the Nanluoguxiang, is a hutong shows you historical change of Beijing.
Bada Hutong: located in the Beijing Xicheng District, literally means the "eight great " hutongs which mainly consists of eight alleys, is the "Red Light District" of Old Beijing
Taking a rickshaw is the best way to visit Hutong. You will find a lot of rickshaw waiting for toursitss aside a Hutong lane. You can bargain for the price to take you touring around. You may viist some more Hutong tips at Beijing Hutong Tour Tips