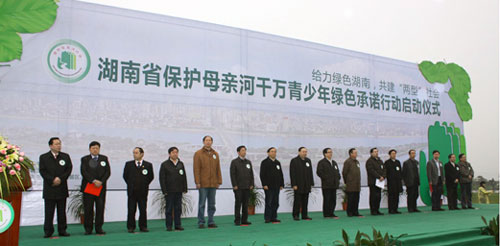 The Launching Ceremony of Youths' Commitment to Protecting the Xiangjiang River in Hunan Province was held at the Sculpture Square of Young Mao Zedong in Changsha's Orange Islet Park on March 5, 2011.
  
Mei Kebao, deputy secretary of the CPC Hunan Provincial Committee, Xiao Yayu, vice director of the Hunan Provincial People's Congress, and Wu Jihai, vice chairman of the CPPCC Hunan Provincial Committee, attended the launching ceremony.
  
Mei delivered a speech at the launching ceremony. He said that as the mother river of Hunan Province, the Xiangjiang River bears the essence of Hunan culture and embodies the boundless love of Hunanese. He called on the young people to fulfill their commitment and make contributions to developing the river into an Oriental Rhine and building a green Hunan.
  
The campaign will carry out three major kinds of work and ten theme activities. Six celebrities were invited to act as charity ambassadors, including Wang Han, a famous host of Hunan TV. Six groups made up of university students, elementary and middle school students, young entrepreneurs, young farmers, young workers, and young technical personnel made their solemn oath to protecting the Xiangjiang River.
  
In addition, a short message platform (10658688999) has been put into operation to inform over five million young people of the campaign. Special web pages have also been made in such websites as Hunan Official Web Portal (<
http://greenriver.enghunan.gov.cn/
>), Sina, Rednet, and the Communist Youth League of Hunan Province. A microblog club has also been set up to promote the campaign.