Hunan Governor Xu Dazhe, at the invite of the Philippines and Bangladesh governments, visited the two countries between October 14 and 20, 2018.
During his stay in the Philippines, Governor Xu met with Mark Villar, secretary of the Department of Public Works and Highways (DPWH), and described Hunan's achievements in the past 40 years of reform and opening up. He said, "Hunan and the Philippines have achieved a series of cooperation results, thanks to the continuous deepening of friendly relations between China and the Philippines in recent years. We are here to strengthen the bond of friendship and set up cooperation path." He continued, "At present, the Philippines is fully implementing the major and special projects construction. Hunan has a large number of advantageous enterprises in infrastructure construction such as Hunan Construction Engineering Group, CRRC Zhuzhou Locomotive Co., Ltd., and Hunan Road & Bridge Construction Group Co., Ltd." "We hope to make full use of Hunan's industrial characteristics, and advantages, and to encourage more Hunan enterprises to participate in the Philippines infrastructure construction, to achieve mutual benefits and win-win results," he added.
On October 15, Hunan Governor Xu Dazhe, accompanied by DPWH Undersecretary Sadain (1st R), attended the opening ceremony of the Central Luzon Expressway Connecting Line Tarak Section, constructed by Hunan Road & Bridge Construction Group Co., Ltd. He is shown here with construction workers.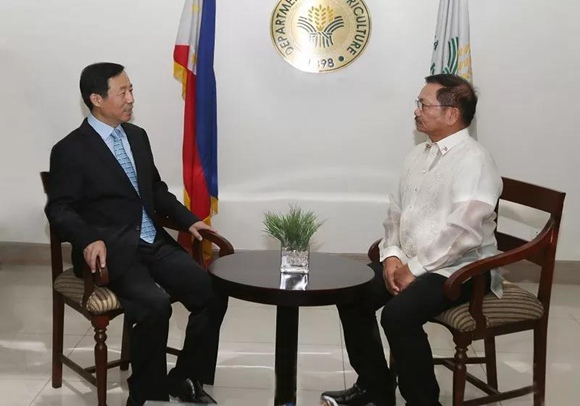 On October 17, Governor Xu met with Emmanuel Piñol, Philippine Agriculture Department secretary.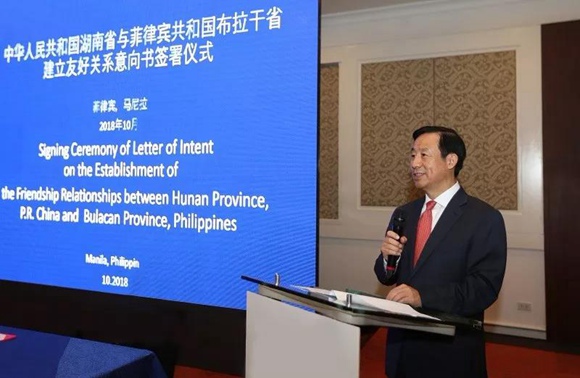 Hunan Governor Xu Dazhe attended a ceremony for the signing of a letter of intent to establish friendly relationships between Hunan Province, China and Bulacan Province, the Philippines, and delivered a speech on October 16, 2018.
In Bangladesh, Governor Xu met with Rashed Khan Menon, Bangladesh Social Welfare minister, and Dr Zafar Ahmed Khan, Local Government, Rural Development, and Co-operatives senior secretary.
Xu stated that the China-Bangladesh friendship has lasted for a long time, and increased especially in recent years. Bangladesh is accelerating economic progress. Hunan, as a major equipment manufacturing and agricultural production province, has the advantages and abilities to participate in various industries such as industrial development, infrastructure construction, and environmental governance in Bangladesh. The province also invited more Bangladeshi entrepreneurs to invest here.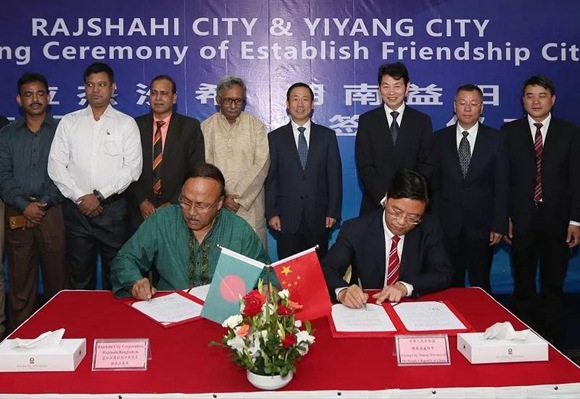 On October 19, Xu Dazhe witnessed the signing of a memorandum of friendship city cooperation between Hunan's Yiyang City and Bangladesh's Rajshahi City in Dhaka.Photos by Mao Zui, Hunan Daily.