On the evening of Dec. 5, Lu Jianping, director of the Publicity Department of Hunan Province and his Fujian counterpart Yuan Rongxiang agreed upon cultural development cooperation. This is reported to be the first time the two provinces have initiated cooperation in the field of culture.
Both provinces are included in "9 + 2" Pan-Pearl River Delta (PPRD) regional economic cooperation area (9 refers to nine provinces of Fujian, Hunan, Jiangxi, Guangdong, Guangxi, Hainan, Sichuan, Guizhou and Yunnan, and 2 refers to Hong Kong and Macao). To carry forward the cultural undertakings and accomplish the goal of building a culturally dominant province, the two provinces have exerted greater efforts in exploring interprovincial development pattern of culture and exploiting their individual strengths for mutual benefit.
The two sides have vowed to further the bilateral communication and cooperation in creating fine literary and artistic works, developing the cultural market with joint efforts, and strengthening cooperation in cultural projects and communication among relevant talents, in a bid to boost the cultural industry.
To realize this common goal, the publicity and cultural departments of the two provinces are scheduled to establish a multi-level exchange visits mechanism and a work information sharing platform.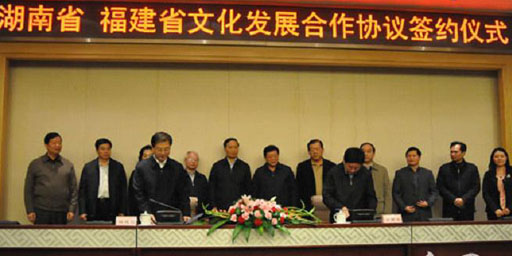 Fujian and Hunan delegates sign cultural development cooperation