Huixian Wetland locates in the Huixian town, Lin'gui district, Guilin, Guangxi Province, China. For Lin'gui starts its tourism late, the Huixian wetland is not as famous as other hot spots in Guilin. It's just like a secret garden, when people are tired of the hustle and bustle city life, and want to escape the busy city stress, Huixian wetland is a good choice to enjoy leisure time. It's the largest karst topography wetland in the world.
Huixian Wetland is a plain among karst topography; the sea level is below 500m. For the area belongs to subtropical monsoon climate, the four seasons are distinct here. With ample sunshine and rainfall, plants, birds and plankton are plentiful, such as: reed, camphor, carp, egret and so on.
History of the Huixian Wetland
GuGuiliu Channel was dug in AD 692 in Tang dynasty, which became an important part of Huixian wetlands. In Song dynasty, the total area is about 65k㎡, but in 1950s, it decreased to 25k㎡, and it sharply decreased to 6.7k㎡,which is only about 25% of that in 1950s. In recent year, the government pays much attention to protect the wetland and tries to develop it to a tourist spot.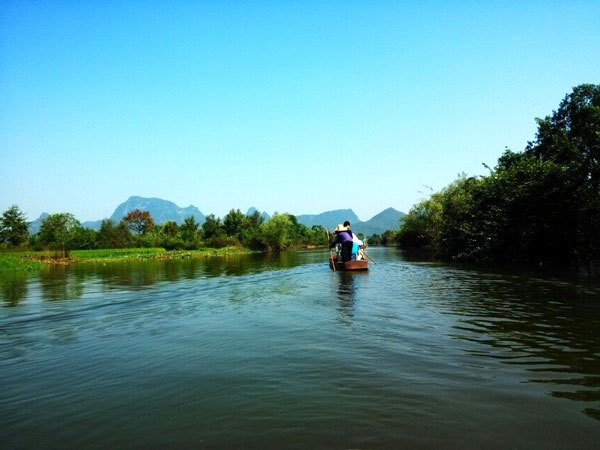 Highlights in Huixian Wetland
【JiuToushan Mountain】When you arrive in the JiuToushan Mountain, it seems that you are falling into a totally natural place. The mountain is beautiful and green, the birds flying in the blue sky, the surroundings around you are peaceful and harmoniously. There are many fish fields and duck fields, you can enjoy the happiness animals bring to you.
【Longshan Mountain】
Longshan Mountain is the top highlight in Huixian wetlands. When you climb to the top of the mountain, you will receive a panoramic view of the landscape of the lakes and hills, which is a terrific view that every tourist who likes to close to nature will fall in love with it. If you want to see the sunrise, you can go camping at the foot of the Longshan Mountain.
【FengHuangshan Mountain】
Long long ago, FengHuangshan Mountain was a famous mountain. Many people come to the temples in the mountain to worship Buddha. But many temples are disappeared now.


【Mudong Lake】
Mudong Lake, also named Xiangsi Lake, locates in the midsection of the GuGuiliu Channel. It's the core area and the smoothest area in Huixian Wetland. Mudong Lake connects with many large and small ponds and is filled with many islands. When the lotus flowers blossom, tourist can take a boat cruise to enjoy a close contact with lotus flowers. Mudong Lake is also an ideal habitat for migratory birds. Every spring and fall, there are numerous birds stay and forage here. It's totally a natural fairyland not only for tourists, but also for birds. If you are an amateurs for fishing, you can fish here for fun.
【Plank Road】
There are several miles plank road going through the wetland. Taking a boat cruise is the don't miss activity in Huixian Wetland, but if you are easy to get seasick of boat, you might as well walk the plank road, it's an alternative way to feel the terrific view the Huixian Wetland brings to you.
Travel Tips
For Lin'gui starts its tourism late, the associated infrastructure in Huixian wetland is undeveloped. So it's hard to find any business here. Before you travel to Huixian Wetland, you'd better to prepare enough water and food.
There are 3 wharfs: Maojia wharf, Qixing wharf and Sanyi wharf. You'd better to aboard at Maojia wharf, for the road it runs to the top highlight-Longshan Mountain.
If you want to go camping, you'd better to prepare the camping equipment before your travel. For the associated tourist infrastructure is developing, renting camping equipments is not available there.