Located in the shore of Wuhan East Lake Scenic Area in Wuhan, the capital of Hubei province, China, Hubei Province Museum is a symbol of Wuhan City. Hubei Province Museum is the largest national comprehensive museum with the most extensive collections and strongest scientific research in Hubei Province. It houses the province's most important heritage collections, research and display. It was originally built in 1953. The museum moved to its present location in 1960 and gained its present name in 1963. Since 1999 a number of new buildings have been added. It covers a total area of 81,909 square meters. Its construction area reaches 49,611 square meters and the exhibition halls cover an area of 13,427 square meters. There is the largest exhibition hall of ancient musical instruments of China.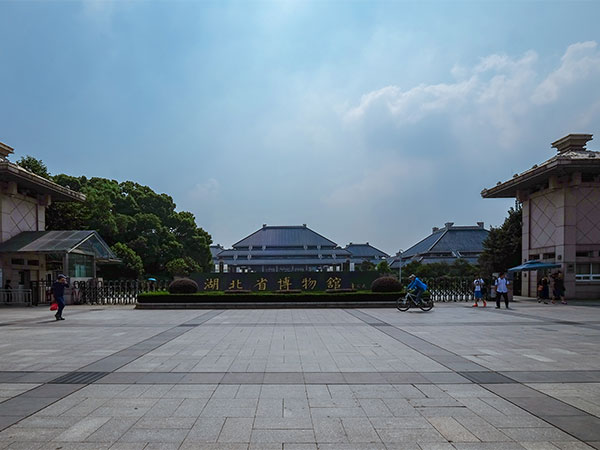 Collections of more than 20 million pieces of or sets of cultural relics, including a Heritage 812 (sets), national treasures 16 (sets). Among them, relics mainly class mainly pottery, porcelain, bronze, lacquered device, Jane Du, weapons, musical instruments, gold jade, ancient calligraphy, and ancient coins and so on. There are about 1000 pieces or sets of First Grade Cultural Relics, making it rank in the forefront of the provincial museums in China.
Its exhibition hall is mainly composed of comprehensive exhibition hall, Chu culture center and Chime Hall. Its overall construction layout reflects the high-profile construction layout format of China, namely axial symmetry. It is a dazzling landmark building in Wuhan City and a must visit scenery spot to know more about the ancient culture of this area.
The most worth seeing four greatest treasures in the museums includes:
a set of Zeng Hou Yi chimes, which was unearthed in 1978 in the tomb of Zeng Hou Yi. The chimes have wide range and beautiful tone. They can play a variety of Chinese and foreign music. Its being unearthed rewrote the history of world music;
The sword of Gou Jian Monarch of the Kingdom of Yue (BC520-BC465) – a masterpiece of Chinese cold weapons era. The sword is still very sharp;
Human Skull Fossils of Yun County, which could be dated back some 100 million years, earlier than the Peking Man skull fossils;
A Blue-and-white prunus vase, a masterpiece among blue and white porcelain products of Yuan Dynasty, beautifully produced and rarely handed down.
The twenty-eight constellations in Hubei Province Museum which the celestial sphere was divided in ancient Chinese astronomy were painted on the box. The pictures tell the archaeologists that ancient Chinese had known astronomy already in the fifth century B.C.
Travel Guide
【Chinese name】:
湖北省博物馆


【How to get to Hubei Province Museum in Wuhan】: If you stay in Hankou, you can take Bus Route 402, 411, 552, 701 to Hubei Province Museum Station, then walk there; if you stay in Hanyang, you may take Subway Line 4 to Dongting (东亭), then walk for 20 minutes to get there; if you stay in Wuchang, you may take Bus Route 14, 578, 709, 810, 402, 411, 552, 701, to Hubei Province Museum Station, then walk there.