Huangyuan Dan Gar City (Chinese name: 丹噶尔古城) in Qinghai is praised as "the business city in tea route". "Dan Gar" means white conch in Mongolian. It is situated in the north bank of the Yellow River and the beginning of Huang Water. It is 40 miles away from Xining city. Huangyuan Dan Gar City is a place which integrates the Loess Plateau with Qinghai-Tibet Plateau, and it contains farming culture and prairie culture.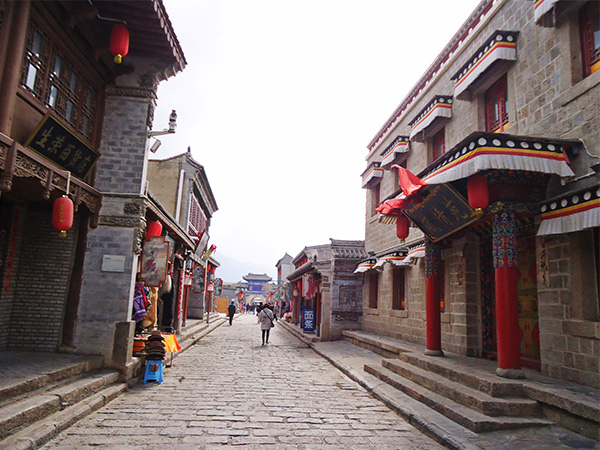 History
Dan Gar City established in the year of Hongwu Period of Ming dynasty, and it is 600 years now. Since West Han Dynasty, here was becoming an important town gradually with cultural mix of business, religion, military and custom. Tang dynasty and Tibetan regime in ancient China set up the first "Tea-horse trade market" in Riyue Mountain and opened up the way of Tang-Tibet Ancient Road. Dan Gar City in Song dynasty is communication hub of the south side of the Silk Road and it became the biggest distributing center in the northwestern region in Ming and Qing dynasty. At that time, businessmen and craftsmen from Beijing and Tianjin came here in flocks; businessmen from British, America and Russia came here to run banks and traded with Chinese people in Dan Gar City. At the same time, a team of "Tibetan businessmen" which specialize in minority trade had taken shape. Dan Gar City has a length of 6 meters, the main street inside is less than one thousand meter which connects building group like Chenghuang Temple, Wen temple and Dan Gar Office, and it displays cultural process of Huangyuan's development and cultural character.
Features
With the development of time and the transfer of commercial center, Dan Gar City is not so bustling as ever before. Therefore, in order to create a distinctive scene and extend the cultural memory of this ancient city, Huangyuan County starts to make some protective restoration of Dan Gar Ancient city.