Huanghuacheng Great Wall is located in Huanghua City, which is 29 km away from northwest of Huairou county, 60 km away from
Beijing City. Huanghuacheng Great Wall is a special sector of the
Great Walls that connects with the mountains and rivers. This place is named Huanghua City because the cottages here are surrounded by a lot of gold flowers in mid-summer. Huanghuacheng Great Wall was built from 1404 to 1592 in Ming Dynasty. The length of it is 12.4 kilometers. It contains 40 hollow enemy broadcasting stations, 9 solid enemy broadcasting stations, 5 wall units and 8 Passes.
Huanghuacheng Great Wall is built on high mountains and has steep walls. It is majestic and built in sophisticated technology. It is also named the "impregnable wall", because it built with slabs of stone and maintains very sturdy.
One of the features of Huanghuacheng Great Wall is that it is built in Ming Yongle of Ming dynasty (1404). Great Walls built in this time are steep, magnificent and majestic. It hovers above the ridge and is surrounded by Hao Ming Lake. The scenery here is beautiful and spectacular. It is not only the northern gate to guard Beijing City, but also an important gateway to guard the "Ming Tombs". Huanghuacheng Great wall is the essence of the Ming Great Walls. Another feature of it is that it is naturally divided into three sections by the lake. That makes it the spectacular scene that the Great Wall plays in the water and the water immerges the ancient city wall. It is a unique landscape that three sections of Huanghuacheng Great Wall enter into water.
Must See Landscape in Huanghuacheng Great Wall
【Chestnut Garden】
There is a Chestnut Garden nearby, occupying hundreds of acres. There is a total of more than 40 ancient chestnut trees planted in Ming dynasty. The average diameter of the trees is 90 cm above. Most of trees are over 400 years old and every tree has intertwined shapes. Although they are weather-beaten, they still deeply rooted and stay energetic. The trunks of the tree look like dragons playing with a pearl. Ming soldiers planted these chestnut trees while they were defending the frontier. It maintains a unique cultural wonder due to such a large area of old-fashioned chestnut garden.
【Black Dragon Pool】
Black Dragon Pool is located in the westernmost area, surrounded by mountains. There is spring water gushing from the bottom of the pool. The water is quite cold and clear. In summer, outside the pool is very hot, while inside, it is very cool and refreshing.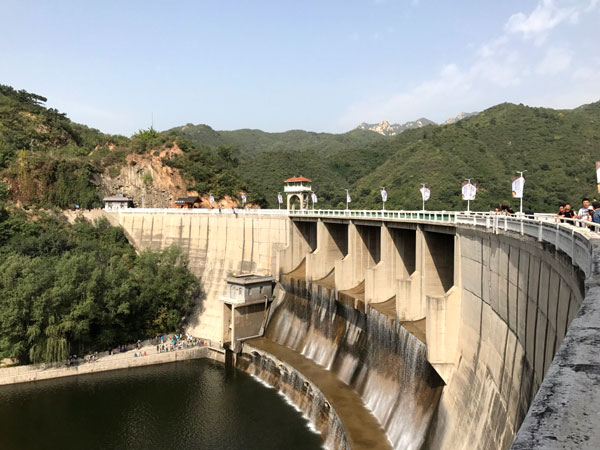 【Boating】
There is a boat dock located in the west of the central peninsula; there are two kinds of projects: rowboat and pedal boat. Visitors can not only go boating on the lake, but also enjoy the cool air to rest, enjoying the beautiful scenery.