Emin Minaret, also known as Sugong Tower, is the largest extant ancient Islamic tower in Xinjiang. Standing 2 km (1.24 miles) east of Turpan, Emin Minaret was built in 1777 in honor of a heroic Turpan general named Emin Khoja. This 44-meter (144 feet) high minaret tapers to an Islamic dome without stories inside. In the center of the minaret is a brick-piled pillar with 72 steps around it spiraling to the top. The whole construction was made of grey bricks which were formed 15 different patterns such as waves, flowers or rhombuses, by smart Uygur architects.
Unfortunately, the minaret is no longer open to the public in an effort to preserve the structure, however, you can view the surroundings from the roof of the mosque.
Emin Minaret is a novel and stylish modelling Islam pagodas, it is the largest ancient towers in Xinjiang, all built with grey bricks. Uighur outstanding architects show the uighurs excellent traditional art and architecture through the tower body. The entrance door has two shade is engraved stone tablets in the towers, one is written in Uyghur, one is in Chinese.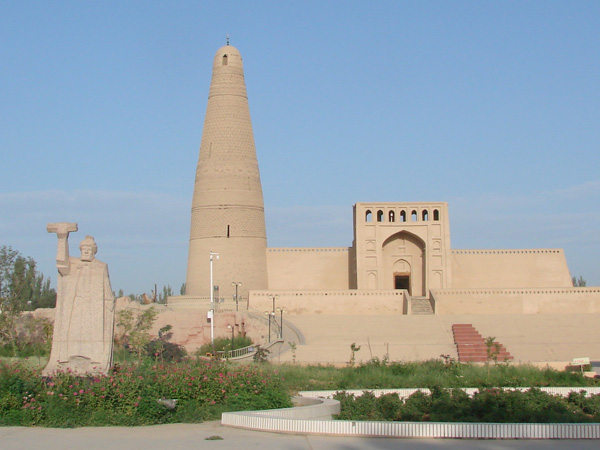 Structure
The whole architecture composed of two parts of pagodas and mosques, the pagoda is grey brick structure, except the top window lattice, and basically it doesn't need any wood. The towers are round, from bottom to top, gradually becoming smaller. Center of the tower is a circular column made of gray brick. The column winding up with bricks ladder which spread out as spiral. By this ladder, people can step into the top of the tower. At the top of tower, there is a small attic, about 10 square meters, surrounded by the open window.
Under the tower of the mosque is a large mosque still in use, which is capacious and grand. This is a very special style building with local characteristics. It has a capacity of more than one thousand people in the prayer hall; the dome arch, numerous niches, gloomy little preachy room, everywhere showing the Islamic architecture style and strong religious life vitality. They are all built with air-dried adobe buildings. Built with air-dried adobe masonry wall, it is quite common construction method of a long history in the dry Turpan region.