Located 5 km from Lhasa, the Drepung Monastery is considered one of the three great monasteries in Tibet. It was first built in 1416, and held 7,700 monks in its heyday. In Tibetan language, Drepung Monastery means monastery of collecting rice.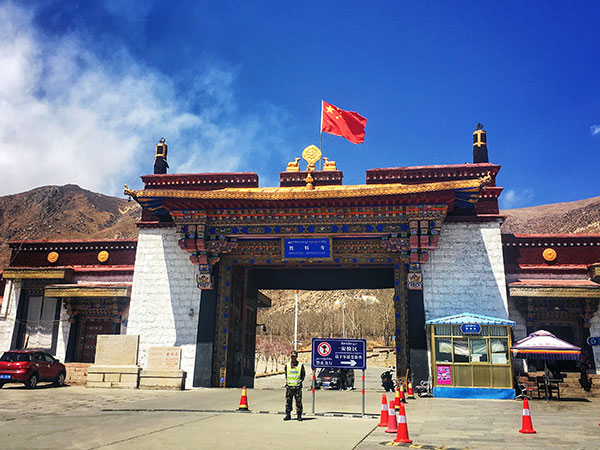 Drepung is the largest of all Tibetan monasteries, and indeed at its peak was the largest monastery of any religion in the world. It was founded in 1416 by Jamyang Chojey, a direct disciple of Je Tsongkhapa, the founder of the Gelukpa School.
Drepung Monastery was known for the high standards of its academic study, and was called the Nalanda of Tibet, a reference to the great Buddhist monastic university of India. Chapman reported that in the late 1930's Drepung was divided into four colleges, each housing monks from a different locality.

What to See
Drepung is now divided into what are known as the seven great colleges: Gomang (sGo-mang), Loseling (Blo-gsal gling), Deyang (bDe-dbyangs), Shagkor (Shag-skor), Gyelwa (rGyal-ba) or Tosamling (Thos-bsam gling), Dulwa ('Dul-ba), and Ngagpa (sNgags-pa). It can be a somewhat useful analogy to think of Drepung as a university along the lines of Oxford or the Sorbonne in the Middle Ages, the various colleges having different emphases, teaching lineages, or traditional geographical affiliations. Today the population at the monastery located in Tibet is much smaller with merely a few hundred monks. However, the institution has continued its tradition.
What's more, the Drepung Monastery houses many cultural relics, which adron the monastery and make it more superb. Statues of Manjushri Bodhisattva, and Sitatapatra found on the first story of the Coqen Hall, rare sutras on the second story and Jamyang Qoigy's conch shell given by Tsong Khapa on the third one, all add to the wonder of the monastery. Exquisite statues of Tsong Khapa, Kwan-yin Bodhisttva, Manjushri Bodhisattva, Amitayus, and Jamyang Qoigyi in other sutra halls, as well as flowery murals on walls also fully present the wisdom of the Tibetan people.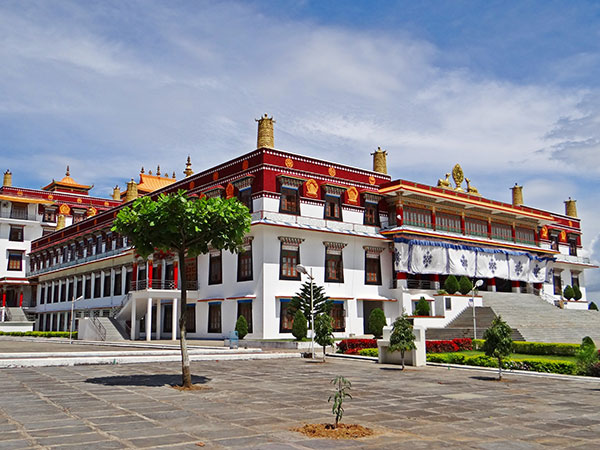 【The Tsochin Assembly Hall (Tsogchen Lhakhang) (措钦大殿)】
The Tsochin Hall ("Tsochin" means great Dhammasala) is the main building of Drepung Monastery. Tsochin Hall is located in the center of Drepung Monastery, covers an area of nearly 4500 square meters, there is a stone paved square in front of the monastery, and after 17 broad stone steps is gallery with eight columns. Large-scale scripture hall in the Tsochin hall is beautifully decorated and it is colorful. Scripture hall is about 1800 square meters, a total of 183 columns. The statues inside the hall, whether in main hall or compartments temple, are very vivid. In the middle of the hall, manjusri statue and sitatapatra statue is extremely delicate. Here propitiated the main beliefs token of Drepung Monastery — right-handed rotation triton. This is when the Drepung Monastery rebuilt in a groundbreaking, Tsongkhapa digged from "Kuobu Mountain", and he gave to the disciple Tashibandan, wished he was crowned with complete success of building monastery, and based on this and carried forward the dharma, built more temples. Disciple Tashibandan regarded it as temple treasures given by the Buddha, well-reserved in the temple. Behind the hall is clean room when Tashibandan cultivated himself according to religious doctrine.
Tsochin Hall also holds stupas of Dalai Lama from second to forth. Painted the walls of the hall, there are many fascinating murals, such as formation of man's world figure, eternal cycle of birth and death, and so on. Tsochin Hall east is a half underground small cave, can allow a person to enter, named "Rangjiongma". It is the place where Tsongkhapa close to cultivate himself, and also the Drepung's earliest building.
【Silver Pagoda (银塔)】
Two silver pagodas aside the hall is the stupa of third Dalai Lama and forth Dalai Lama. At the back of the hall is Trisong Lha-khang, one of the earliest Lhakhang of Drepung Monastery (Lha-khang means temple or court). Now here propitiated third Dalai Lama and his two disciples. On the left and right sides of Trisong Lha-khang are Miwang Lha-khang and Lunben Lha-khang.
【Four Dratsangs 】
Dratsang is classic-learning unit of the gelug sect monasteries, also following management institution of Tsochin. In the early Drepung Monastery built seven dratsangs, divided into what are known as the seven great colleges: Gomang (sGo-mang), Loseling (Blo-gsal gling), Deyang (bDe-dbyangs), Shagkor (Shag-skor), Gyelwa (rGyal-ba) or Tosamling (Thos-bsam gling), Dulwa ('Dul-ba), and Ngakpa (sNgags-pa), respectively hosted by the seven disciples of Jiangyangqujie, later due to rising number of monks from all over the places, according to their classic-learning content and native place merged into four dratsangs now, Loseling Dratsang, Gomang Dratsang, Deyang Dratsang, and Ngakpa Dratsang. The last one is esoteric Buddhism dratsang.
• Deyang Dratsang (德阳扎仓)
Deyang Dratsang is the smallest dratsang the big four firm warehouse, construction area of the smallest of about 952 square meters, and there are 62 pillars in its scripture hall, which covers an area of 375 square meters. In the back of scripture hall is Buddha palace.
• Loseling Dratsang (罗赛林扎仓)
Loseling Dratsang is one of the largest dratsangs of Drepung Monastery. Its gross area is approximately 1860 square meters, mainly including scripture hall and Buddha palace two parts. Scripture hall has 102 pillars, which covers an area of 1053 square meters, on both sides of the hall are scripture shelf, total length of about 60 meters, with a variety of sutras. The furnishing and adornment is not second to Tsochin Hall. Behind the scripture hall is Jambay (Byams-Pa) Palace, with 3 rooms, and there are propitiated all sorts of figure of Buddha inside. The number of monks in Loseling Dratsang is the most in Drepung Monastery, they mainly come from Khams and Yunnan. There are 23 villages under the jurisdiction of Loseling Dratsang.
• Gomang Dratsang (郭芒扎仓)
Gomang Dratsang is second to Loseling Dratsang, and also divided into two parts of scripture hall and Buddha palace. Scripture hall covers an area of 985 square meters, the construction pattern, and columns arrangement are the same as the Loseling Dratsang, a total of 102 columns. Buddha exhibition part is composed of three Lhakhangs, namely and Jambay Lhakang, Minzhu Lhakhang, and Drolma Lhakhang. Gomang Dratsang subordinates has 16 kam villages, some larger village below again set up mi village, mi village is smaller geographic range monk delegations.
• Ngakpa Dratshang (阿巴扎仓)
Ngakpa Dratshang is Drepung tantric college. Drepung stipulated, monks practice esoteric Dharma in other dratsang. Ngakpa Dratshang is in the back right of the Tsochin hall, the front is a closed courtyard, courtyard surrounded by monk room, the back of it is scripture hall, and there is a total of 48 pillars, which covers an area of 467 square meters. On the walls there are painted tantric murals of subject.
【Ganden Phodrang (甘丹颇章)】
Ganden Phodrang is bliss palace, built in 1530, presided over by the second Dalai Lama Gendon Gyatso when he was tenth tripa (abbot). Later Dalai Lama of third, forth and fifth was here to live and became successive tripa of this monastery. The period of the fifth dalai lama, he established a strong local regime, because of affairs were managed in this phodrang (phodrang means palace), therefore it was called Gandan Phodrang regime, and Gandan Phodrang then became a regional political power center of Tibet. Later fifth Dalai Lama moved to Potala Palace to handle affairs.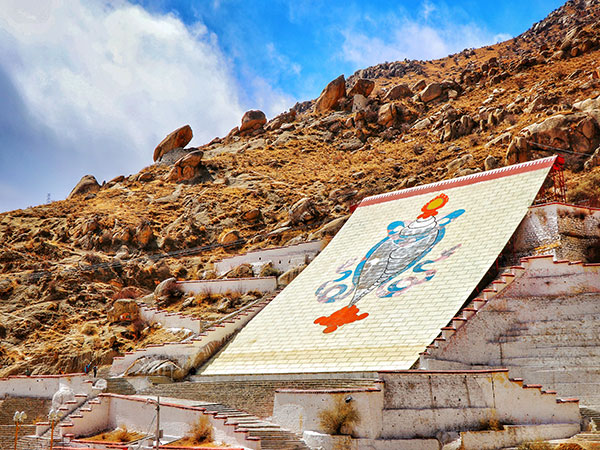 Buddha-basking Ceremony during Sholton Festival

History
Drepung Monastery was built by a famous disciple of Tsongkhapa (founder of Gelug Sect). It was built to meet the demand of the rapid development of Gelug Sect.
In 1409 master Tsongkhapa founded the Monlam successfully in Jokhang Temple in Lhasa, in the same year he personally established the gelug sect ancestral temple of Ganden monastery, thus marked the new sect of the gelug sect he painstakingly created has been formed, and the whole monks and masses believed in this new sect. The forces of the gelug sect became increasingly powerful, and there were more and more believers, that is the background of construction of Drepung Monastery. Drepung Monastery has trained a large number of talents for Tibetan Buddhism. The Fifth Dalai Lama lived here before he moved to Potala Palace.

Architecture Features
Drepung Monastery has tight structure, each palace and hall is connected, and each building unit is basically divided into three horizontal layers, namely the courtyard, scripture hall and Buddha palace, formed the rising pattern step by step from the gate to the Buddha palace, emphasis and highlights the noble status of Buddha palace. Drepung Monastery is a typical Buddhism monastery. Its construction mainly reflected the dignity of Buddhism. The main building of the monastery – the Main Assembly Hall is very magnificent. There are 183 supporting pillars with amazing carvings. The hall is also decorated with murals and Thangka. Rigorous layout of dratsang is towering; Gorgeous Gandan Phodrang and son on is representative of large construction in Tibet. Most of the buildings of Drepung Monastery were constructed during Ming and Qing dynasties. The appearance of the monastery is also decorated with materials related to Buddhism, such as the Dharma-cakra and golden roof. Those factors created a solemn Buddhism atmosphere and made Drepung Monastery more magnificent.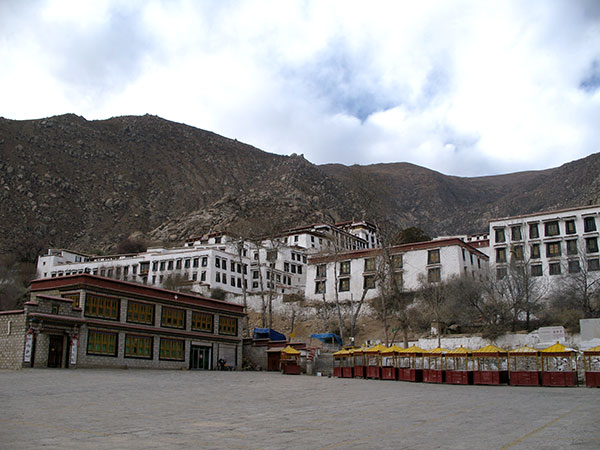 Festivals and Events
There is quite a lot of religious rites in Drepung Monastery, every large Buddhist anniversary, Wanghui Day of the month in Tibetan calendar (i.e., fifteenth, thirtieths of the month) and other auspicious day, are going to have a corresponding religious rites. There are some celebration activities for monks and laymen, one of the biggest activities is "Drepung Sholton" which takes place every August. "Sholton" in the Tibetan language means "yogurt feast", originally is a kind of pure religious activity. According to the regulations of Buddhism commandment, before the 17th century, there are dozens of summer days monks require to stay in their "summer house" for weeks, until they were allowed. This prevented them stepping on small creatures outside for a time, and taught them to live in harmony with one another. When finally allowed to leave their confinement, monks went down to the mountains, where laymen would prepare yogurt for them as alms. The monks enjoyed the yogurt and happily celebrated their newfound freedom.
Today, the Shoton Festival is a time for monks to go the mountains for contemplation, after which time their families will meet them on the mountainside. Many lay Buddhists make a pilgrimage to Drepung during this time and participate in the festivities, which include performances by the Tibetan Opera.The Shoton Festival begins with the dramatic unfurling of a giant thangka banner of the Buddha, amidst incense smoke, the sound of bugles, and scripture recitations. Devotees rush to make offerings before it is rolled up again in less than two hours.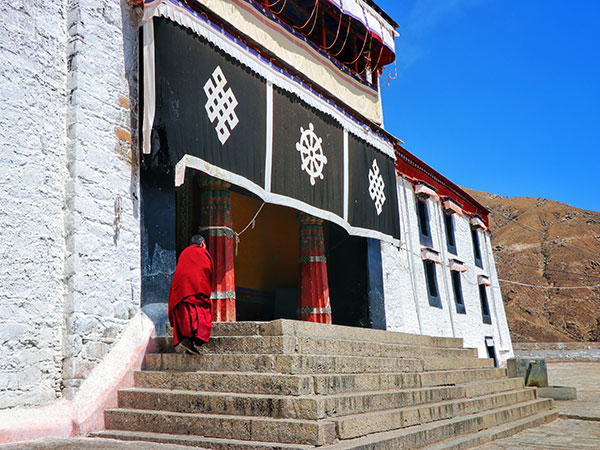 Collections
Drepung Monastery collected ten thousands of historical and cultural relics and Buddhism ancient sculptures. The vivid and valuable statues of different period enshrined in the monastery represented the advanced sculpture art in Tibet. The colorful murals and Thangka are also of great value. There are more than 100 precious Buddhism classics of Kangyur and Buddhist exegesis Kangyur in Drepung Monastery and hundreds of Buddhist classic manuscripts written by Tsongkhapa and his disciples. All of there are invaluable heritages left by the industrious and intelligent Tibetan people which are of great significance for the research of Tibetan history, Religion and art.

How to get to Drepung Monastery
Taking bus No.4, taxi or tricycle in the Lhasa center can only get to the foot of mountain, and people need to walk for 30 minutes to go up the mountain. Every Wednesday, there is religious rite in Drepung Monastery.