Danxia Mountain is located in northeastern suburb of Shaoguan City, Guangdong Province, with a total area of ​​292 square kilometers. The northern gate is 45 km away from Shaoguan City. The south end of the scenic are is only 6 km away from the East Railway Station. Because the rocks' color is red, so called Danxia Mountain (Dan and Xia all indicate the color-red in Chinese language). Danxia Landform is named after it.

Officially opened in January 1980, Danxia Mountain is one of the earliest tourist areas opened to the outside world in China. Danxia Mountain was listed by the State Council as a national scenic area in 1988, andas a national nature reserve in 1996. On February 13, 2004, it was listed as one of the world's first batch of World Geopark by UNESCO. Later, on August 2, 2010 , together with 6 areas of Danxia Landform in 6 provinces in South China were listed World Natural Heritage named as "China Danxia".
Named
Renhua Danxia Mountain is named from the Danxia Mountain in Nanzhao County, Henan Province. At the end of the Ming Dynasty, Li Yongmao and his family refuged here for many times, and bought the mountain here from Liu Wang Fu, Liu Songtao. Because Li could not forget his hometown, he used the name Danxia Mountain according the name of the mountain in his hometown.
Formation of Danxia Mountain
Danxia Mountain used to be a huge inland basin in between 140000000-7000 years. It deposited the thick red strata. Later, the basin had occurred many times intermittent rise, and as erosion of water, the Danxia Basin's red bed were cut in to a group of Redstone Hills, which is the beautiful Danxia Mountain today.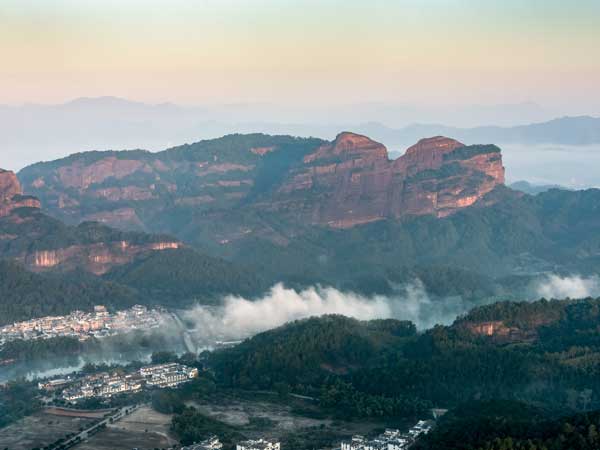 Danxia Mountain Geopark
Danxia Mountain Geopark was approved by the UNESCO as a World Geopark in February 13, 2004. It covers an area of
​​approximately 280 square kilometers. Include: Danxia Mountain Shaoshi Mountain, Dashishan Mountian, Aizhai and several other scenic spots. The Danxia Landform here has its typicality, diversity and irreplaceability.
Danxia Mountain – located 4 km south of Renhua County.
Shaoshi Mountain – located in the east of the geopark, neighbored, Zhou Town, 25km from the city of Shaoguan.
Dashishan Mountian – Geopark is located in the west of Danxia Geopark
Aizhai – Geopark is located in the south of Danxia Geopark

Scenic Areas
There are Zhanglao Peak Scenic Area, Yangyuan Mountain Scenic Area, Xianglong Lake resort, Jingjiang Lake Scenic Area and Basai Scenic Area.
【Yangyuan Mountain Scenic Area】 There is a wonder view – Yangyuan Rock which is 28.5 m in height and 7 m in diameter, it just looks like the reproductive organ of the male. In China, male indicates to Yang and Yuanqi, Hence the name of the Scenic Area. The whole area is 6 square km, including scenic spots: Yangyuan Rock, Kunyuan Mountain, 7 Natural Bridges, 3 ancient villages and so on.
【Xianglong Lake Scenic Area】 Located at the south valley of Danxia Mountian, it was named for its layout which just looks like a flying azure dragon. Beside the lake there are attractions such as Jiulong Peak, Xianju Rock, Wuyin Rock, Chenlong Pavilion, Qilong Pavilion and so on.
【Jinjiang Scenic Area】
Jinjiang, like a jade belt, passes through the peaks of Mount Danxi from north to south. There are dozens of attractions along the river such as Wangjiang Pavilion, Xianshanqiong Pavillion, Carp Jumps over the Dragon Gate and so on.