On the night of July 11, according to Tujia traditional customs, a new couple from Denmark held a special wedding ceremony on the stage of Timashenge (a large-scale outdoor performance with its moutain-water settings) in Baofeng Lake, Wulingyuan Scenic Area, Zhangjiajie.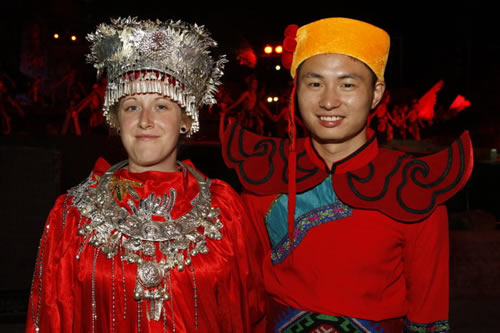 The 26-year-old groom Peng Xinxin, who is the son of a Chinese photographer, grew up in Denmark with his mother. 8 years ago, he met with Christine from royal family in Copenhagen and fell in love with her. This year, they decided to hold their wedding in Zhangjiajie as Peng Xinxin is fascinated with traditional Chinese culture.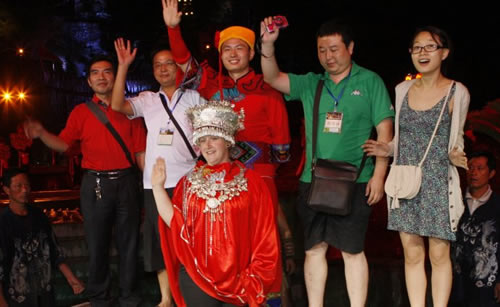 On that night, Timashenge was put on as usual in Baofeng Lake. The wedding ceremony took place there amid the crisp and joyful sound of Suona (Chinese Horn). The groom Peng Xinxin and the bride Christine, dressed in red traditional costumes of Tujia wedding, walked onto the stage, accompanied by over 10 Tujia girls and boys. During the wedding, the bride, wearing Tujia silver jewelry , was carried by the groom and sent to a sedan chair. More than one thousand tourists witnessed the ceremony in high spirits.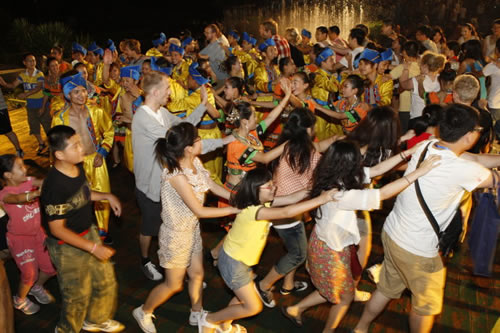 Christine said," The wedding of Zhangjiajie Tujia minority is very interesting and I will integrate Chinese traditional culture to my family." And Peng Xinxin said," I will never forget the wonderful experience in Wulingyuan!"
Translator: Mao Yipan
Source: Zhangjiajie Official Web