Commune by the Great Wall is a modern architecture that designed by 12 elite Asian architects. This outstanding commune is the private collection rather than a profitable company in
Beijing. It was exhibited at the 2002 la Biennale di Venezia and awarded a special prize. Commune by the Great Wall was named "A New Architectural Wonder of China" by Business Week in 2005. Invested by the director Zhang Xin and president Pan Shiqi from SOHO China Co. Ltd., Commune by the Great Wall is located in a beautiful valley along
the Great Wall. It can be regarded as a luxury hotel for you to spend a China holiday.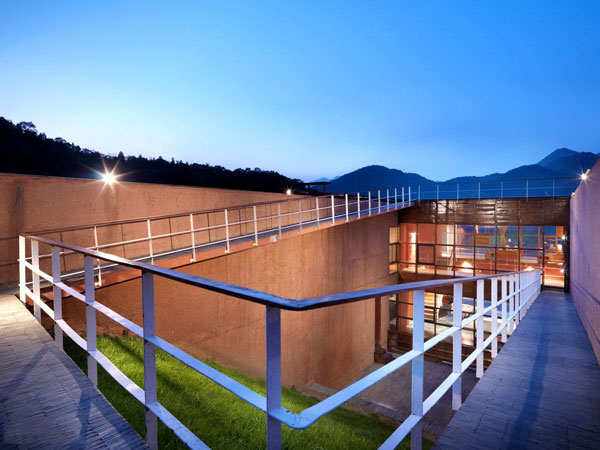 The "Walnut Valley" of the Commune by the Great Wall Kempinski includes 11 villas with 46 guest rooms and 1 Commune club which opened in October 2002, and the "Stone Valley" includes 31 new villas with 190 guest rooms, the Commune of the Children (Kids' Club), 1 Anantara Spa, 1 fitness room and the conference centre, which opened in September 2006. Insides, every room and suite is one of a kind, all offer sweeping views of either the Wall or the surrounding mountains; are furnished by big-name designers in a chic, minimalist style; and feature amenities like 24-hour butler service, a complimentary minibar, and spacious lounge areas. Other perks onsite include a clubhouse, a theater, an art gallery, private hiking trails to the Great Wall, and an opulent spa.


Location
Located in the Shuiguan Mountains amidst 8 square kilometers of private land, 1 hour drive away from
Beijing International Capital Airport 20 kilometers away from the main train station (Qing Long Qiao station) 50 minutes' drive from Beijing city center, the property enjoys an easy access via the Badaling Expressway 15 minutes' drive from Badaling private airport, available for Helicopters (20′ minutes transfer from Beijing Capital Airport)
Facilities 42 Luxury Villa Residences – Conceived as an exclusive group of private villas with living room, dining room, kitchen, 4 bedrooms and bathrooms. Some have sauna, rooftop terrace or barbeque facilities. 24-hour Butler service